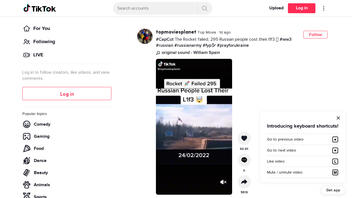 Did 295 Russians lose their lives after a rocket launch failed on February 24, 2022? No, that's not true: The footage that purports to legitimize the claim seems to have been shot in 2015 and does not appear to show any deaths.
The claim appeared in a TikTok video (archived here) from February 24, 2022. The video was filmed near the site of a small missile launch with a Russian flag flying near the missile. Superimposed text in the video reads:
Rocket 🚀 Failed 295
Russian People Lost Their
L1f3 🤯

24/02/2022
The caption used hashtags such as "#ww3," "#russianarmy" and "#prayforukraine," seemingly referencing the ongoing Russian invasion of Ukraine.
This is how the video appeared on TikTok on February 25, 2022:
(Source: TikTok screenshot taken on Fri Feb 25 17:29 UTC 2022)
Contrary to the video claims, the footage was not captured on February 24, 2022. Lead Stories found footage of the same scene from a different orientation was posted to YouTube on April 17, 2015. The title of the footage was "Ракетные учения России 2015." Translated from Russian, the title is "Missile exercises of Russia 2015." The caption of the video translated from Russian read:
'Missile exercises of Russia 2015'
At the exercises of the Russian army, the rocket after an unsuccessful launch fell back into position Other events in the world http://instiks.com/pin/category/world/
The link in the caption did not lead to an active website, and the archived versions of the website did not provide any additional information about the video.
Lead Stories could not verify whether this YouTube video was the original source of the footage. There are no deaths shown in the video.
The YouTube video is also included below:
(Source: YouTube screenshot taken on Fri Feb 25 17:31 UTC 2022)
Using TinEye to reverse image search a still from the YouTube video, Lead Stories found several results from 2015. We also located other posts of the footage that predate February 24, 2022, including this one from 2016 and this one from 2018.
Other Lead Stories fact checks related to the ongoing Russian invasion of Ukraine can be found here.