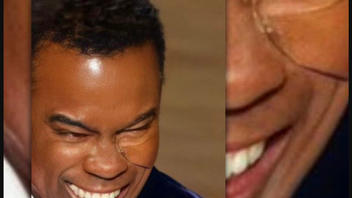 Was Chris Rock's face fitted with some sort of prosthetic device to protect him from the staged and planned slap delivered by Will Smith at the Academy Awards ceremony? No, that's not true: A photo circulating on social media contains an anomaly not present in the original photo, and not present in other photographers' images documenting the evening. It is not clear if this image anomaly was generated by a glitch of an artificial intelligence image-enhancing tool, or if it was intentionally edited by a person. However, the image as posted does not reflect the appearance of Rock's face that evening as he hosted the awards show, and there is no evidence that the altercation involving Smith was staged.
The photo of Rock in the moment before he was slapped by Smith was snapped by Reuters photographer Brian Snyder on March 27, 2022, the evening of the 94th Academy Awards. On March 28, 2022, an image of the same moment, seemingly the same photo -- but with an odd sharp line visible on Rock's left cheek -- appeared on social media; on Twitter and on Facebook where it was published on March 28, 2022. The Facebook post was captioned:
There is a prop over Chris face for when will was to slap him. Again these are actors people. This is what they do... ACT!
This is how the post appeared at the time of writing: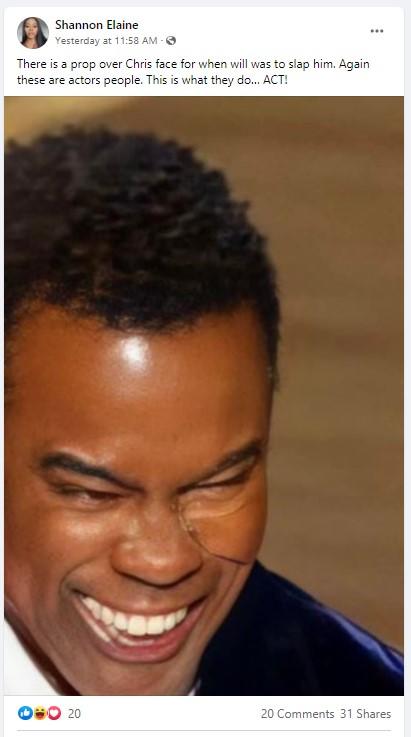 (Image source: Facebook screenshot taken on Tue Mar 29 21:39:21 2022 UTC)
Snyder was interviewed by CNN about his experience capturing the photo of the disruption. A CNN.com article titled, "How an Oscars photographer captured the moment Will Smith slapped Chris Rock" was published on March 29, 2022. Snyder explained that photographs are relayed to editors in real-time:
The craziest part is that Snyder himself didn't see his photo -- or its cultural impact -- until after the show had ended.

Snyder explained that his cameras were networked, so 'all of my photographs were immediately sent to the editors at the same time as I made them.'

'Of course, this happened in the midst of the show, so there was a lot of work to do right afterwards,' he said. 'Up in the booth, I really didn't know the extent of the impact of the moment or of my photos.'
With reverse image search, Lead Stories identified Snyder's photo as the match to the photo appearing in the Facebook post but noted something unusual. The image posted on Facebook was sharper and higher resolution than the original image posted by Reuters. Considering that the close-up image of Rock's face posted on Facebook is a detail pulled from a much larger image of the two men on the stage, it would be expected that the zoomed-in view would have less detail -- not more. Usually, the high-resolution source image will be the clearest, and copies on social media are of lower resolution.
There are two versions of this photograph posted by Reuters, with slightly different color and brightness adjustments, warmer (above right) and cooler (below right) toned lighting. This indicates that the photo was color adjusted by Reuters editors.


(Image source: Lead Stories composite comparing Facebook and Reuters screenshot details taken on Tue Mar 29 22:26:22 2022 UTC)
It appears that the original photo was run through an image-enhancing program that uses artificial intelligence to sharpen blurry edges and smooth pixelated irregularities. It is possible that the AI misread some of the features in the original image and accentuated them, resulting in the appearance of a patch of "prosthetic skin" on Rock's cheek. With reverse image search tools, Lead Stories was unable to find any copies of this enhanced image that include the anomaly posted by any media sources. It appears to have been introduced to social media through personal user accounts.
On Twitter, the image was introduced with an inauthentic-sounding conversation among five different accounts.
@FlyoutChase posted the original Reuters image: "This angle got me weak man"

@StevenShibambu posted a cropped copy of the Reuters image: "Chris Rock seems to be knowing what was coming his way. His facial expression just before the slap looks like he's preparing for it."

@Oxzycontin sees something that is not there: "And look at his left cheek, its like he has something on it or am I tripping? I definitely see something there"

@DaDutchGyal agrees and posts a high-resolution enhanced copy of the photo that has the anomaly (not present in the earlier photos): "You're right. If you zoom in you will see something"

@_baebraham posts a tightly cropped version of the enhanced photo: "Weird"
Additional photos of Chris Rock at that moment can be found on Shutterstock (here and here) and backstage that evening (here and here). There is nothing unusual about the appearance of his face. The composite image below compares two of the images included in this Twitter exchange which introduced the enhanced photo.
The image posted by @FlyoutChase is 1200 x 676 pixels, while the enhanced image with the anomaly posted by @DaDutchGyal is 2014 x 1154: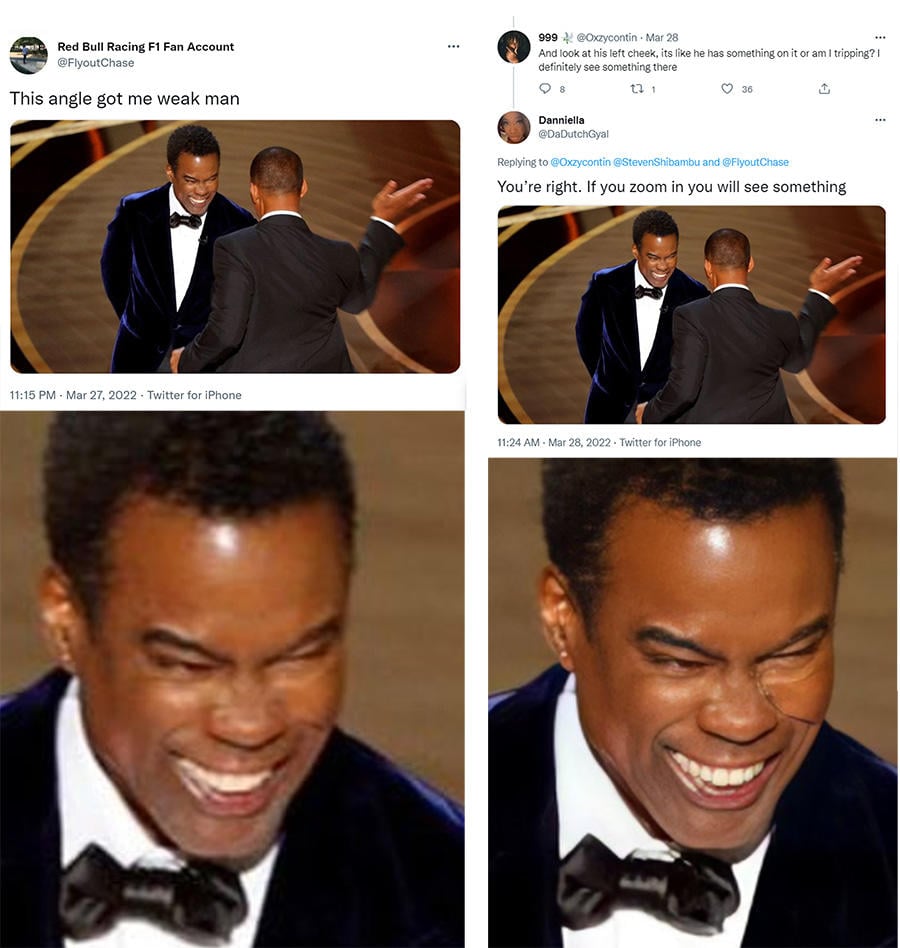 (Image source: Lead Stories composite image of Twitter screenshots taken on Wed Mar 30 00:03:35 2022 UTC)