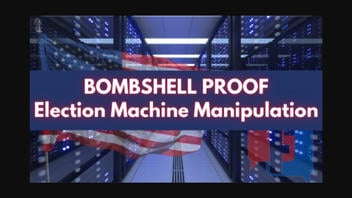 Did the "Bombshell" report published by Mike Lindell about Mesa County, Colorado, voting systems prove election machine manipulation? No, that's not true: The Colorado Secretary of State's Office, whose election security systems are called into question by the report, calls the analysis "unauthenticated hearsay." Independent of the state analysis, election and cybersecurity experts who reviewed Lindell's "Bombshell" report for Lead Stories said the chain of custody of the data used in the report is not authenticated and that writers of the report have made partisan assumptions about data logs they don't understand, data logs that may or may not support their goal of overturning the 2020 election. Further, Colorado's paper ballots have been audited and no election theft was documented. The report was prepared as part of the defense of a county clerk on trial for breaching election computers for partisan purposes.
Mesa County uses Dominion Voting Systems, an American company based in Denver, which also provides voting systems to jurisdictions in 27 other states and which maintains there was no outside tampering with results during the conduct of the 2020 election.
The claims appeared in a report (archived here) published to MyPillow CEO Mike Lindell's Frank website and is dated March 19, 2022, titled "BOMBSHELL PROOF Election Machine Manipulation."
This is what the article looked like on the Frank website on March 24, 2022: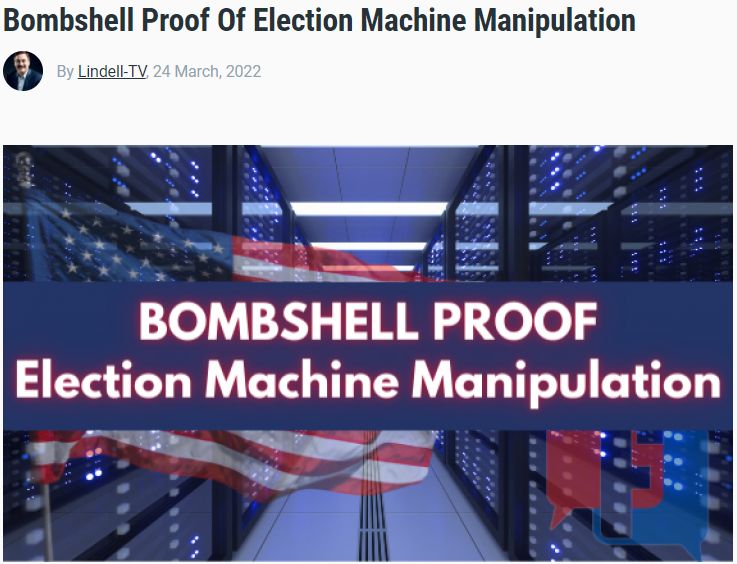 (Source: Frank website screenshot taken on Thu Mar 24 21:39:47 2022 UTC)
In a March 24, 2022, email to Lead Stories, Anna Lisa Lowenstein, a representative for Dominion, didn't directly answer our questions, but pointed us to their webpage "DOMINION IN COLORADO," which said:
Unfortunately, the company and Colorado state and local elections officials have been unfairly targeted by outlandish, false allegations meant to sow doubt and confusion about the results of the 2020 presidential election. ...

Colorado certified its election on December 8 after each county's bipartisan canvass board certified its election results. A risk-limiting statewide audit provided statistical confidence in the results of the election.
Dominion has an active defamation lawsuit against Lindell. It was filed on February 22, 2021. This is what Dominion CEO John Poulos said about it in a statement on the company's website:
Despite repeated warnings and efforts to share the facts with him, Mr. Lindell has continued to maliciously spread false claims about Dominion, each time giving empty assurances that he would come forward with overwhelming proof. These claims have caused irreparable harm to Dominion's good reputation and threatened the safety of our employees and customers. Moreover, Mr. Lindell's lies have undermined trust in American democracy and tarnished the hard work of local election officials.

No amount of money can repair the damage that's been done by these lies, which are easily disproved. Hundreds of documented audits and recounts have proven that Dominion machines accurately counted votes. We look forward to proving these facts in a court of law.
The 88-page report published on Lindell's website was signed by Jeffrey O'Donnell, the CEO at Ordros Analytics, and Walter C. Daugherity, who holds a doctorate in education and is a senior lecturer emeritus in the Department of Computer Science and Engineering at Texas A&M University, on March 19, 2022.
The report's executive summary says, in part:
This report documents the findings of an examination of tabulated vote databases based on forensic analysis of the drive image of Mesa County, Colorado's Dominion Voting Systems (DVS) Election Management System (EMS) server. The findings in this report were prepared by the authors as consultants to the legal team representing Tina Peters, the Mesa County Clerk and Recorder, pursuant to her statutory duties as Mesa County's Chief Election Official. The findings provide evidence of unauthorized and illegal manipulation of tabulated vote data during the 2020 General Election and 2021 Grand Junction Municipal Election. Because of this evidence, which led to the vote totals for those elections being impossible to verify, the results and integrity of Mesa County's 2020 General Election and the 2021 Grand Junction Municipal Election are in question.

This analysis was performed using the forensic image of the EMS server, which was backed up before Colorado Secretary of State and DVS overwrote the hard drive with D-Suite version 5.13.
One of the authors had already decided the 2020 election was stolen from Donald Trump
As one of the authors of the report, O'Donnell came to the process with a particular agenda, expressed in a video on his site that compares Joseph Stalin and Joseph Biden, saying they agree that how voters are counted and who counts the votes are "what really matters". The front page of the Ordros website says:
Ordros Analytics, LLC uses cutting edge forensic and analytical research to assist grass-roots election integrity movements all over the United States. Our goal is simple: Fix the stolen 2020 Election and safeguard all future elections from similar crimes.
Election and hacking experts not involved in the lawsuit say the data don't support the conclusions
Lead Stories reached out to multiple cybersecurity experts and experts in election management systems to review the report.
In a March 24, 2022, email to Lead Stories, Robert Graham, a cybersecurity expert who invented several internet security tools and is a frequent speaker at conferences of cyber-security professionals, said the "Bombshell" report does not contain evidence of ballot manipulation:
Instead, it contains [data] logs that the auditors don't understand. They are motivated to not understand them so they can conclude that ballots were manipulated. My fact checking conclusion is "unsubstantiated" -- they interpret things this way, but no reliable third party yet does. It could be true, but somebody who is not grossly partisan would have to look at them.
A team at the OSET (Open Source Election Technology) Institute also reviewed the report and shared its conclusions with Lead stories in a March 24, 2022, email. OSET describes itself as a "nonprofit nonpartisan election technology research institute." It is led and staffed by computer experts with experience in election administration. OSET's review of the "Bombshell" report was led by OSET Chief Technology Officer for technical and process elements John Sebes and Chief Operating Officer for legal, policy and process matters Gregory Miller. They wrote:
The first thing that your readers need to understand about this 'report' is that it is not fact-based and not objective, and here is why:

The report was 'prepared by the authors as consultants to the legal team representing Tina Peters' --who is facing legal action for activities that could include abuse of the Mesa County Election Management System (EMS).
Peters is the Mesa County clerk charged with 10 counts related to breaching election system security and tampering with voting equipment. As a Republican running for secretary of state, she has promoted false claims of fraud in the 2020 election. Her deputy, Belinda Knisley, was also indicted on six counts. NPR reported the story on March 9, 2022:
The pair is accused of helping an unauthorized person make copies of sensitive voting-machine hard drives and attend an annual software update. Information from the machines and secure passwords were later shared with election conspiracy theorists online. Shortly after the data was leaked, Peters appeared at an event put on by MyPillow CEO Mike Lindell, one of the leading promoters of the conspiracy theory that the 2020 election was rigged.
The OSET review points out that Peters' legal team has created the report as part of her defense:
The authors admit this point up front, and then obfuscate it immediately: 'Representing Tina Peters, the Mesa County Clerk and Recorder, pursuant to her statutory duties as Mesa County's Chief Election Official.' This is incorrect. Her legal team (and their experts) is not helping with Peter's statutory duties; in fact, they are helping Ms. Peters in defense against claims that she failed in her statutory duties, including allegedly giving illegal access to critical election information systems.
Because of this, the OSET review labels the report as "deceptive":
... the report cannot be based on facts, because it purports to be based on data for which there is no provenance. The data that the report describes could be:

invented completely; or
a copy of data from some other EMS, then modified to support the authors claims; or
a tampered copy of data from the Mesa County EMS; or
a true copy of data from the Mesa County EMS.

However, there cannot be evidence that it is the latter (a true copy). It is just some data that some people claim is a true copy, unmodified. No one has (and there is no evidence that they) followed standard practices for obtaining digital forensic evidence from an EMS computer, that would be required to create digital evidence in a legal proceeding.
OSET continued its review:
Therefore, the claim that 'findings provide evidence of illegal' anything, is false, because there is no digital evidence that meets a legal bar for evidence. Nothing in the 'report' document can be believed based on evidence, and the people who made this document have the agenda and motivation of helping to exonerate Ms. Peters. You don't need to know anything about EMS or election technology to realize that the document cannot be relied on as a source of facts.
The "Bombshell" report does not match findings of an audit of the paper ballots, which are still available
In addition to the claims of "unauthorized and illegal manipulation of tabulated vote data" in the report published on the Lindell website, its authors say "this evidence" leads to "the vote totals for those elections being impossible to verify." But that ignores Colorado election law which requires a "voter-verified paper record." The paper ballots, which must be saved for more than two decades, are 100% auditable and were audited during the 2020 general election in Colorado. So, even if there were "unauthorized and illegal manipulation" of digital voter data, the paper trail would still be available to confirm vote totals.
In a March 25, 2022, email to Lead Stories, the Colorado Secretary of State's Office provided this on-the-record declaration:
These 'reports' are unauthenticated hearsay and contain no verification of the chain of custody of the hard drive images it purports to analyze.

Not one of these reports have shown any evidence that the results of the 2020 election or any other election were not accurate.

Since 2005 and including in 2020 and 2021, counties have conducted a public logic and accuracy test (LATs) on the voting equipment before every election. Before the election, the public and bi-partisan LATs test that the system is functioning properly and will tabulate accurately.

Since 2017, including in 2020 and 2021, a statewide bipartisan risk-limiting audit (RLA) has also been conducted following every statewide election. The RLA, which is conducted by bi-partisan teams of citizen election judges, gives us a high statistical level of confidence that the outcome of an election is correct.

Between the Risk-Limiting Audit and mandatory LAT tests, Dominion's voting system has been successfully validated over 800 times in Colorado, both pre and post-election. ...

All voting systems that are used in Colorado have been tested by a federally accredited test lab, as required by Colorado law.
OSET concluded its review this way:
In summary, the 'thud factor' of an unverifiable data set ... is unpersuasive to a knowledgeable election administrator, although it may create a 'shock and awe' reaction from those readers unfamiliar with any of this, and who do not realize that the entire report is a defense fabrication as part of a legal proceeding against Ms. Peters.

We're all too happy to deeply examine data sets and claims when:

a. The data provenance can be proven and the data authenticity verified;

b. The examiners are knowledgeable of election administration technology, practices, processes, and policies; and

c. The motivation and premise for such reporting is not to attempt to mount a persuasive defense of an election official charged with criminal conduct in the course of their job.
"Bombshell" report co-author O'Donnell's credentials are not listed on the Ordros website:

(Source: ordros.com screenshot taken Fri Mar 25 at 23:40:20 2022 UTC)
Report co-author Daugherity's masters and doctorates in Education are detailed on his web page in the Texas A&M website (archived here):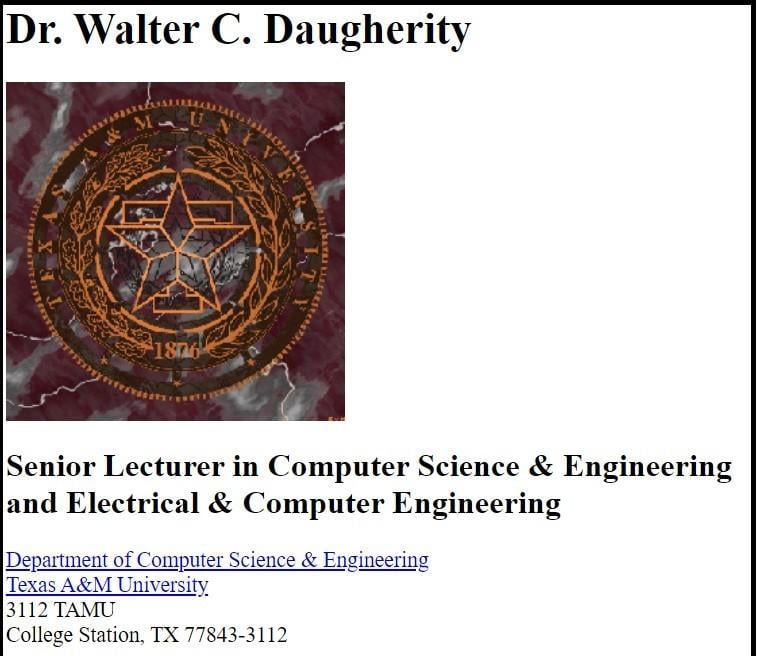 (Source: people.engr.tamu.edu screenshot taken Fri Mar 25 at 23:50:25 2022 UTC)
Lead Stories has previously debunked multiple stories involving MyPillow CEO Mike Lindell. You can find them here.