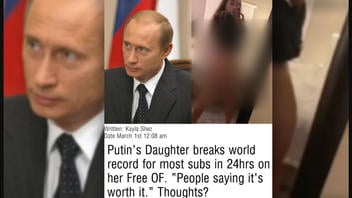 Did Vladimir Putin's daughter break a world record for the most subscribers in 24 hours on a free OnlyFans account? No, that's not true: This one-second-long video posted on Instagram is a ruse to drive traffic to an OnlyFans account and to use a free subscription to entice people to paid subscriptions. There is no evidence that the "18 year old Russian Girl" used in the promotion on Instagram and on OnlyFans is Vladimir Putin's daughter. While the context of a "free subscription" being reviewed as "worth it" can be understood to be a joke, the structure of this ruse is deceptive clickbait.
The claim appeared on March 1, 2022, in a one-second "video" (it is a static image with no sound) that was posted on Instagram 13 times in a row by the account @nicolewaifu. It was captioned, "@sasha.degress has the Freakiest 0nlyfanz ever & it's Free ;)" The text included in the image says:
Written: Kayla Shez
Date March 1st 12:08 am
Putin's Daughter breaks world record for most subs in 24hrs on her Free OF. "People saying it's worth it." Thoughts?
This is how the post appeared at the time of writing: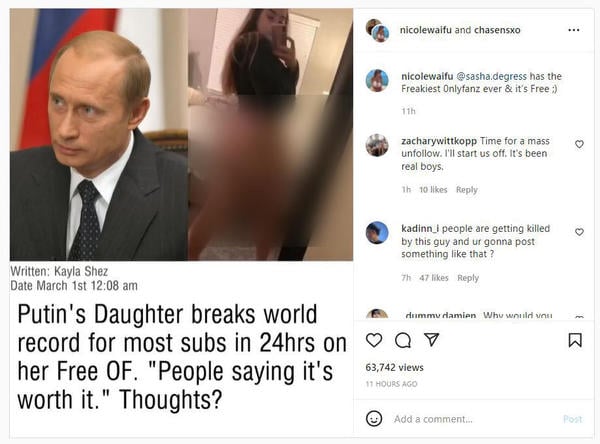 (Image source: Lead Stories blur added to Instagram screenshot, taken on Tue Mar 01 18:34:36 2022 UTC)
This is how the March 1, 2022, posts appear on the @nicolewaifu Instagram account. At the time of writing the individual videos had between 16k and 363k views each: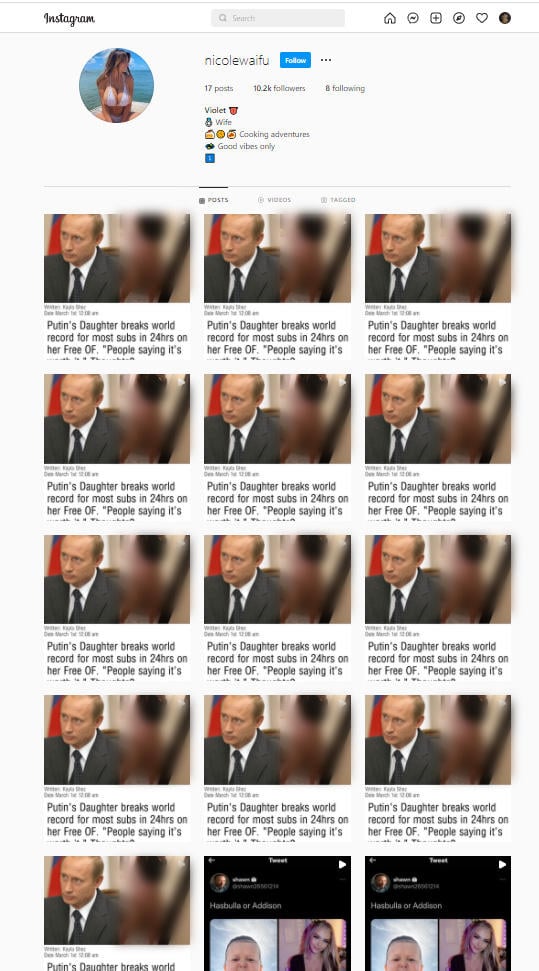 (Image source: Lead Stories blur added to Instagram screenshot, taken on Tue Mar 01 18:34:36 2022 UTC)
The caption on the post points to an instagram account @sasha.degress, which in turn points to the OnlyFans account @sashadegress. OnlyFans is an uncensored platform that offers exclusive creator content to fans and allows the creators to monetize their content.
The @sashadegress account claims to belong to an 18-year-old Russian woman, but makes no mention of her being Putin's daughter. There are only 23 posts going back to January 20, 2022, and none of these posts has more than 650 likes -- which makes the claim that this account has broken the most-followed-in-24-hours free OnlyFans account unlikely. The most recent posts on this account, which were also made on March 1, 2022, make suggestive comments and link to four additional OnlyFans accounts.

Lead Stories was unable to locate the original source of the article by Kayla Shez that makes up the text in the "video," nor did we find any reports of recent OnlyFans subscriber records being broken. This appears to be an entirely fabricated claim.
Lead Stories reached out to OnlyFans for comment and will update this article if appropriate.