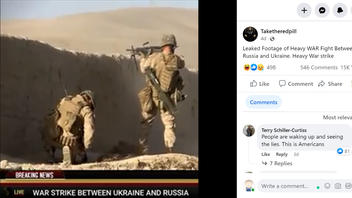 Does a Facebook video show heavy fighting between Russian and Ukrainian forces? No, that's not true: The video shows U.S. and Afghan National Army (ANA) forces fighting the Taliban in Kandahar province, Afghanistan, during Operation Creature Pan Kalay in December 2011. This video was shot more than a decade before Russian leader Vladimir Putin announced his intention to conduct a military operation in Ukraine on February 24, 2022.
The claim appeared in a Facebook post and video published on February 25, 2022. It opened:
Leaked Footage of Heavy WAR Fight Between Russia and Ukraine. Heavy War strike
This is what the post looked like on Facebook on March 1, 2022: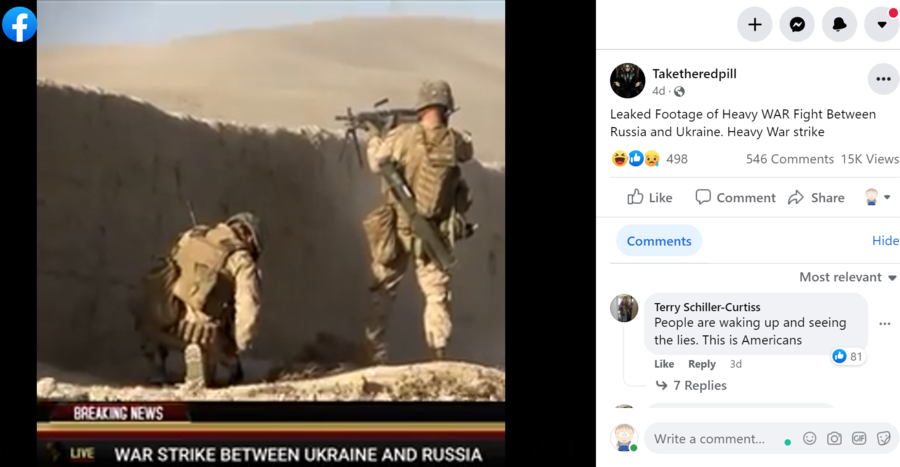 (Source: Facebook screenshot taken on Tue Mar 1 15:27:27 2022 UTC)
At the 7:45 mark in the Facebook video, the person trying to pass it off as fighting between Russia and Ukraine forgot to remove a slate showing the source of the video. It's from the U.S. Army. The image identifies the video as "B-Roll: Operation Pan Kalay" with U.S. Army Staff Sgt. Walter Talens reporting: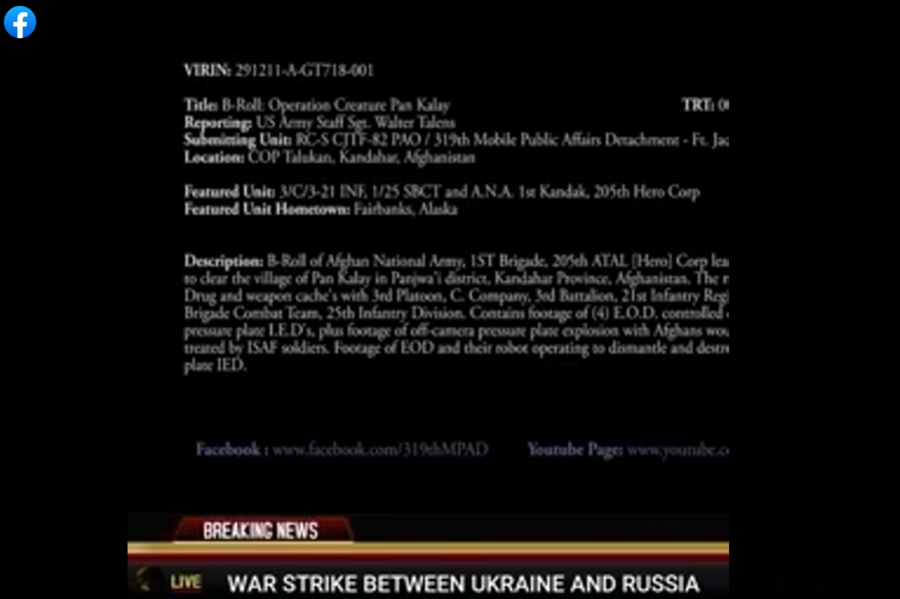 (Source: Facebook screenshot taken on Tue Mar 1 17:22:46 2022 UTC)
To add to the evidence, nearly all the soldiers in the 12-minute video are speaking English. Occasionally, an ANA soldier says something in Dari or Pashto. No Russian or Ukrainian can be heard.
Most of the video was shot by the 319th Mobile Public Affairs Detachment of the U.S. Army. The unit produced a three-part series on Operation Pan Kalay. This is the military's description of the video that was shot on December 29, 2011:
Story Package of Operation Creature Pan Kalay in the Horn of Panjwa'i, the birthplace of the Taliban. Afghan Army plan and execute a mission to find weapons cache's at a Taliban stronghold.
All three original videos can be found on YouTube. Part 1: Operation Pan Kalay - ANA enters Pan Kalay:
Part 2: Operation Pan Kalay - ANA discover HME/IED Factory:
Part 3 of 3: Operation Pan Kalay - EOD destroy IED Factory: