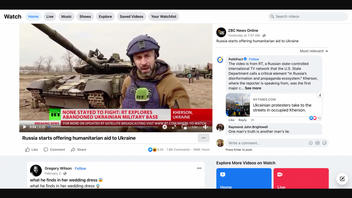 Did Russia start offering humanitarian aid to Ukraine, according to this video? No, that's not true: This video does not talk about humanitarian aid once. It is from a Russia-controlled television network, RT, that the U.S. State Department calls a critical element "in Russia's disinformation and propaganda ecosystem." Kherson, the city where the reporter is speaking, was one of the first cities Russian troops invaded and left hundreds of Ukrainians dead, according to The New York Times. Russia had promised Kherson humanitarian aid at one point, but failed to keep their promise once the aid was needed, according to The Washington Post, which cited local officials.
The claim appeared in a video (archived here) on Facebook on March 7, 2022. It opened:
... abandoned very quickly by Ukrainian troops. There wasn't much of a fight here. They left their equipment. These are, for example, T-64 tanks. All of them in working order.
This is what the post looked like on Facebook at the time of writing: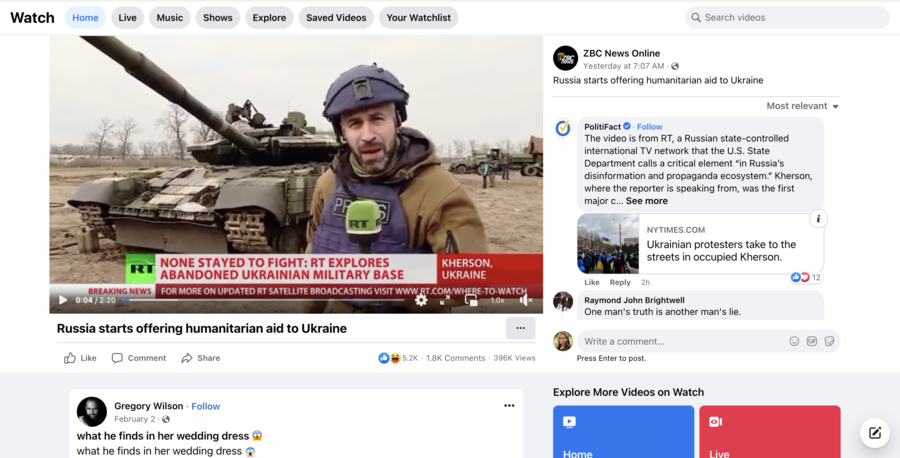 (Source: Facebook screenshot taken on Tue Mar 8 19:28:29 2022 UTC)
The video in this Facebook post does not match the caption. The reporter never talks about Russian troops giving humanitarian aid to Ukrainians. He is exploring what RT describes as an "abandoned Ukrainian military base" in Kherson, Ukraine.
Russia "is not living up to its side of the bargain on proposed 'humanitarian corridors,' even as supplies of food and other necessities begin to dwindle" in Kherson, a Washington Post article on March 4, 2022, reported.
Kherson was the first major city to come under Russia's control, The New York Times reported on March 5, 2022.
The U.S. State Department had this to say about RT and another Russian propaganda channel, Sputnik:
RT and Sputnik are key state-funded and directed global messengers within [the disinformation and propaganda] ecosystem, using the guise of conventional international media outlets to provide disinformation and propaganda support for the Kremlin's foreign policy objectives. RT and Sputnik also interact with other pillars of the ecosystem by amplifying content from Kremlin and Kremlin-aligned proxy sites (some of which are connected to Russian intelligence), weaponizing social media, and promoting cyber-enabled disinformation.
Other Lead Stories fact checks related to the 2022 Russia-Ukraine conflict can be found here.