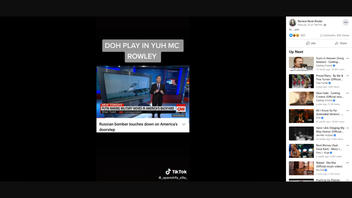 Did Russia send jet bombers to Venezuela during its ongoing invasion of Ukraine in 2022? No, that's not true: A CNN news report describing Russian bombers that landed in Venezuela to conduct exercises over the Caribbean was broadcast in 2018.
The claim appeared in a Facebook post (archived here) on February 25, 2022. The post has a TikTok that included a video of a news report from CNN. An explanatory title in the video reads:
Russian bomber touches down on America's doorstep
The report described the landing of TU-160 Russian bombers in Venezuela. The supersonic aircraft could carry nuclear weapons and were deployed to perform training in the area.
This is what the post looked like on Facebook on March 2, 2022:
(Source: Facebook screenshot taken on Wed Mar 2 15:35 2022 UTC)
While the Facebook post was published during the Russia invasion of Ukraine in early 2022, the CNN report was broadcast on December 11, 2018.
The December 2018 landings in Venezuela were also covered by other news organizations.
CNN has reported on Russian bombers carrying out training flights in Venezuela since at least 2008. Russian bombers were also sent to Venezuela in 2013.
More Lead Stories fact checks about the ongoing Russia-Ukraine conflict can be found here.