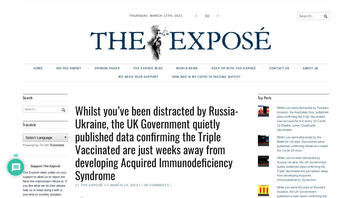 Did the UK Health Security Agency (UKHSA) publish data confirming the triple vaccinated are weeks away from developing AIDS? No, that's not true: The data does not show immune systems being destroyed by COVID-19 vaccines but instead how vaccine efficacy wanes over time.
COVID vaccines boost the ability of our bodies to fight coronavirus. They do not compromise our body's capacity to fight infections and other diseases. AIDS weakens our immune systems, making us more susceptible to them.
The claim appeared in an article (archived here) published by The Exposé on March 13, 2022, under the title "Whilst you've been distracted by Russia-Ukraine, the UK Government quietly published data confirming the Triple Vaccinated are just weeks away from developing Acquired Immunodeficiency Syndrome." It opened:
The latest official figures from the UK Health Security Agency show that triple vaccinated people aged 30-70 have now lost at least 70% of their immune system capability compared to the natural immune system of unvaccinated people.

Their immune systems are deteriorating between 10 and 30% per week on average, with the detioration much larger and quicker among the younger age groups.

If this continues at the current rate then all triple vaccinated 18 to 39-year-olds will have 100% immune system degradation by the middle of April 2022, with all other triple vaccinated age-groups following suit not long after.

In other words, official UK Government data strongly suggests the triple vaccinated population are rapidly developing acquired immunodeficiency syndrome.
This is what the article looked like on The Exposé website on March 17, 2022: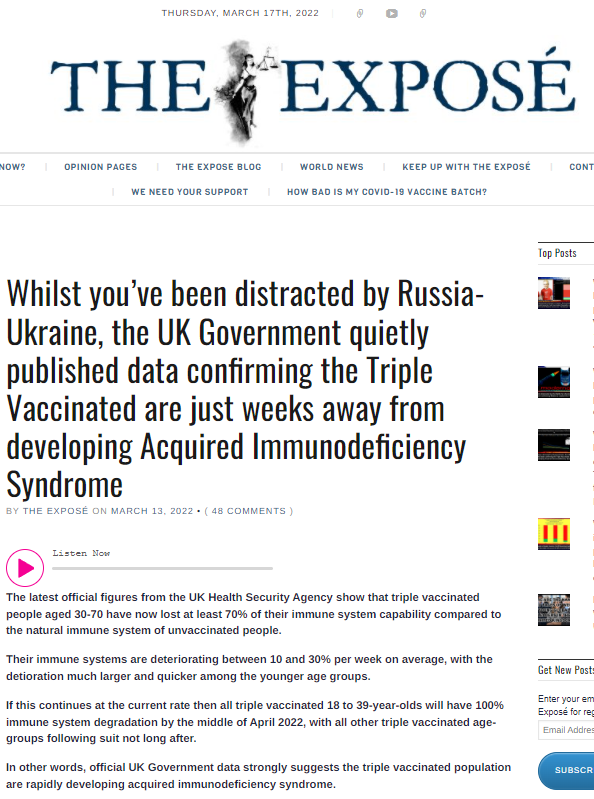 (Source: The Exposé screenshot taken on Thu Mar 17 15:29:56 2022 UTC)
The data
The claim is based on data published in the UKHSA's COVID-19 vaccine surveillance report Week 10, which was released on March 10, 2022.
Charts created for The Exposé article purport to illustrate a waning immune system caused by the COVID vaccines, but that's not what they're showing at all. Instead of being a measure of "immune system performance," they're showing vaccine efficacy or vaccine effectiveness. The term "immune system performance" is not found in the 58-page report from the UKHSA. It's no secret vaccine effectiveness wanes over time. It's the reason many public health agencies around the world have endorsed boosters (here and here).
A portion of the UKHSA report cited in the article discusses vaccine effectiveness (VE) after a booster shot (Page 8):
Data (based primarily on the Alpha and Delta variants) suggests that in most clinical risk groups, immune response to vaccination is maintained and high levels of VE are seen with both the Pfizer and AstraZeneca vaccines.
This UKHSA blog shows vaccine effectiveness against the omicron variant.
Lead Stories has already debunked similar articles by The Exposé that misrepresented or used public health numbers in misleading ways.
COVID vaccines don't cause AIDS
The Exposé article says UKHSA data shows triple-vaccinated people are developing AIDS, but that's not possible. In a February 11, 2022, email to Lead Stories, Stuart C. Ray, M.D., professor of medicine at Johns Hopkins University School of Medicine, said people vaccinated for COVID are at no risk of getting AIDS from the shot or booster:
There is no scientific basis for even speculating that the authorized and approved vaccines to prevent COVID-19 could cause AIDS.
In an email to Lead Stories on March 17, 2022, the UKHSA concurred:
AIDS is caused by the HIV virus.
If a vaccinated person gets infected with COVID-19, the protection provided by the vaccine means the level of virus replication may be lower, leading to milder infection and possibly lower N antibody levels. Lower N antibody values do not mean that the immune system has been damaged in any way. It shows that the vaccine is working and limiting COVID-19 infection.
Vaccines efficacy reduces over time, that is why boosters are so important.
This is how HIV.gov, an official U.S. government website managed by the U.S. Department of Health and Human Services, defines HIV and AIDS:
HIV (human immunodeficiency virus) is a virus that attacks cells that help the body fight infection, making a person more vulnerable to other infections and diseases. It is spread by contact with certain bodily fluids of a person with HIV, most commonly during unprotected sex (sex without a condom or HIV medicine to prevent or treat HIV), or through sharing injection drug equipment.

If left untreated, HIV can lead to the disease AIDS (acquired immunodeficiency syndrome). ...

AIDS is the late stage of HIV infection that occurs when the body's immune system is badly damaged because of the virus.
COVID vaccines work the opposite of HIV and AIDS, according to the Centers for Disease Control and Prevention. The shots help our bodies develop immunity to the virus that causes COVID without someone having to get the illness. They boost a person's immunity to fight disease, not weaken it.
Lead Stories previously debunked another story suggesting COVID vaccines cause AIDS.