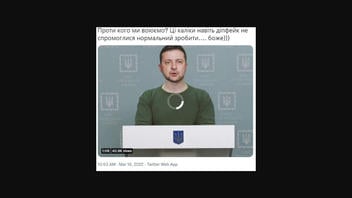 Did Ukrainian President Volodymyr Zelenskyy publish a video telling Ukrainian soldiers to lay down their weapons? No, it's not true. The video is an obviously manipulated compilation of audio and video, called a deepfake. Zelenskyy's neck is grossly out of proportion as a side-by-side comparison clearly shows. There is no corroboration of Ukrainian capitulation reported by credible American, Ukrainian, or Russian sources. Even Russian President Vladimir Putin didn't say anything about it.
The original deepfake video has been vigorously scrubbed from Twitter and other social media. It was hacked into a Ukrainian news broadcast March 16 of of 2022 and then re-posted multiple times. Several copies, including this one, found on a disinformation report by The Atlantic Council Digital Forensic Research Lab, can still be seen. A screengrab of it (archived here) can be seen in which the @_delanay Twitter account mocks the creators of the deep fake for their lack of ability, calling them a Ukrainian word for "cripple."
This is what the @_delanay post looked like at the time of writing.

(Source: archive.today screenshot taken Thu Mar 17 at 19:20:00 2022 UTC)
The video, which started circulating on social media on March 16, 2022, purports to document Zelenskyy saying that being president is not easy so he had decided to resign and advised Ukrainians to lay down their weapons.
Lead Stories has collected in the graphic (below) a screenshot from the fake video and authentic images of Zelenskyy, showing that the fake video has not captured Zelenskyy's body proportions correctly.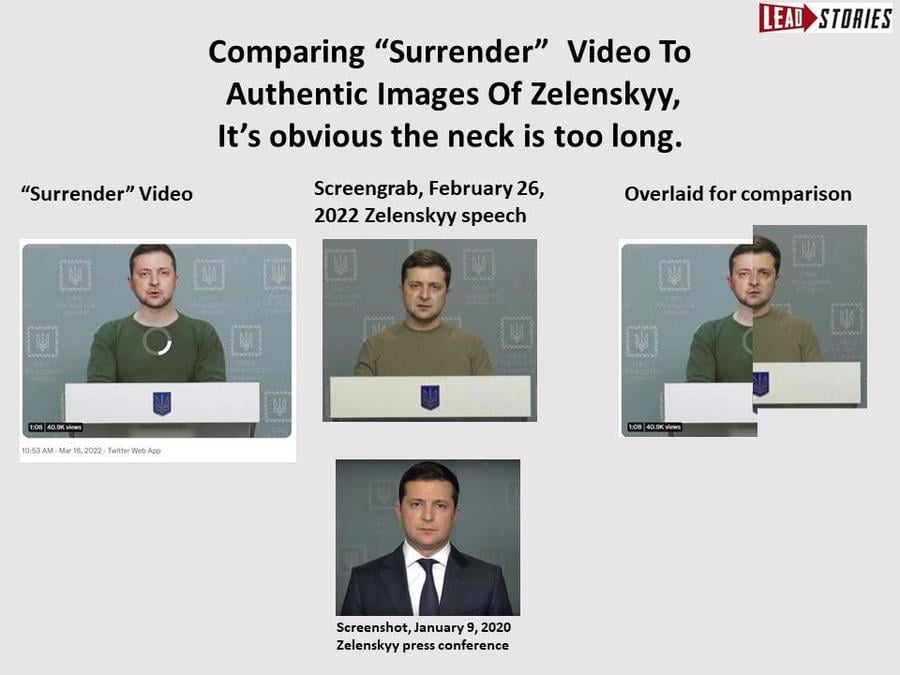 (Source: Lead Stories montage assembled from Twitter.com and news coverage of Zelenskyy speeches)
Ukraine 24, a national TV network, explained in a Facebook post how the video came into existence: its caption was hacked.

(Screenshot 2022-03-17 at 2.16.02 PM)
The content of the caption in question contradicted everything else known about the Ukrainian president's activities on March 16, 2022.
According to the presidential website, on that day Zelenskyy had an online meeting with the International Criminal Court Prosecutor and talked in person with the government heads of Poland, the Czech Republic and Slovenia in Kyiv.
He also announced Ukraine had joined the European Energy Union.
Ukraine's president did make several addresses on March 16, 2022, but none of them contained complaints about his job, mentioned returning Donbas to Russia, or spoke of surrender.
March 16 was the day Zelenskyy addressed the U.S. Congress, saying that "for every act of terrorism by Russian troops on the territory of Ukraine there will be an international tribunal." On March 15, in a separate address to his nation, he praised the "resistance, resilience and courage" of the Ukrainian people.
The March 15 speech, in fact, was defiant: "We still have to fight. And work - everyone in their place ... The invaders did not succeed today. Although thousands of their people were thrown into battle."
Additionally, Zelenskyy himself recorded a new video posted by Ukraine 24, debunking the one in question. He referred to it as "a provocation" and said that it's Russian, not Ukrainian, soldiers who should lay down their weapons while Ukraine will be defending itself until its victory.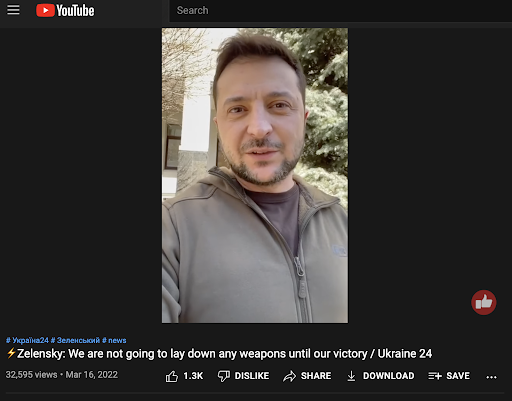 (Source: youtube.com screenshot taken Thu Mar 17 at 17:29:21 2022 UTC)
On March 2, 2022, Ukrainian Land Forces, the army, took to Facebook to warn Ukrainians and supporters of Ukraine to be cautious about what they see online due to elevated risks of deepfakes on social media.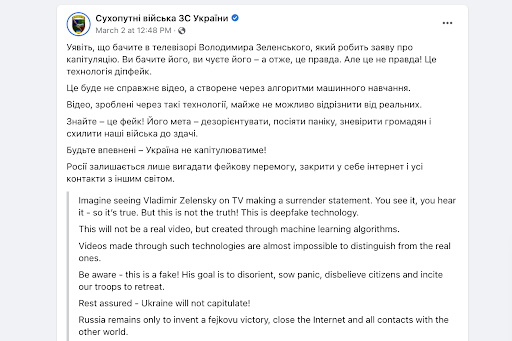 (Source: Facebook.com screenshot taken Thu Mar 17 at 17:21:57 2022 UTC)
Other Lead Stories fact checks related to the 2022 Russia-Ukraine conflict can be found here.