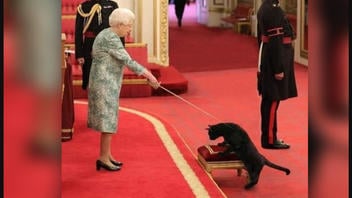 Did Queen Elizabeth II award the honors of Knight Bachelor to a cat named Ruben? No, that's not true: This post was made on April Fools' Day 2022. The original photo from October 10, 2019, was digitally altered to replace stage actor Sir Simon Russell Beale with a cat.
The claim that a cat had been awarded honors by Queen Elizabeth II appeared as a Facebook post with a photo on April 1, 2022, on the page of Ruben The Cat. The altered photo has continued to circulate on social media without the April Fools' context or explanation of who Ruben The Cat is. One example is a Facebook post by The Crazy Cat Man on April 26, 2022. The caption on the photo reads:
Congratulations to Ruben, knighted by the Queen.
Now goes by the name, Sir Ruben.
This is how the post appeared at the time of writing: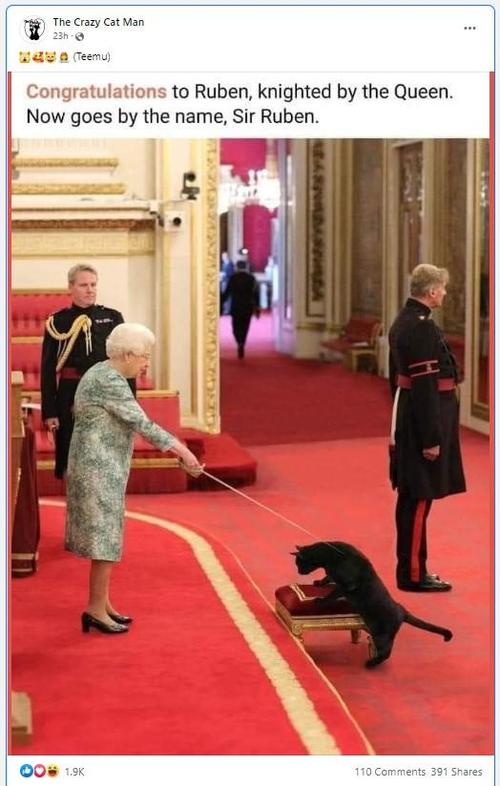 (Image source: Facebook screenshot taken on Wed Apr 27 18:07:01 2022 UTC)
The caption on the original April 1, 2022, post on the Facebook page of Ruben the Cat reads:
Ruben The Cat is feeling proud at Buckingham Palace.
April 1 at 2:34 AM · London, United Kingdom ·

I am very proud to finally announce that I have become the first cat to be awarded honours by Her Majesty Queen Elizabeth II.
Love, Sir Ruben J. Cat, KBE
While Ruben The Cat does not truly carry the rank of a Knight Bachelor, he is a celebrity feline, famous even beyond his neighborhood in Exeter in southwest England for his gregarious and independent lifestyle. His adventures are recorded on his social media pages. On February 15, 2022, Ruben was
featured in a segment
on ITV Westcountry news, which reported on some of his wanderings.