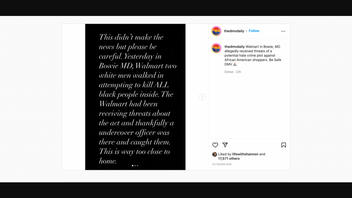 Did two white men walk into a Walmart location in Bowie, Maryland, on May 24, 2022, planning to carry out a hate crime plot against Black people? No, that's not true: A spokesperson from the Bowie Police Department said this story is false. Also, no threats had been made to the Bowie Walmart. In reality, there was a disorderly person at the Walmart in Bowie. A police officer on the scene handled the situation. The police spokesperson told Lead Stories that this story had escalated into something it was not, and there was no threat to the community.
The story appeared in an Instagram post on May 25, 2022, with the caption "Walmart in Bowie, MD allegedly received threats of a potential hate crime plot against African American shoppers. Be Safe DMV 🙏🏽". The post reads:
This didn't make the news but please be careful. Yesterday in Bowie MD, Walmart two white men walked in attempting to kill ALL black people inside. The Walmart had been receiving threats about the act and thankfully a undercover officer was there and caught them. This is way too close to home.
This is what the Instagram post looked like at the time of writing: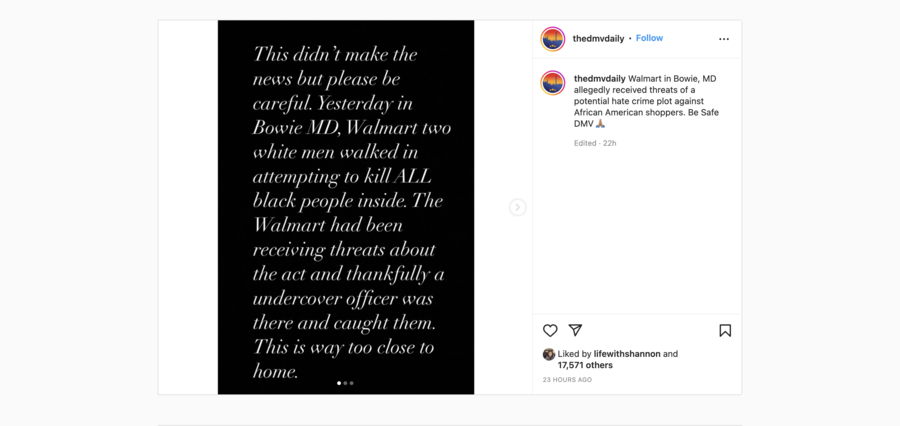 (Source: Instagram screenshot taken on Thu May 26 13:30:22 2022 UTC)
Lead Stories spoke to a spokesperson from the Bowie Police Department on the phone on May 26, 2022. They said this story had been "escalated" with "rumors starting off of it" but that it was not true and there was no threat to the community. In reality, there was one disorderly person at the Bowie Walmart, and the situation was taken care of by a police officer. We asked if any threats had been made recently concerning a hate crime plot, and a spokesperson for the Bowie Police Department responded with, "Nope."
Local news stations also found that these claims were unfounded here and here.