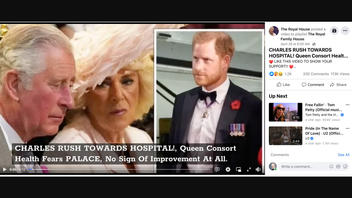 Was Great Britain's Prince Charles "rush towards hospital" and was his wife, Camilla, not showing any "signs of improvement at all" following her COVID-19 infection? No, that's not true: The royal heir to the throne had not been rushed to any hospital as of May 2, 2022. Prince Charles has not been hospitalized in recent weeks or months, as a royal fan page claimed on social media. He appeared in public on April 29, 2022, as news outlets reported. The purported "health fears" regarding "Queen Consort" referred to the prince's wife, the Duchess of Cornwall. She was diagnosed with COVID in mid-February 2022, but recovered and was seen in public after it was claimed she showed "no signs of improvement at all."
The claim appeared in a video on Facebook on April 28, 2022. It opened:
CHARLES RUSH TOWARDS HOSPITAL!, Queen Consort Health Fears PALACE, No Signs Of Improvement At All.
This is what the post looked like on Facebook at the time of writing: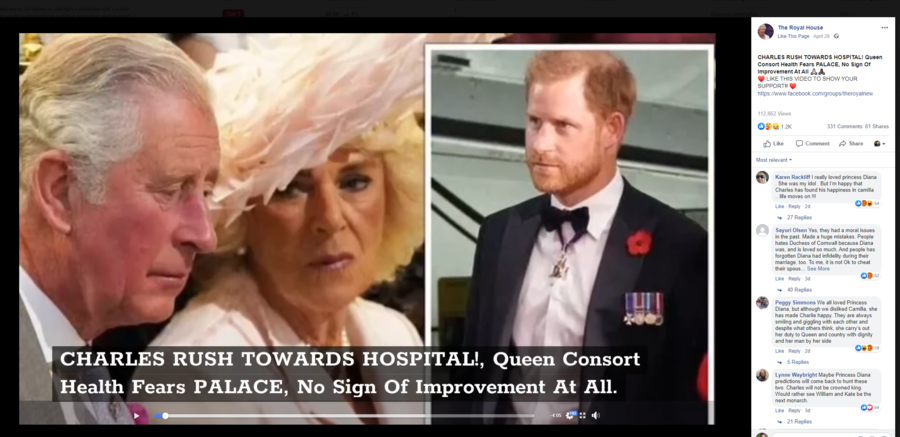 (Source: Facebook screenshot taken on Mon May 2 17:35:20 2022 UTC)
There is no evidence that Prince Charles was rushed to the hospital in either late April when the post was shared or in early May at the time of this writing. He appeared at a graduation parade for the Royal Air Force Cranwell College on April 29, 2022, the BBC reported.
The video claimed the duchess was not attending a horse event "today." However, the duchess tested positive for COVID in February 2022, according to the BBC, and was unable to attend the Cheltenham Festival in mid-March 2022, not in April 2022.
The captions posted on the video, with images of the duchess as well as Meghan Markle, Prince Harry, Prince William and Kate Middleton, began:
Camilla, Duchess of Cornwall, has sparked health concerns after pulling out of a planned visit.
Camilla will no longer head to the ongoing Cheltenham festival today. The Duchess of Cornwall, who is a keen fan of horse racing, was due to present the trophy to the winners of the Queen Mother Champion Chase.
It is understood that Duchess is trying to 'pace herself' after healing from a bout of COVID-19 she contracted last month.
Reporting Camila's decision to cancel her attendance from the beloved horse racing festival, the Daily Express royal correspondent, Richard Palmer, wrote on Twitter: 'The Duchess of Cornwall had been due to attend the Shelton him festival today but she has pulled out.'
Great Britain News reported on March 16, 2022, that she would not be attending the Cheltenham Festival:
The Duchess of Cornwall has cancelled a visit to the Cheltenham Festival - the second time she has missed an event this week.
Camilla has recently recovered from a bout of Covid but has been left with a slight cough and it is understood she is pacing herself after her illness.
The duchess appeared in public the day before the video was posted, with images published by the National Theatre Twitter account showing her attending a "Public Acts workshop" on April 27, 2022.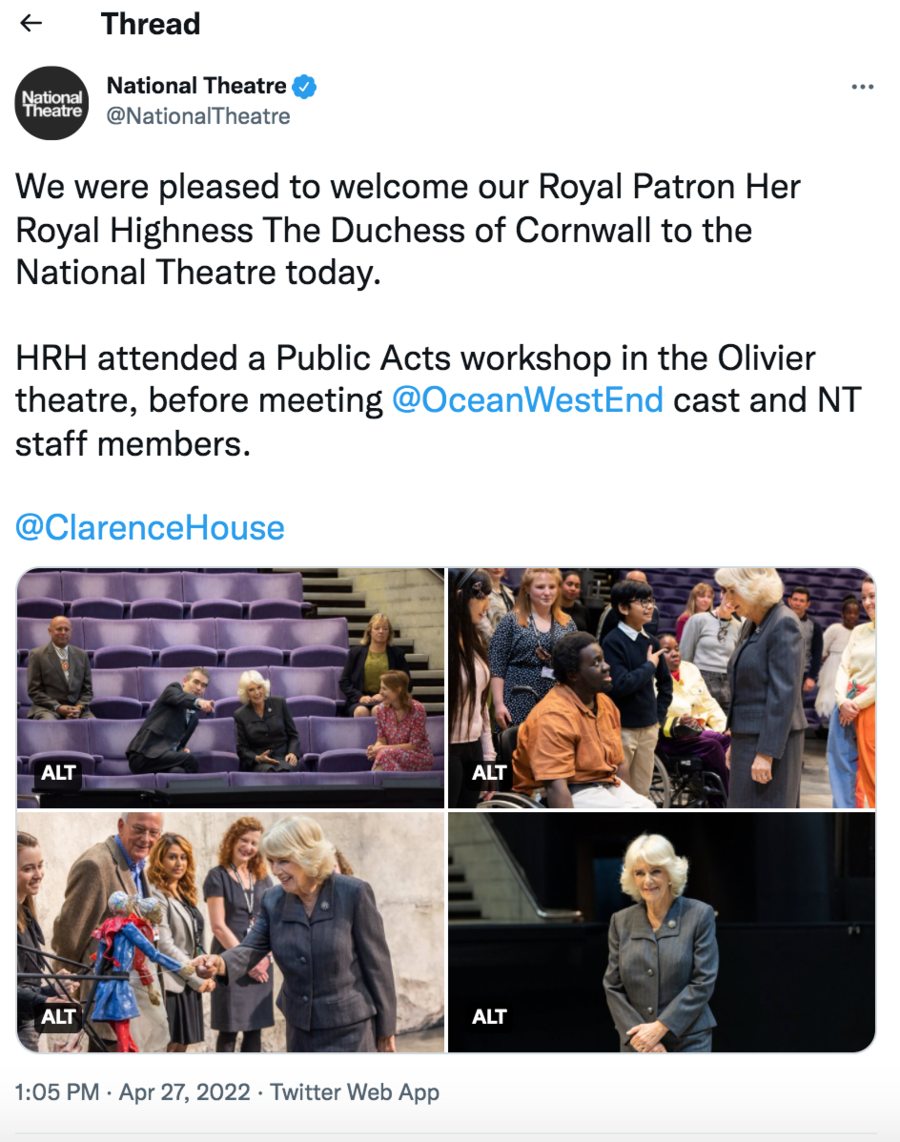 (Source: Twitter screenshot taken on Mon May 2 17:49:33 2022 UTC)