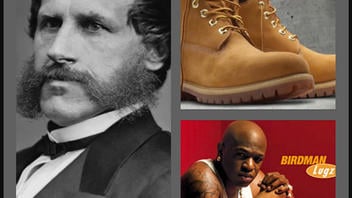 Was the founder of the Timberland boot company an 18th-century slave owner in Mississippi named Timberland Hawkins who hung slaves he couldn't auction from a tree in his field that's still standing and is now featured as the Timberland company logo? No, none of that is true: This post is a spinoff from earlier false social media rumors that the Timberland tree logo represents a hanging tree. This post is satire and is not true. The man in the historical photo is not "Timberland 'Whip A Ni66a' Hawkins," a name used in the post, but George Henry Williams, a judge and the 34th mayor of Portland, Oregon.
There have been posts on social media going back to at least 2014 that claim the Timberland logo is a hanging tree. Recently that story resurfaced on Facebook in a post by "Marty Phuccin Byrde" on February 14, 2022. It is presented in the "Did you know?" format of many social media history posts, with the hanging tree rumor further embellished with photos and made-up quotes. The post was captioned:
Random Black History Fact:

Timberland "Whip A Ni66a" Hawkins was one of the biggest racist of all time. In fact he owned sooo many slaves during the 1700s he couldn't auction them all off so he would hang them from a tree in his field. This tree is still standing in Mississippi which later he decided to place on the boots known as 'TIMBERLANDS'. He said 'My boots were created to catch slaves in, I don't know why the coloreds buy them'

My question to black people is why do we keep supporting Timberland ? Why not just buy LUGZ by Birdman a black man ?

Wake up people, stop supporting these racist

S/O Dr.Umar Johnson
This is how the post appeared at the time of writing: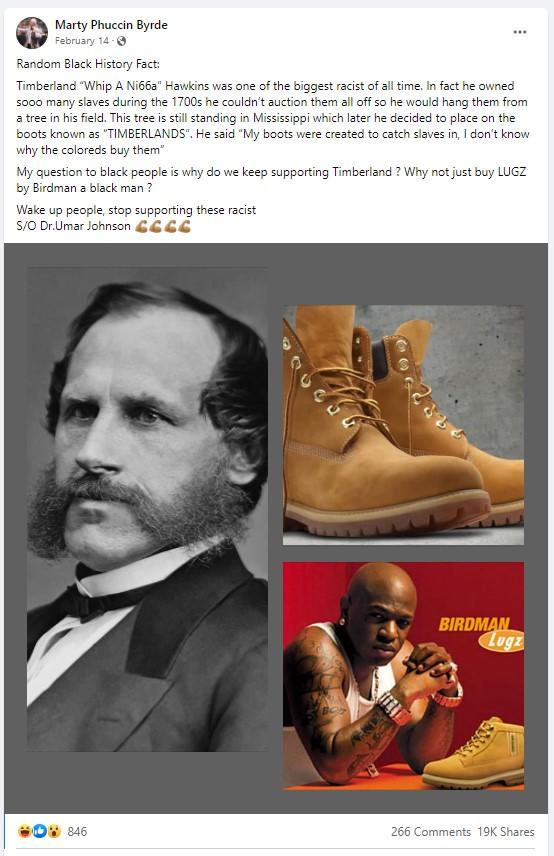 (Image source: Facebook screenshot taken on Tue May 10 14:58:32 2022 UTC)
If there is any confusion about this post having been made jokingly, comments left by the author of the post make it clear. One comment, with a photo of LeVar Burton playing the role of Kunta Kinte in the
1977 miniseries "Roots,"
which was set in 1750, is:
Bet y'all ain't know Kunta Kinte was the rapper 'Lil Wayne' father, he's the one that told Birdman to create LUGZ before he got captured again 💪🏾💪🏾💪🏾
L.u.g.z. = Legendary underground godsOF ZION
The second comment, with a photo of rapper Meek Mill, is captioned:
Rare Photo of The First Slave Wearing Timberlands in the year 1798
This is how those comments appeared on Facebook at the time of writing: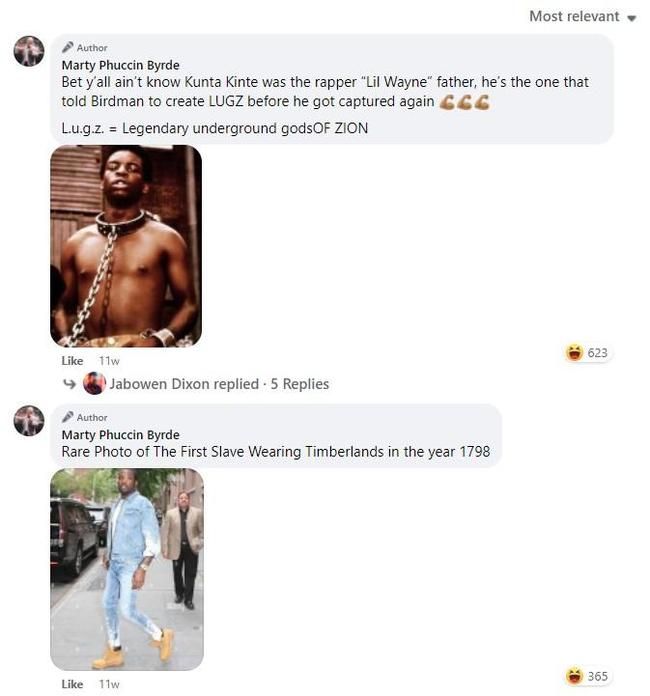 (Image source: Facebook screenshot taken on Tue May 10 14:58:32 2022 UTC)
In 2014 rumors were circulating online about the Timberland logo. Snopes published a fact check on December 4, 2014, titled, "Timberland and Maya Angelou Does a poem by Maya Angelou assert that Timberland is owned by the KKK?" The poem is not by Angelou. The poem says in part:
And for footwear you wear TIMBERLANDS,
Even under the sun
That same tree that is the symbol for them
Could have been the same one your ancestors were hung from.
An example of the hanging tree claim in a February 1, 2014, Facebook post:
Today in Black History: Did you know the a Timberland boot is a symbolic way to remind us of Slavery. The timberland tree was on of the trees that our ancestors was Lynch from. And since we as African American are non Educated about our pass. Society still finds away to always reminds us where we come from.
The brand history presented in Byrde's post is completely made up. In fact, the Timberland Company was purchased by VF in 2011. The company was originally founded by Nathan Swartz who was born in Odessa in 1902. The city, now in Ukraine, was then a part of the Russian empire. The Swartz family, who had been shoemakers for generations, emigrated to New York before World War I. In 1952 Swartz bought half the shares in the Abington Shoe Company. In 1973 the injection molding process to make waterproof work boots was developed. In 1978 the Abington Shoe company was renamed Timberland for that popular line of boots.
Lugz is a brand belonging to Jack Schwartz Shoes Inc. (JSSI), a company founded in 1936. JSSI also owns British Knights -- "BKs," a line added in 1983. JSSI hired famous music artists to promote their footwear, including MC Hammer. The Lugz brand was introduced in 1993, and in 2004 the "Birdman" sneaker was introduced in partnership with Bryan "Baby" Williams. The deal was announced in a May 14, 2004 article in sojones.com titled, "Cash Money Records CEO Baby Signs Shoe Deal With Lugz To Make Birdman Sneaker." The article describes the partnership:
The concept is the brainchild of Lugz' Executive Vice President Larry Schwartz, who approached Baby, recognizing the rapper's entrepreneurial spirit as a perfect fit with Lugz.

'Baby is one of the most influential hip-hop artists of today. He has sold millions of albums and his fan base is worldwide,' says Schwartz. 'We are really excited about this new partnership and expect to make a major impact in the marketplace.' Together Schwartz and Baby created the signature 'Birdman' shoe. and even clothing. The past two summers in fact, Flip has influenced the clothing and accessories of millions.
The man pictured in the black-and-white photo in Byrde's post is George Henry Williams, a judge and politician who lived from 1823 to 1910. Williams was the judge in an important legal case in 1853, Holmes v. Ford. Williams ruled against a slave owner, Nathaniel Ford, in favor of the Robin and Polly Holmes family, whose children Ford was holding as slaves. In 1857, in the time leading up to Oregon's constitutional convention when it would be decided if Oregon would be a free or slave state, Williams spoke out against slavery in Oregon. He wrote a lengthy letter called the "Free State Letter" where he detailed his reasoning for keeping slavery out of Oregon, but his opinions were far from those of an abolitionist -- and he even said so:
Whatever may be inferred from my arguments against slavery in Oregon, I disclaim all sympathy with the abolition agitators of the North and deprecate and denounce all sectional organizations upon that subject. I take the ground that the general government has no right in any way to interfere with slavery, except to carry out the fugitive slave clause of the Constitution, and have maintained the opinion that each State and Territory has the absolute right to establish, modify, or prohibit slavery within its borders, subject only to the Constitutional restriction to 'persons held to service; or labor in one State escaping into another.'