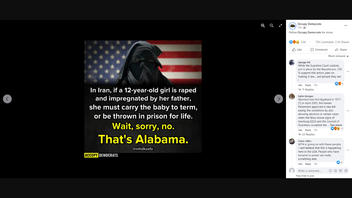 Are people in Alabama who seek or get an abortion "thrown in prison for life," even if the pregnancy was a result of rape or incest? No, that's not true: There's no such law in Alabama. In 2019, Alabama Gov. Kay Ivey signed into law a bill designed to essentially ban abortion in the state, except for when an abortion is sought during a pregnancy that puts the mother's life in danger. There are no exceptions for rape or incest. Still, the act -- House Bill 314 -- only criminalizes abortion providers, not the patients who receive the abortion. Additionally, the act is not enforced in Alabama at the time of writing, as it was blocked by a lawsuit in 2019.
The claim appeared in a Facebook post from the page Occupy Democrats on May 10, 2022. The post features a graphic that reads:
In Iran, if a 12-year-old girl is raped and impregnated by her father, she must carry the baby to term, or be thrown in prison for life.
Wait, sorry, no.
That's Alabama.
This is what the post looked like on Facebook at the time of writing: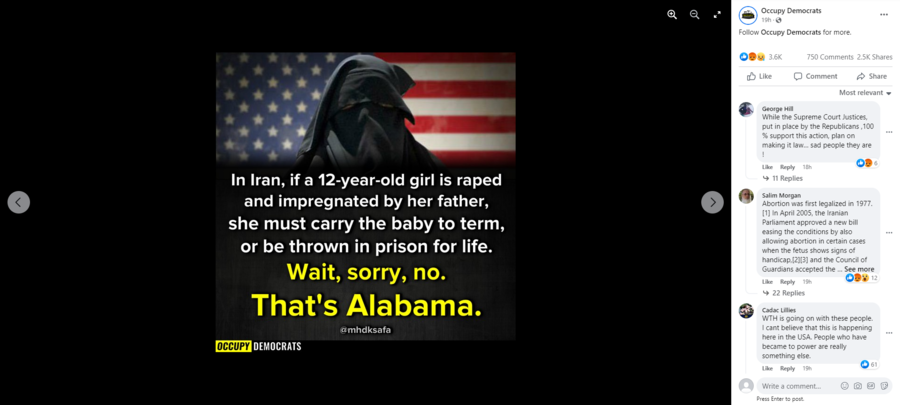 (Source: Facebook screenshot taken on Wed May 11 14:18:22 2022 UTC)
The Supreme Court decision Roe v. Wade held that abortion is a constitutional right. Because of the decision, state laws that completely ban abortion are considered unconstitutional. A majority opinion leaked in May 2022 suggests the decision may be overturned by the current court in 2022, although that has not happened at the time of writing.
There are no Alabama laws at the time of writing that allow for an individual seeking an abortion to be charged with a crime. However, enforceable Alabama abortion law includes several restrictions, including mandatory counseling and limited state-funded payment options for the procedure. Alabama also voted for the passage of an amendment in 2018 that does not recognize any state constitutional right to abortion and does not require any state funds to go toward abortion care.
HB314 became known as the Alabama Human Life Protection Act once it was signed into law. According to the act summary, which can be found by searching for "HB314" on the Alabama Legislature website and clicking on the bill from 2019, the act criminalizes the act of intentionally providing or attempting to provide an abortion unless "an abortion is necessary in order to prevent a serious health risk to the unborn child's mother." The act does not make an exception for rape or incest. The act also specifies that an individual who seeks or receives an abortion in violation of the act will not be charged. To this point, section 5 of the act reads:
No woman upon whom an abortion is performed or attempted to be performed shall be criminally or civilly liable. Furthermore, no physician confirming the serious health risk to the child's mother shall be criminally or civilly liable for those actions.
However, the act was blocked by a federal lawsuit filed against it by Alabama abortion providers and their patients in 2019. The act is still not in effect at the time of writing.
Other Lead Stories fact checks related to abortion can be found here.