STORY UPDATED: check for updates below.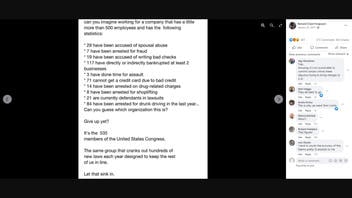 Were 84 members of U.S. Congress arrested for drunk driving throughout 2018? No, that's not true: There is no publicly available evidence suggesting that 84 members of Congress were arrested in 2018, let alone arrested for drunk driving.
The claim -- which seemed to originate from a series of articles called "Congress: America's Criminal Class" posted on the website Capitol Hill Blue starting in 1999 -- reappeared in another version in a Facebook post on January 23, 2019. The post included a graphic that read:
can you imagine working for a company that has a little more than 500 employees and has the following statistics:

*29 have been accused of spousal abuse
*7 have been arrested for fraud
*19 have been accused of writing bad checks
*117 have directly or indirectly bankrupted at least 2 businesses
*3 have done time for assault
*71 cannot not get a credit card due to bad credit
*14 have been arrested on drug-related charges
*8 have been arrested for shoplifting
*21 are currently defendants in lawsuits
*84 have been arrested for drunk driving in the last year...
Can you guess which organization this is?

Give up yet?

It's the 535
members of the United States Congress.

The same group that cranks out hundreds of new laws each year designed to keep the rest of us in line.

Let that sink in.
This is what the post looked like on Facebook at the time of writing: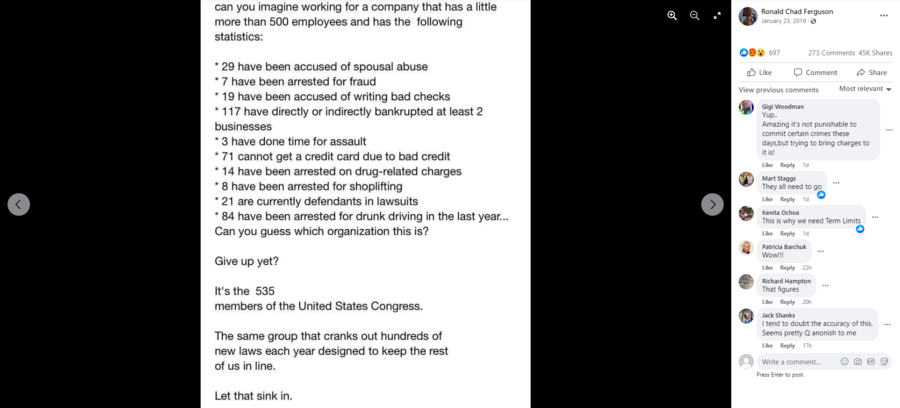 (Source: Facebook screenshot taken on Tue Jun 7 15:24:47 2022 UTC)
The graphic does not mention time frames for any of the alleged offenses or financial issues except "84 have been arrested for drunk driving in the last year." Because that category is the only one with a time frame for reference, this fact check focuses only on the purported 84 drunk-driving arrests "in the last year." The post was published in 2019, so "in the last year" would be 2018.
Lead Stories located a non-comprehensive resource from Ballotpedia of politicians including state legislators who have been both arrested and convicted of driving under the influence (DUI), which is a broader category than drunk driving. The list only includes one member of Congress, Mike Crapo, a U.S. senator from Idaho, who was arrested for a DUI in 2012 and convicted in 2013.
A resource from stopthemaddness.org claimed to list federal and state legislators who were pulled over for alleged drunk driving, with news stories attached to each incident as proof. All but one of the legislators listed were in office at the time of their stop. At the time of writing, only one legislator on the list, Kevin Brady, was a member of the U.S. Congress. None of the incidents reported on the list were from 2018.
Lead Stories used Google to search for "2018 Congress member DUI," "U.S. Congress members arrested drunk driving" and "84 U.S. Congress members arrested," and did not find any data corroborating the claim.
Factcheck.org debunked the drunk driving claim in 2009, a decade before the post reappeared on Facebook. It cited an article from the Capitol Hill Blue series as the source of the claim. However, the 84 members of Congress being "arrested" for drunk driving claim was a reinterpretation of how it appeared in the Capitol Hill Blue article, which actually stated that 84 members of Congress in the 1998 congressional session "were stopped for drunken driving and released after they claimed Congressional immunity."
The Factcheck.org debunk pointed out that Capitol Hill Blue did not cite any sources for the drunk driving claim, nor other claims from other articles in the "Congress: America's Criminal Class" series about questionable actions made by members of Congress. Some of those claims, such as 117 members of Congress bankrupting at least two businesses and 29 members of Congress being accused of spousal abuse, also appeared in the graphic included in the Facebook post.
The "Congress: America's Criminal Class" series from Capitol Hill Blue is no longer active on the website. Both the Factcheck.org debunk and a debunk from Snopes reported that Doug Thompson, the founder of Capitol Hill Blue, removed the statistics from the website because although he claimed he didn't write or edit the stories, he "did not double check the facts" and he realized that the stories were still his "responsibility."
In February 2023, Lead Stories reviewed the same Ballotpedia list of politicians arrested and convicted of DUI and checked online news archives. We found no publicly available evidence to support the claim that 84 members of Congress were arrested for DUI in any year since the claim first emerged in 1999.
2023-02-13T18:43:53Z

2023-02-13T18:43:53Z

Added February 2023 update