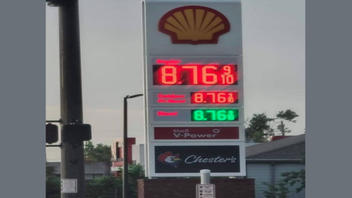 Did a BP executive named "Brice Cromwell" write a commentary being shared on social media that blames the high cost of oil and gasoline on the United States not producing enough of "our very own American made product"? No, that's not true: BP says it does not have an employee by that name and the post did not come from the energy company.
The claim appeared in a Facebook post on June 5, 2022, under the title "Written by BP Oil Executive Brice Cromwell." It opened:
This explains it all:

I've been in oil and gas for a decade and sometimes forget how the average person may not know what I see everyday.

We, the American people, have enough oil and gas under our feet to supply our demand and also export our products for years to come.

No matter your political opinion, we can all agree the gas prices we see now are upsetting.

What everyone needs to understand is that the high gas prices are not because of some conflict overseas - prices were high well before that. The prices are not high because our American supply simply vanished.

The prices are high because the people who run our country have decided to import oil from another country instead of using our very own American made product.

Why?
This is what the post looked like on Facebook at the time of writing:

(Source: Facebook screenshot taken on Mon Jun 6 15:34:41 2022 UTC)
The post continued, in part:
... Nothing has changed as far as oil and gas from 2016-2020 to the last year.

It didn't just dry up.

It's here, we are here to produce it.

We can go back to lower prices at the pump.

All we need is the people in power to want that ...
The post concludes with a signature of sorts -- "BP Oil Executive Brice Cromwell" -- but it gives no information as to what position "Brice Cromwell" purportedly holds or where he is located. The webpage for the BP
leadership team
makes no mention of him.
In a June 6, 2022, email to Lead Stories,
Megan Baldino
, the head of corporate communications for BP America, said:
We are in the process of working with our team to look into this, but we can confirm we do not currently have an employee with that name and this Facebook post did not come from BP.
A similar version of this post has circulated before, but with no attribution to Cromwell. It appeared on March 8, 2022: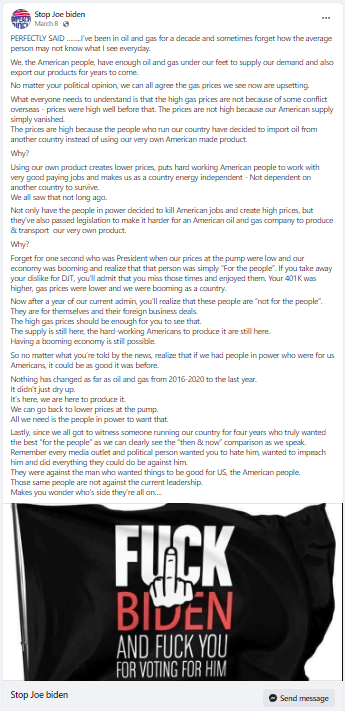 (Source: Facebook screenshot taken on Mon Jun 6 18:00:08 2022 UTC)
Lead Stories has fact checked many claims concerning high fuel prices.