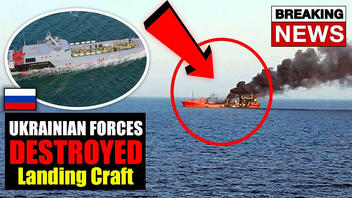 Does a photograph in a June 2022 news story show a destroyed Russian landing craft? No, that's not true: The photo shows a vessel that was hit by a missile off the coast of Ukraine back in February 2022.
The photograph appeared in a YouTube post (archived here) published by Strong News on June 3, 2022. Titled "Ukrainian Forces Destroyed Russian Landing Craft!" the video post showed the photograph at about the 0:17 mark. At the 0:44 second mark, a voice reported:
According to breaking news today, the Ukrainian forces destroyed the Russian landing craft.
Click below to watch the video on YouTube:
Contrary to the post's clear implication, the photograph does not show a destroyed Russian landing craft. It's an old photo.
The Ukrainian Ministry of Defense posted the image to its Facebook page on February 25, 2022. The post can be seen below:
According to the Ukrainian Defense Ministry, Russian forces "fired at️ two foreign vessels near the port of Pivdennyi." One vessel was the Namura Queen, a cargo ship sailing under the flag of Panama; the other was the Millennial Spirit, a tanker sailing under the flag of Moldova.
CNN and Naval News wrote about the incidents back in February 2022. Naval News identified the vessel in the photograph as the "MILLENNIUM SPIRIT."