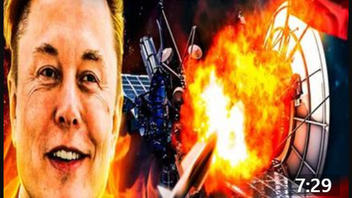 Did Elon Musk "just save us" by destroying a Chinese spy satellite with a SpaceX rocket? No, that's not true: This is a baseless clickbait video manufactured for views. There are news stories from late 2021 about close calls between two SpaceX satellites and the Chinese space station, but there is no supporting evidence offered or existing reporting from other outlets to back the claim that a SpaceX rocket recently destroyed a Chinese spy satellite intentionally and "with the consent of the U.S. Government."
The claim is in a video published on Facebook by the page Elon Musk Fans on June 1, 2022, under the title and caption, "Elon Musk JUST SAVED Us All From Chinese Spy Satellite!" The first minute of the video narration begins:
Elon Musk just destroying a Chinese spy satellite, which has completely changed the game with the consent of the US government. Elon Musk's SpaceX just destroyed one of China's newest surveillance satellites. This action has major consequences for the future of US China relations and the future of space exploration. It will determine Elon Musk's latest act of space warfare and what it implies for both the US and China in the future. So what are the consequences now? In today's video, we're going to talk about the fact that Elon Musk just destroyed a Chinese spy satellite which changes everything. Curious to know more? Stay tuned to the video. Elon Musk has just fired the most powerful rocket in the world destroying a Chinese surveillance satellite in space. But why is this so? Is anyone else thinking that staying away from China is a wise idea. I'm not sure we could manage another alleged murder or even additional rumors of political intervention. It seems as though they are always trying to outdo us and we have to come out on top. Who wins when the Americans and Chinese are at odds. Of course it's the Chinese.
This is how the video appeared on Facebook at the time of writing: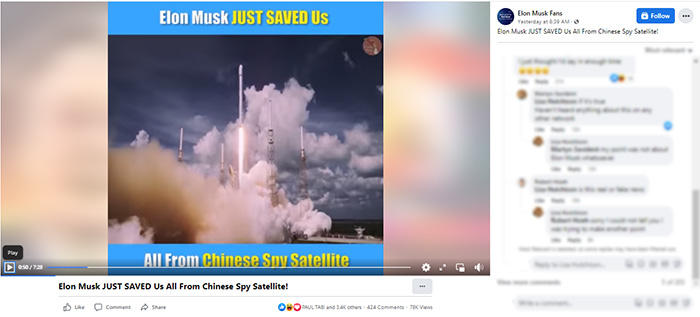 (Image source: Facebook screenshot taken on Thu Jun 02 15:31:36 2022 UTC)
The video is a clickbait production featuring graphics, file footage of Musk public appearances, animations and actual footage of SpaceX launches. The narration is an expressive next-generation text to speech robo voice. There is no publicly available evidence that a SpaceX rocket attacked a "Chinese spy satellite," as Google search results archived on the day of publishing demonstrate. The search results mainly show news stories from late December 2021, such as this December 30, 2021, article on space.com titled, "China's Tianhe space station module dodged SpaceX Starlink satellites twice this year." After two near-misses with Starlink satellites, China filed a note with the United Nations. If Elon Musk had actually blown up a Chinese satellite with the endorsement of the U.S. government as this video claims, it would be an international incident.
The channel Elon Musk Fans had a dramatic switch in content theme between February 22 and 23, 2022. Overnight the channel went from videos of golden retriever puppies to SpaceX and Elon Musk content. The variety of graphic styles visible in the Elon Musk video thumbnails, coupled with the channel uploading three-to-five videos a day, suggests that this content is scraped from clickbait Elon Musk fan channels (examples here, here and here) on YouTube.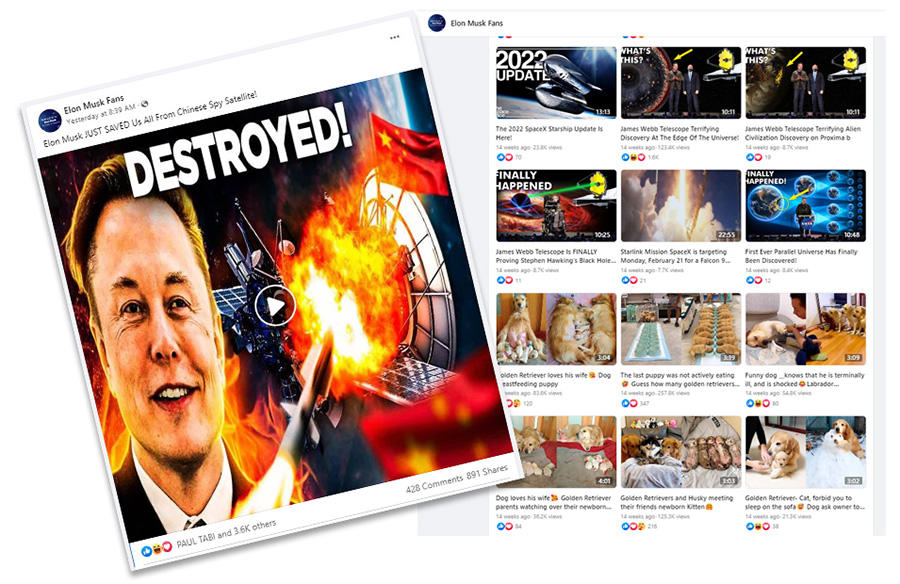 (Image source: Lead Stories composite image with Facebook screenshots taken on Thu Jun 02 19:38:02 2022 UTC)
Lead Stories was not able to find a duplicate copy of this "Elon Musk JUST SAVED Us All From Chinese Spy Satellite!" video on YouTube.
Lead Stories has debunked another false claim from the Elon Musk Fans Facebook page. In that video the unsubstantiated claim was that "Elon Musk JUST LEAKED -Putin's Cancer Surgery Failed." That video originated from the Elon Musk Evolution YouTube channel, which features a disclaimer that says in part:
Moreover, Elon Musk Evolution is an Elon Musk fan channel and all the information on the site is the product of the script writer's imagination. Viewer's discretion is advised.