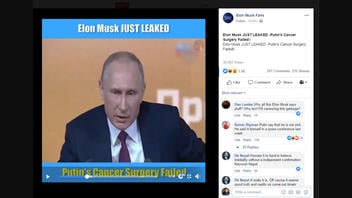 Did Elon Musk leak the news that Russian President Vladimir Putin had cancer surgery that failed? No, that's not true: This video and others like it offer no factual proof that Musk leaked such unconfirmed news to the media. Rumors about Putin's health remained just that -- unsubstantiated rumors -- at the time of writing.
The claim appeared in a video on a Facebook post on May 30, 2022, over the title "Elon Musk JUST LEAKED -Putin's Cancer Surgery Failed!-" The video opened with the narration:
Since the beginning of the conflict in Ukraine many statements about the health of Russian President Vladimir Putin have appeared in the press and social networks. This is confirmed by Elon Musk. The president of Russia recently had a complicated operation and it was probably unsuccessful.
This is what the post looked like on Facebook at the time of writing: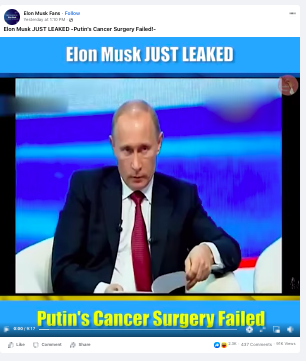 (Source: Facebook screenshot taken on Tue May 31 18:23:22 2022 UTC)
The video in the Facebook post originated from this YouTube channel, called "Elon Musk Evolution." The title of the video is, "Elon Musk Just LEAKED: "Putin's Surgery Went WRONG!" It was posted on May 24, 2022 (archived here).
The site, which asks viewers to subscribe and "like" and share the video, describes itself as an "Elon Musk fan channel" and adds a disclaimer:
Elon Musk Evolution is an Elon Musk fan channel and all the information on the site is the product of the script writer's imagination.Viewer's discretion is advised.
While there have been rumors about Putin's health, a May 30, 2022, story in the Guardian summed up the situation with a headline: "Rumours continue about Putin's health -- with little to back them up."