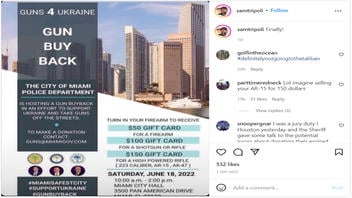 Did the city of Miami sponsor a gun buyback program in support of Ukraine? Yes, that's true: The June 18, 2022, event is being used to get guns off the street and also to support Ukraine. Donations are going to the Ukrainian Congress Committee of America (UCCA), according to the city's website.
The claim appeared in an Instagram post on June 15, 2022, under the title "GUNS 4 UKRAINE GUN BUY BACK." It opened:
THE CITY OF MIAMI POLICE DEPARTMENT IS HOSTING A GUN BUYBACK IN AN EFFORT TO SUPPORT UKRAINE AND TAKE GUNS OFF THE STREETS.
This is what the post looked like on Instagram at the time of writing: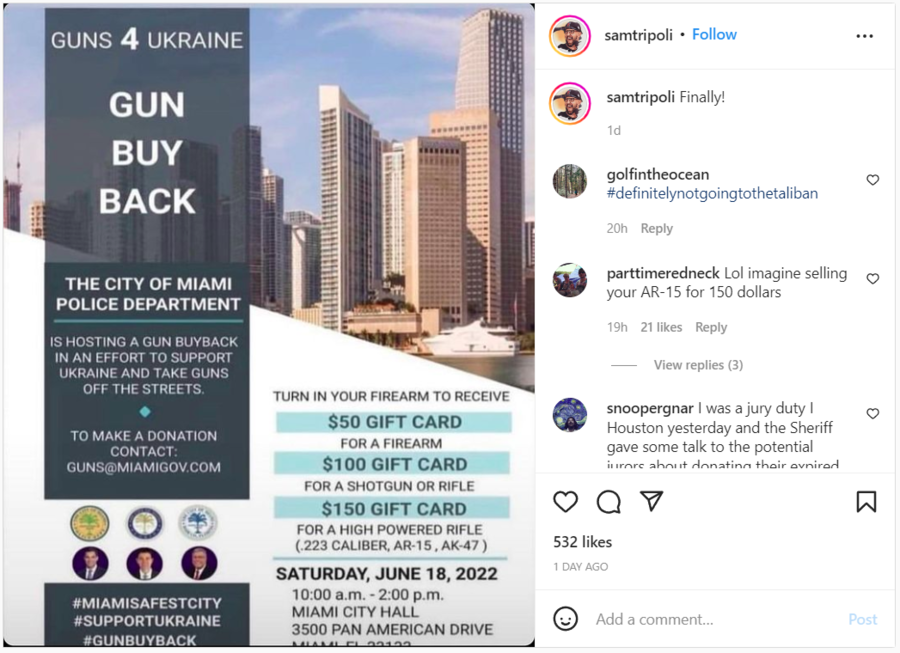 (Source: Instagram screenshot taken on Fri Jun 17 14:25:29 2022 UTC)
The donations to the UCCA during the gun buyback are tax-deductible, as the group is a 501(c)(3) not-for-profit organization. The Miami program also encourages direct online donations to the cause.
According to the city website, some of the weapons could go directly to the war effort:
Your donations will be used to assist the Ukraine support efforts. ... Turning in a gun during the gun buyback ... provides safety and security of knowing that the weapon will be properly disposed of or reallocated for use in support of Ukraine. It is also a great way to show your support in the fight against gun violence.