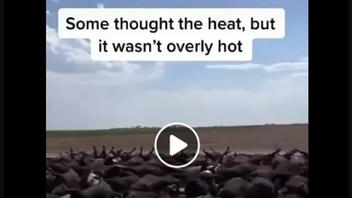 Do Kansas ranchers have no idea what might have killed hundreds or thousands of cattle during an extreme heat wave and believe their feed or water was poisoned? No, that's not true: The cause of death is not a mystery to the people in the industry. The cattle died after days of high temperatures, high humidity, nights that did not offer much cooling and very little wind. Heat stress can kill, and may require several different conditions coming together to result in cattle losses like this. The cattle who died represent only a small percentage of the cattle at very large feed lots in a region that was especially hard hit.
The temperature in southwestern Kansas was over 100 degrees on the weekend of June 11 and 12, 2022. On June 14, 2022, a video showing rows of bloated dead black cattle began to circulate online, first on Twitter, and then on TikTok. That TikTok video was also posted on Facebook on June 16, 2022, by the page Shattered World Media. The post was captioned:
KANSAS - Varying numbers reported (400, 3,000 and 10,000) of cattle dying due to extreme heat. Rumors are that they were likely poisoned via feed or water. We are at war, folks.
The text captioning that appears in the 52-second-long TikTok video reads:
3000 cows died over the weekend in SW Kansas
The Rancher has no idea why
Some thought the heat, but it wasn't overly hot
Bovine Respiratory Disease is another theory
Nobody knows.....
An autopsy is pending
This is how the video appeared on Facebook at the time of writing: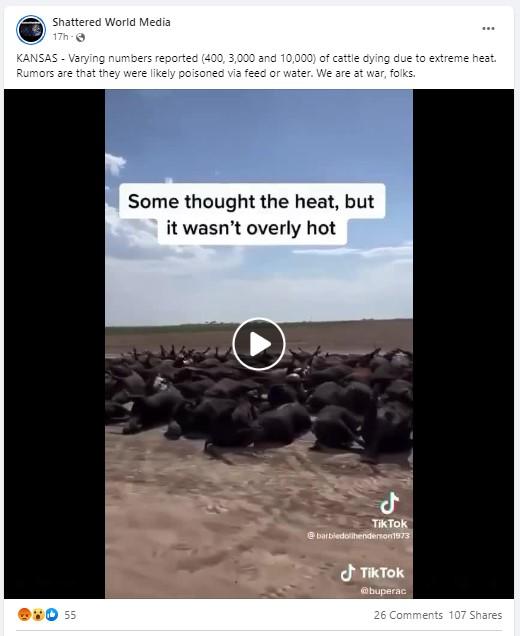 (Image source: Facebook screenshot taken on Thu Jun 16 23:45:37 2022 UTC)
The captioning on the video asserts that it wasn't overly hot. That's not true. There was a sudden rise in temperature, and that combined with the heat index factors -- high humidity, little night cooling, almost no wind for several days and temperatures over 100 degrees -- became deadly for some of the cattle.
The video caption says that "the Rancher has no idea why" and shows losses at one facility, but this was not a single isolated incident. Cattle succumbed to the heat at several facilities in the region over several days.
On June 17, 2022, Lead Stories spoke with Tera Barnhardt, a feedlot veterinarian working in southwest Kansas who had posted on Facebook the day before to counter the misinformation in the TikTok video. Barnhardt clarified to Lead Stories that the people on the front lines understood what they were dealing with. They work with the support of animal science professionals, such as a Ph.D. nutritionist who develops the (food) building rations to minimize heat load, and animal scientists from several universities who assist in developing strategies to mitigate the effects of this type of weather incident, she said.
Barnhardt stated in the Facebook post:
We had a natural disaster in Southwest Kansas on June 11th, 2022 and in the days that followed that greatly affected cattle being fed for slaughter. It wasn't a tornado or a flood or government conspiracy to dismantle our food supply. There's no mysterious disease or theory, we know exactly what happened.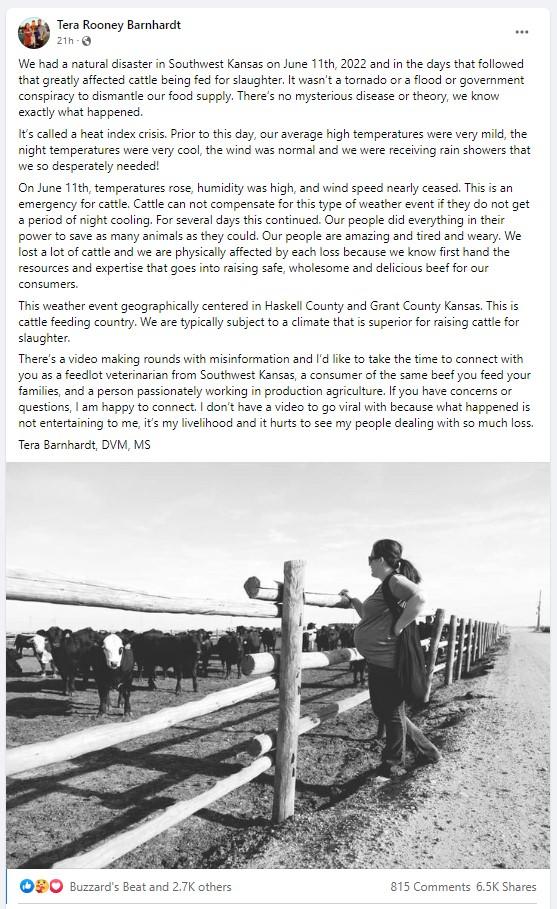 (Image source: Facebook screenshot taken on Fri Jun 17 13:00:16 2022 UTC)
The number of cattle lost in this incident is not yet known. One article in Progressive Farmer, reported on June 14, 2022, that an estimated 10,000 cattle may have died. This is a high estimate, and was gathered by Progressive Farmer from various unnamed experts, but is not a final or official number. A June 16, 2022, report from Reuters cited a much lower number from the Kansas Department of Health and Environment. The number was based on calls the agency received requesting emergency assistance in disposing of what would total about 2,000 carcasses. The number of actual cattle losses would likely be higher than that number as not all ranchers would need assistance with disposal.
A June 13, 2022, tweet from Kansas Mesonet, a website from Kansas State University that offers animal-specific weather information, showed the weather conditions that would have been challenging to cattle for several days after June 10, 2022:
Extremely high cattle stress this weekend in southwest Kansas.

Historical/real-time data here: https://t.co/hOrMOzBTN4#kswx pic.twitter.com/OQZOh9PX4n

-- Kansas Mesonet (@ksmesonet) June 13, 2022
Some people on social media expressed disbelief that this was caused by heat stress. A June 15, 2022, tweet from @1776UltraMaga (archived here) said:
My family has raised cattle for 100 years before I was born. This has never happened, not one time ever due to heat. They were either poisoned or not given access to water. Either way, it wasn't on accident.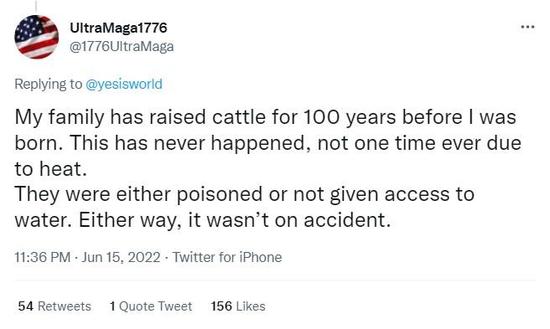 (Image source: Twitter screenshot taken on Fri Jun 17 13:43:37 2022 UTC)
But this sort of incident has happened before. On July 12, 1995, intense heat covered Iowa for days. The National Weather Service notes in the record of the event:
A significant loss also occurred in livestock during the heat wave. Statewide figures indicate the losses approaching the $5-$6 million range. Losses were placed at 4,000 head of cattle, 370 hogs, 1,250,000 chickens, and 250,000 turkeys. On one Webster County farm alone 250,000 laying hens perished on the 2nd day of the heat. Another egg producer had 1.5 million laying hens on two farms, one in Winterset, the other in Guthrie Center. They reported a loss of at least 500,000 hens. Disposal became a serious problem as rendering plants were overwhelmed.
On July 29, 2010, manitobacooperator.ca reported about a situation in the area around Great Bend, Kansas :
The intense heat and humidity that blanketed central Kansas since late last week have killed more than 2,000 cattle and one state official called the heat-related losses the worst in his 17 years on the job.
However, conditions for the cattle improved somewhat July 20 as the humidity has decreased and the wind has picked up, state and feedlot sources said.
On July 12, 2017, Dairyherd.com reported:
A June heat wave in California, with temperatures above 100°F for nine straight days and peaking at 112°F, killed an estimated 4,000 to 6,000 cows in Fresno County alone, report numerous media outlets. For perspective, California is home to 1.75 million dairy cows.
The U.S. Department of Agriculture - Agricultural Research Service (USDA ARS) in partnership with the National Oceanic & Atmospheric Administration (NOAA) National Weather Service, produces heat stress forecast maps. The index is described this way:
Creating Heat Stress Forecast Maps

The heat stress forecast maps are made using the seven day forecasts of four weather parameters (temperature, humidity, wind speed, and cloud cover) from the National Oceanic and Atmospheric Administration (NOAA) - National Weather Service (NWS). This website accesses the forecast information to produce a map showing stress categories by color. The prediction of animal stress is based on an equation that combines weather forecast data to estimate cattle heat stress response. These maps are to be used as an estimate of general trends of stress levels over the forecast period. The maps are also designed to forecast the anticipated peak heat stress category for each day. The maps cannot predict individual animal stress levels since there is much variability among animals.
Some people are suggesting, without any evidence, that the cattle deaths in Kansas are part of an intentional plot to control or disrupt the U.S. food supply. To offer perspective on the scale of this incident within the nation's beef production, the USDA data states the inventory of beef cattle on feed in Kansas was 2,610,000 on January 1, 2022. Using the high estimate of 10,000 head lost (an estimate that is in question) it would amount to 0.383 percent of the total number of the state's beef cattle on feedlots -- less than half of 1 percent. If that number was applied to the 14.7 million head of cattle on feedlots in the United States, the heat losses in Kansas amounted to 0.068 percent of American feedlot cattle.
Lead Stories has previously debunked rumors that recent fires at food production facilities and an egg farm are part of an intentional plot to cause a food shortage in the United States.