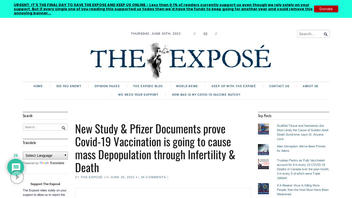 Do a new study and Pfizer documents prove COVID-19 vaccination will cause mass depopulation through infertility and premature death? No, that's not true: The shot temporarily lowers sperm count, much the same as after a "simple viral infection," according to Itai Gat, one of the authors of a study published June 17, 2022, that looked into the connection. The Centers for Disease Control and Prevention (CDC) also said it "detected no unusual or unexpected patterns of reduced sperm count in men following immunization."
There's also no credible scientific evidence that shows the COVID vaccine has a negative impact on the fertility of women. "COVID-19 vaccination does not decrease female fertility," said Dr. Oluwatosin Goje, a board-certified OB/GYN and infectious diseases specialist at the Cleveland Clinic's Obstetrics, Gynecology and Women's Health Institute in Cleveland.
The claims appear in an article (archived here) published by The Exposé on June 26, 2022, under the title "New Study & Pfizer Documents prove Covid-19 Vaccination is going to cause mass Depopulation through Infertility & Death." It opened:
A mountain of evidence found in the confidential Pfizer documents that the U.S. Food & Drug Administration has been forced to publish by court order proves that Covid-19 vaccination is going to lead to depopulation through its effect on fertility in women, its contribution to pregnancy loss, and the harm it causes to newborn babies, sadly leading to premature death.

But now a new study, conducted by respected doctors and scientists in Israel, reveals Covid-19 vaccination is also going to lead to depopulation due to the adverse effect it has on the fertility of men because the respected doctors and scientists have discovered that Covid-19 vaccination decimates sperm count.
This is what the post looked like on The Exposé website at the time of writing:
(Source: The Exposé screenshot taken on Thu Jun 30 16:56:17 2022 UTC)
Female fertility
Despite the claims in The Exposé article, there's no "mountain of evidence" found in Pfizer documents that its COVID vaccine impacts fertility in women, contributes to pregnancy loss or harms newborn babies, leading to premature death.
In an article published on the Cleveland Clinic website on March 23, 2022, Goje said getting the COVID vaccine won't impact fertility:
COVID-19 vaccination does not decrease female fertility. ... Most of the data coming out agrees with initial information that vaccines do not affect fertility. ... Researchers found no association between the COVID-19 vaccine and lower fertility rates.
In a June 30, 2022, email to Lead Stories, the CDC said it strongly recommends COVID vaccination either before or during pregnancy because the benefits of vaccination outweigh known or potential risks. The agency also cited four articles on the safety of COVID-19 vaccination during pregnancy:
Male fertility
The Exposé article also cites an Israeli study it says details how the Pfizer vaccine has a negative impact on the fertility of men by decimating sperm count. But just as in women, that's not true, either.
Gat is one of the authors of the study called "Covid-19 vaccination BNT162b2 temporarily impairs semen concentration and total motile count among semen donors." In a June 22, 2022, email to Lead Stories, he summarized their findings:
We found a temporary decline in sperm concentration specifically 3 months after vaccination (first 2 doses). It makes sense since sperm production in humans lasts around 74 days. Therefore, the impact of every intervention in sperm production (ex. Hormonal treatment for subfertile men) will be observed after 3 months.

That impact is very similar to simple febrile disease (ex. Flu), so we assume that this decline is related to immediate immune response post-vaccination.

I don't think these findings change the general picture regarding vaccinations. We already know they may cause immediate immune responses such as fever and fatigue for a few days. Our study demonstrates its consequence on sperm production, which is temporary.

In other words, since men would not be concerned about their fertility after a simple viral infection, the same is true for the vaccination effect.
The study was published in Andrology, which is the official journal of the European Academy of Andrology and the American Society of Andrology. The field of andrology focuses on the male reproductive system.
In a June 21, 2022, email to Lead Stories, Dr. John Su of the CDC's Immunization Safety Office said the agency has found no reason for concern:
The CDC does not generally comment on specific articles. However, CDC has detected no unusual or unexpected patterns of reduced sperm count in men following immunization that would indicate COVID-19 vaccines are causing or contributing to this condition. CDC continues to recommend that everyone who is eligible should get vaccinated.
The CDC recommends COVID vaccines for everyone ages 6 months and older, and COVID boosters for everyone ages 5 years and older, if eligible.
Pfizer responds
In a June 30, 2022, email to Lead Stories, Pfizer media relations wouldn't comment directly on the study, but did provide this response:
Regulatory authorities around the world have authorized the Pfizer-BioNTech COVID-19 vaccine and expert medical committees, such as ACIP, have and continue to review the data and recommend it. Additionally, numerous studies and real-world evidence show the Pfizer-BioNTech COVID-19 vaccine does not cause infertility. With more than one billion doses of the vaccine administered around the world, the safety profile for the vaccine for all authorized groups continues to be favorable.
The Mayo Clinic website agrees:
There is no evidence that any vaccines, including COVID-19 vaccines, cause fertility problems in men or women.
Goje also weighed in. Researchers haven't found any evidence of the vaccine having a negative impact on sperm.
Two studies in couples undergoing fertility treatment found no appreciable difference in semen volume, sperm concentration or motility measured before and after vaccination.
Lead Stories debunked an earlier claim regarding the vaccine and sperm production. You can see that story here.