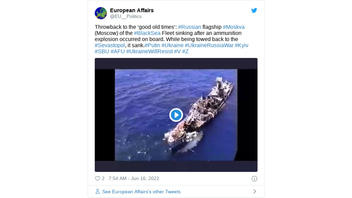 Is this video of the Russian warship, Moskva -- the English-letter spelling of the Russian term for Moscow -- sinking in April 2022 after an ammunition explosion while being towed back to Sevastopol, a major maritime port in the Black Sea? No, that's not true: This video offers no evidence that it is. It's actually a video of the USS Buchanan, an American ship, that was intentionally sunk during military exercises in Hawaii in 2000.
The claim appeared with an embedded video (archived here) published on Twitter on June 16, 2022. It opened:
Throwback to the 'good old times':

#Russian

flagship

#Moskva

(Moscow) of the

#BlackSea

Fleet sinking after an ammunition explosion occurred on board. While being towed back to the

#Sevastopol

, it sank.

#Putin

#Ukraine

#UkraineRussiaWar

#Kyiv

#SBU

#AFU

#UkraineWillResist

#V

#Z
This is what the post looked like on Twitter at the time of writing: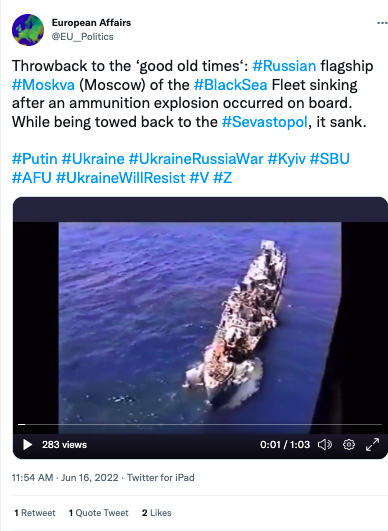 (Source: Twitter screenshot taken on Thu Jun 30 21:08:23 2022 UTC)
The flagship of Russia's Black Sea fleet reportedly sank while being towed to port on April 14, 2022. The circumstances are disputed. Ukrainian officials said their forces hit the ship and the U.S. Defense Department agreed with this account. There are reports, such as this one from NBC News, that intelligence from the U.S. helped sink it. But Moscow only acknowledged a fire on board. Russia's Defense Ministry said the fire caused ammunition on board to detonate, severely damaging the ship and that it sank as it was being towed to shore during stormy seas.
Objectively, this video offers no evidence of any fire. It does not appear that it's being towed in stormy seas and does not show any evidence of damage from a missile strike.
File photos of the Moskva can be found here and here.
The video in question actually matches this video, which is of the intentional sinking of the USS Buchanan. It was a guided-missile destroyer in service with the U.S. Navy from 1962 until it was decommissioned on October 1, 1991. It was stricken from the Naval Vessel Register on November 20, 1992. The ship was sunk deliberately in 2000 during U.S. naval exercises.
Lead Stories initially found the correct identification on Twitter by a person who shared the name of the ship here.

Other Lead Stories fact checks related to the 2022 Russia-Ukraine conflict can be found here.