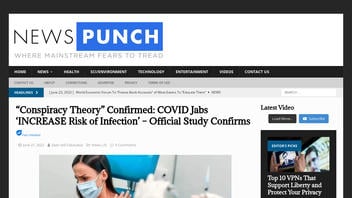 Does an "official study" confirm that COVID-19 shots increase the risk of infection from the virus? No, that's not true: One of the authors of the study, Laith Jamal Abu-Raddad, said the article uses several numbers from the report out of context. "Our study confirms that vaccines protect," he told Lead Stories in a June 24, 2022, email.
The claim appeared in an article published by NewsPunch on June 21, 2022, titled "'Conspiracy Theory' Confirmed: COVID Jabs 'INCREASE Risk of Infection' - Official Study Confirms" (archived here), which opened:
An official study published by the New England Journal of Medicine has found that jabbed people are at higher risk of contracting Covid-19 than their unjabbed counterparts.
This is what the post looked like on NewsPunch at the time of writing: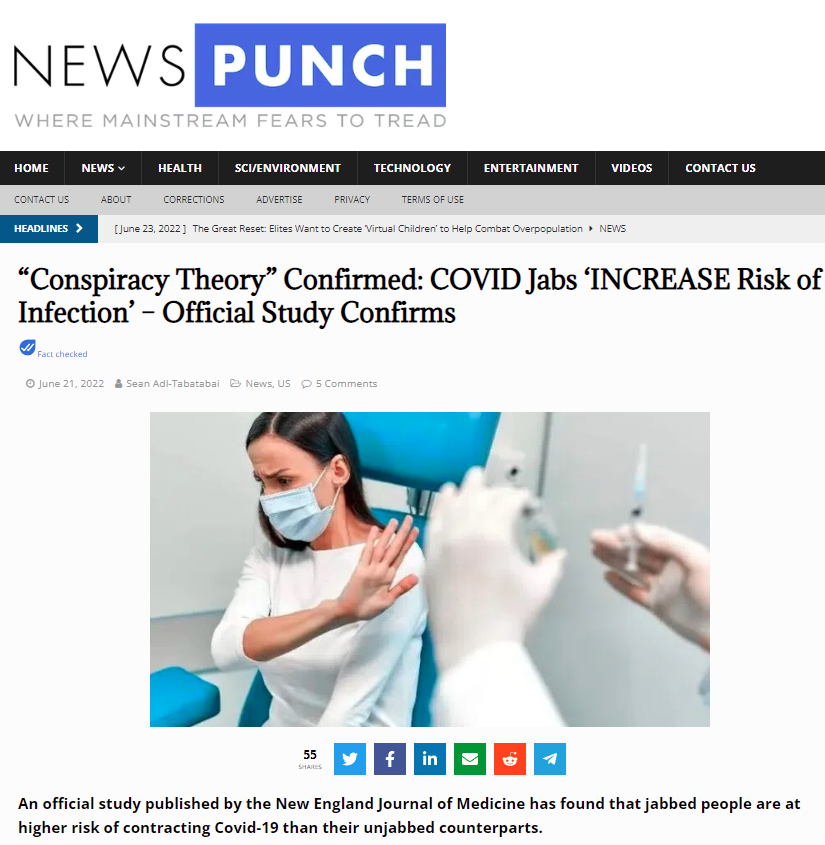 (Source: NewsPunch screenshot taken on Thu Jun 23 22:21:08 2022 UTC)
Abu-Raddad is a professor of population health sciences at Weill Cornell Medical College. He told Lead Stories in his email that the NewsPunch article misrepresents the study:
Our study did NOT find that jabbed people are at higher risk of contracting Covid-19 than their unjabbed counterparts.
Our study confirms that vaccines protect, though only partially, against Omicron infection and protect strongly against severe COVID-19.
The article uses several numbers in our study out of context and interprets them apparently to support a specific point of view that actually contradicts with our findings. We found that vaccines are protective even for those with prior infection.
The Centers for Disease Control and Prevention recommends COVID primary series vaccines for everyone ages 6 months and older, and COVID boosters for everyone ages 5 years and older, if eligible.
Lead Stories has debunked dozens of claims misrepresenting scientific findings about COVID vaccines.
About NewsPunch
NewsPunch (formerly YourNewsWire) has published several hoaxes and fake news articles in the past so anything they write or publish should be taken with a large grain of salt. Their Facebook page "The People's Voice" even lost its verification checkmark according to a 2018 report from Media Matters For America.
The Terms of Use of the site (archived here) also make it clear they don't really stand behind the accuracy of any of their reporting:
NEWSPUNCH, LLC AND/OR ITS SUPPLIERS MAKE NO REPRESENTATIONS ABOUT THE SUITABILITY, RELIABILITY, AVAILABILITY, TIMELINESS, AND ACCURACY OF THE INFORMATION, SOFTWARE, PRODUCTS, SERVICES AND RELATED GRAPHICS CONTAINED ON THE SITE FOR ANY PURPOSE.
The site was profiled in The Hollywood Reporter in 2017 where it was described as:
Your News Wire, a 3-year-old website of murky facts and slippery spin, is published by Sean Adl-Tabatabai and Sinclair Treadway -- a Bernie Sanders supporter in 2016 -- out of an apartment in L.A.'s historic El Royale.
RationalWiki described it as:
YourNewsWire (styled as YourNewsWire.com) is an Los Angeles-based clickbait fake news website known for disseminating conspiracy theories and misleading information, contrary to its claimed motto ('News. Truth. Unfiltered').
A while ago we reported that YourNewsWire had rebranded itself as NewsPunch by changing its domain name in an apparent effort to evade filtering/blocking.