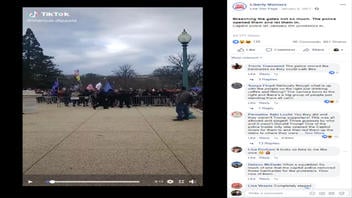 Does a video show U.S. Capitol Police just opening the gates for rioters on January 6, 2021, so they could attack the Capitol? No, that's not true: Marcus DiPaola, the freelance journalist who shot the video, told Newsweek in a January 7, 2021, story, "They definitely didn't just open the barriers, the pro-Trump rioters made a fist like they were going to punch the cops, which is why I started recording, then they [the police] backed off the barricades."
The claim appeared in a Facebook post on January 6, 2021, under the title "Breeching the gates not so much. The police opened them and let them in." It opened:
Capitol Police let January 6th protesters in.
This is what the post looked like on Facebook at the time of writing: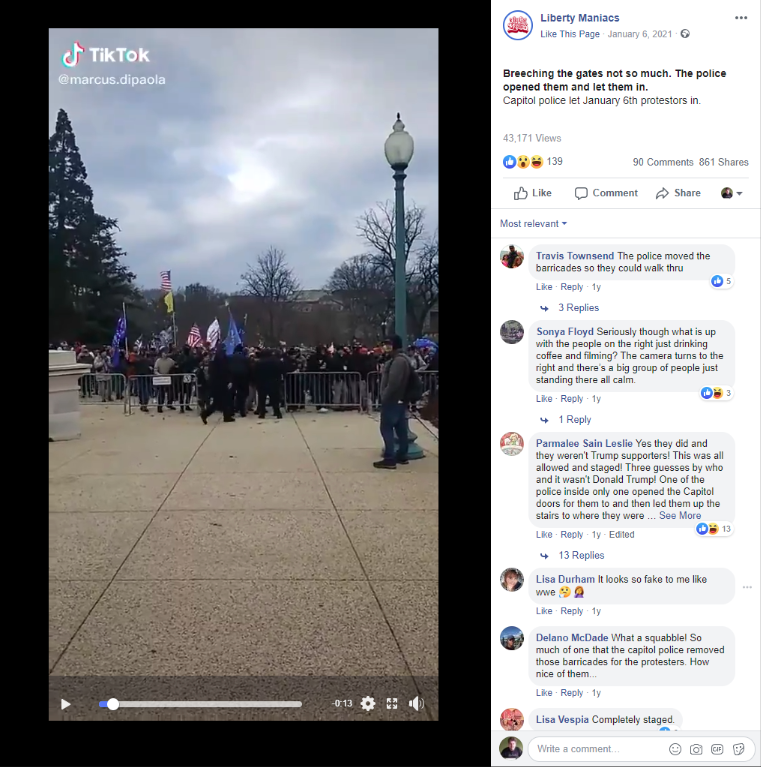 (Source: Facebook screenshot taken on Wed Jun 15 14:16:49 2022 UTC)
The DiPaola video has been viewed tens of millions of times on social media and has often been attached to similar claims that protesters didn't storm the Capitol but that they were essentially invited in by Capitol Police. This is the original TikTok video from January 6, 2021:
Newsweek reported (archived here) in an article headlined, "Capitol Police Didn't Open Gates For Rioters, Says Man Behind Viral Video," that DiPaola told the publication in an email that officers only backed away from the barricades after being threatened by the overwhelming crowd. DiPaola is quoted as saying:
'Completely outnumbered, there wouldn't have been any point in fighting. The rioters moved up the steps of the capitol pretty quickly, capitol police tried to hold them back but they didn't have riot shields and really got pushed around. That's when I saw the pro-Trump mob reach the upper steps of the capitol, they smashed in the window and just kept hammering at the door until a bunch of them got in. ...'

'I saw multiple police get knocked to the ground, one got trampled a little bit, but the rioters helped him up and pushed him out. The rioters really did just completely outnumber the cops, there was not much anything they could do without manpower.'
The preparedness of Capitol Police that day has been questioned and investigated. A U.S. Government Accountability Office report published on March 7, 2022, suggested steps the department should take to improve preparations for violent demonstrations like the one at the Capitol on January 6, 2021.
Lead Stories has debunked several claims surrounding the attack on the Capitol.