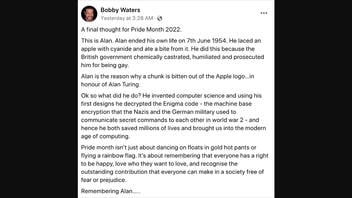 Is the Apple logo honoring Alan Turing, whose theoretical work led to the computer and died, possibly by suicide, after eating an apple that may have been poisoned? No, that's not true: Apple co-founder Steve Jobs denied it, saying, "It isn't true, but God we wish it were!" The designer of the logo gave an interview in 2009 where he also denied that Turing was the inspiration behind the logo. The details of Turing's death have also never been solidly proven to have been from a poisoned apple.
The claim appeared in a Facebook post on June 30, 2022. It opens:
A final thought for Pride Month 2022.
This is what the post looked like on Facebook at the time of writing: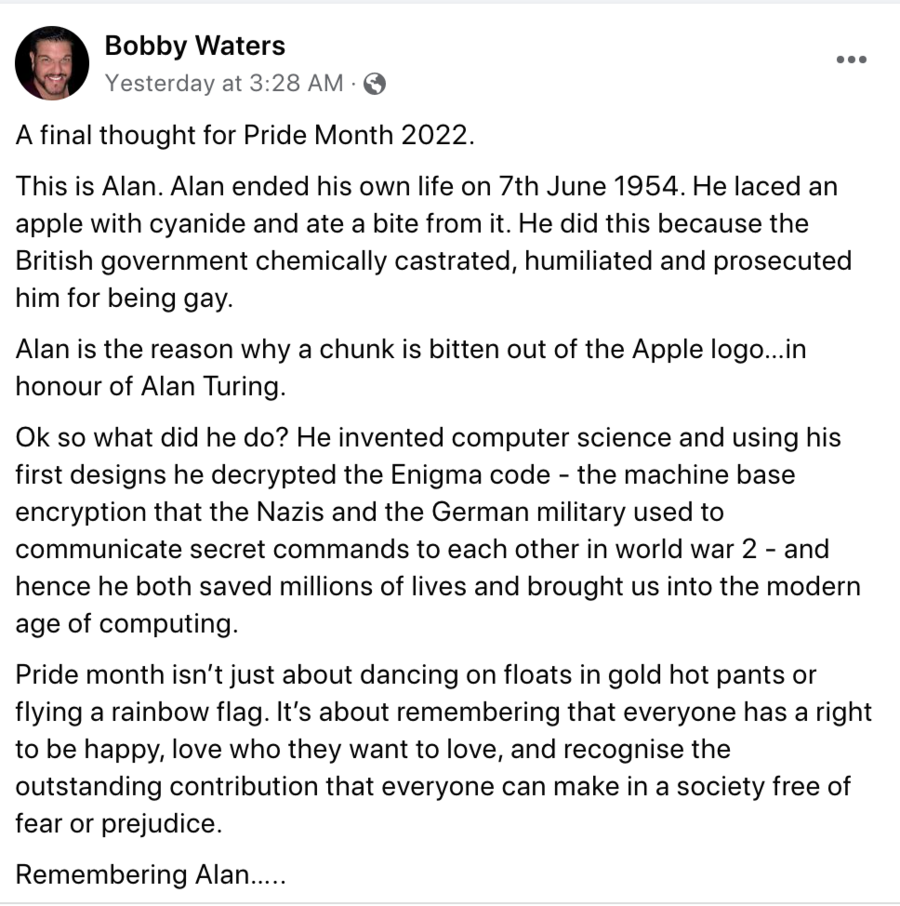 (Source: Facebook screenshot taken on Fri Jul 1 18:29:16 2022 UTC)
In a December 2, 2011, episode of the BBC show "QI" (series 1 episode 13), British actor Stephen Fry says he spoke to Jobs about the rumor of the logo being based on Turing eating a poisoned apple and Jobs told him, "It isn't true, but God we wish it were!"
The logo of an apple with a bite out of the right side was designed by Rob Janoff in 1977, as he says on his website and as he described in a 2009 interview with Creative Bits, archived by the Wayback Machine here. Janoff said the story surrounding the design was "a wonderful urban legend":
RJ: Well, I'm probably the least religious person, so Adam and Eve didn't have anything to do with it. The bite of knowledge sounds fabulous, but that's not it. And, there is a whole lot of other lure about it. Turing the famous supposed father of computer science who committed suicide in the early 50's was british and was accused of being homosexual, which he was. He was facing a jail sentence so he committed suicide to avoid all that. So, I heard one of the legends being that the colored logo was an homage to him. People think I did the colored stripes because of the gay flag. And, that was something really thought for a long time. The other really cool part was that apparently he killed himself with a cyanide laced apple. And, then I found out Alan Turing's favorite childhood story was Snow White where she falls asleep forever for eating a poisoned apple to be woken up by the handsome prince. Anyway, when I explain the real reason why I did the bite it's kind of a let down. But I'll tell you. I designed it with a bite for scale, so people get that it was an apple not a cherry. Also it was kind of iconic about taking a bite out of an apple. Something that everyone can experience. It goes across cultures. If anybody ever had an apple he probably bitten into it and that's what you get. It was after I designed it, that my creative director told me: "Well you know, there is a computer term called byte". And I was like: "You're kidding!" So, it was like perfect, but it was coincidental that it was also a computer term. At the time I had to be told everything about basic computer terms.
Here is the progression of the Apple logo from Janoff's website showing the rainbow apple from 1977 to 1998:

(Source: Rob Janoff website screenshot taken on Fri Jul 1 19:21:16 2022 UTC)
The rainbow apple preceded the Pride rainbow flag, which did not debut until 1978, designed by artist-activist Gilbert Baker.
Turing's death in 1954 was originally deemed a suicide, with a half-eaten apple laced with cyanide next to him. The establisher of the field of artificial intelligence was thought to have killed himself because he was being persecuted for being gay. However, a BBC report in 2012 said his death may not have been planned and that the apple was never tested for cyanide. According to the report, his death may have been the result of an experiment gone wrong:
He had been electrolysing solutions of the poison, and electroplating spoons with gold, a process that requires potassium cyanide. Although famed for his cerebral powers, Turing had also always shown an experimental bent, and these activities were not unusual for him.
But Turing was careless, Prof Copeland argues.
The electrolysis experiment was wired into the ceiling light socket.
On another occasion, an experiment had resulted in severe electric shocks.
And he was known for tasting chemicals to identify them.
Perhaps he had accidentally put his apple into a puddle of cyanide.
Or perhaps, more likely, he had accidentally inhaled cyanide vapours from the bubbling liquid.