STORY UPDATED: check for updates below.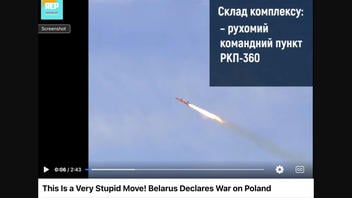 Did Belarus declare war on Poland and does this video prove it? No, that's not true: Belarus has not declared war on its much more populous western neighbor as of July 12, 2022, and this video does not offer any proof of an action that would instantly attract international news coverage. A Nato spokesman said the claim is false and pointed out the recent NATO Summit included a condemnation of Russia's invasion and called on Belarus to end its complicity.
The claim appeared in a Facebook post with a video on July 8, 2022, under the title "This Is a Very Stupid Move! Belarus Declares War on Poland."
This is what the post looked like on Facebook at the time of writing: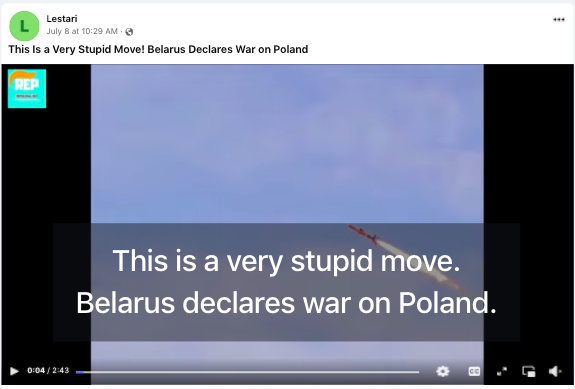 (Source: Facebook screenshot taken on Tue Jul 12 20:18:42 2022 UTC)
In a July 13, 2022, email to Lead Stories, a NATO official said, "This claim is false." The official added:
Two weeks ago at the NATO Summit in Madrid, Allies condemned Russia's war of aggression against Ukraine in the strongest terms, and called on Belarus to end its complicity in the war. Our new Strategic Concept also recognises that Russia's military integration with Belarus challenges our security and interests.
A reverse image search of stills lifted from the video shows it has been circulating for almost a year before the publication date of the post. Yandex located an August, 2021 use of the image (same launcher with same foreground and same cloud pattern in the sky behind it) in a news story about Ukrainian missile defense published by Ria Novosty, the Russian-owned domestic news outlet.
The video subtitles say:
The Belarus army is ready to attack Poland's territory in response to provocative actions of Western countries.
There is also a statement in the Cyrillic alphabet in the upper right-hand corner. According to Google Translate, it says "warehouse for the complex-ruhomy command post RKP-360." The translated statement returns no results when entered in a Google search.
Alexander Lukashenko, the long-time president of Belarus, is one of Russian President Vladimir Putin's closest allies. He allowed Russian troops to deploy to Belarus for military exercises before Russia invaded Ukraine. He said on July 3, 2022, that his country stands fully behind Russia in its invasion of Ukraine as part of the former Soviet country's commitment to a "union state" with Moscow. Lukashenko says he backed Putin and his military operation from the "very first day" in February.
Ukrainian President Volodymyr Zelenskyy said he believed Lukashenko's comments on July 3, 2022, were "a dangerous signal."
But there has been no declaration of war by Belarus. If Belarus were to actually declare war against Poland, it would not be likely without Russian support and would likely be considered a direct threat to all NATO partners.
Poland is part of a key eastern NATO military alliance, according to this statement, posted on July 8, 2022, on NATO's website:
In recent years, Allies have enhanced NATO's forward presence by establishing multinational battlegroups in Bulgaria, Estonia, Hungary, Latvia, Lithuania, Poland, Romania and Slovakia. They have also sent more ships, planes and troops to NATO's eastern flank, from the Baltic Sea in the north to the Black Sea in the south. These actions demonstrate Allies' solidarity, determination and ability to defend Alliance territory and populations.
The alliance has also said:
as a direct result of Russia's behaviour, which reflects a pattern of aggressive actions against its neighbours and the wider transatlantic community. Russia is the most significant and direct threat to Allies' security and to peace and stability in the Euro-Atlantic area.
With Belarus allied with Russia and Poland a part of NATO, both countries also border Ukraine where the war continues with Russian troops bombarding the eastern part of the country. But Belarus and Poland are not in any direct conflict.
Other Lead Stories fact checks related to the 2022 Russia-Ukraine conflict can be found here.
2022-07-13T18:36:25Z

2022-07-13T18:36:25Z

Updated July 13, 2022, to add a NATO official's statement on the claim.