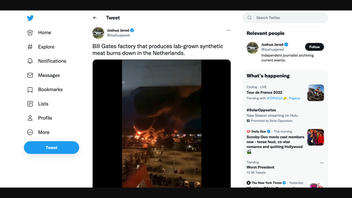 Did a fire burn down a Bill Gates-owned factory in the Netherlands that produced synthetic meat? No, that's not true: The fire took place at a distribution center owned by the Dutch grocery-delivery company, Picnic. A company representative told Lead Stories the claim is false. The Bill and Melinda Gates Foundation Trust invested in Picnic in 2021, but it has a minority stake in the company and is not a controlling shareholder, according to the public relations agency that represents Picnic, Koolhoven & Partners.
The claim appeared in a tweet (archived here) on July 11, 2022, that says, "Bill Gates factory that produces lab-grown synthetic meat burns down in the Netherlands." A 12-second video in the tweet shows multiple fires with lots of billowing black smoke.
This is what the tweet looked like at the time of writing: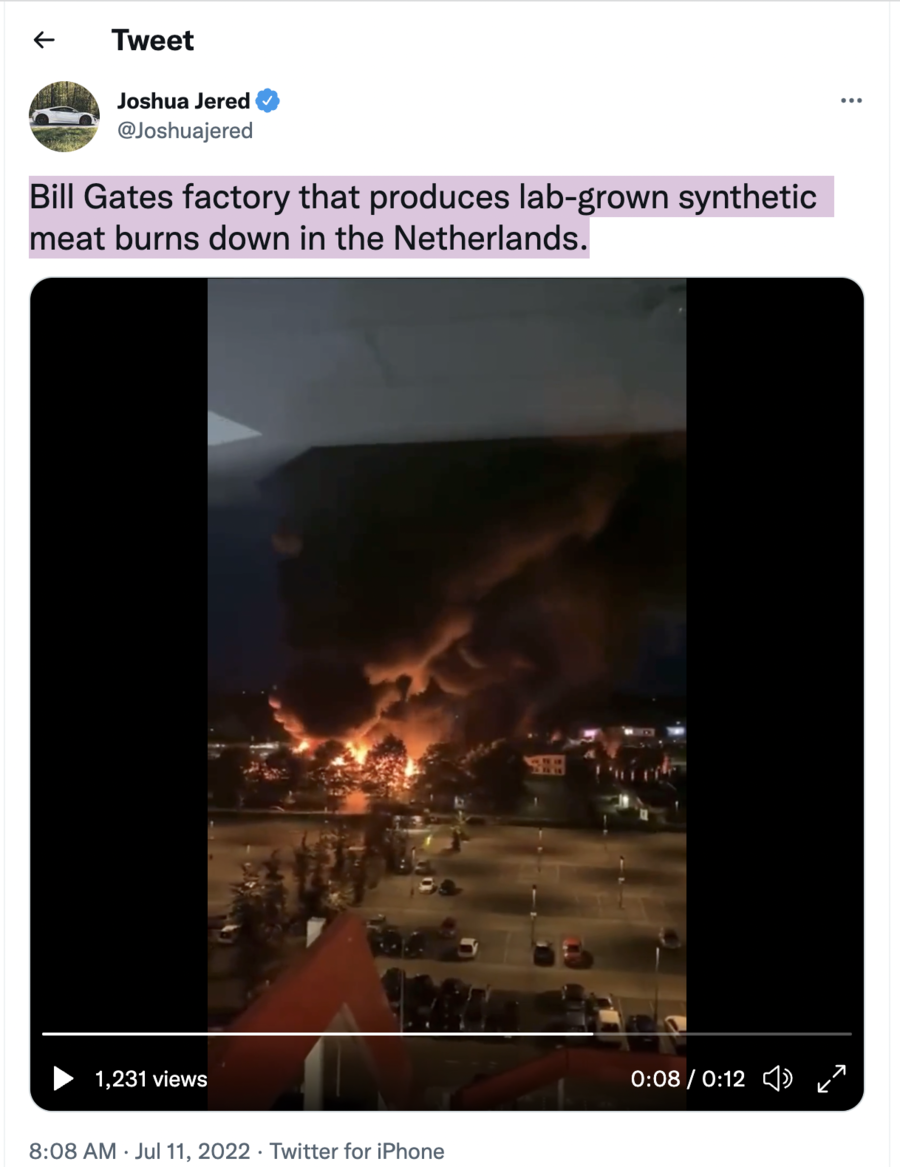 (Source: Twitter screenshot taken on Wed Jul 13 12:44:40 2022 UTC)
The Netherlands' fire brigade released a statement on July 11, 2022, about this fire. Translated, it says:
On Sunday evening July 10, a very large fire completely destroyed the distribution center of Picnic aan de Zeearend in Almelo. The fire released a lot of smoke, residents have been asked to close windows and doors. No injuries were reported and the cause of the fire is unknown at this time.
Koolhoven & Partners, the public relations agency that represents Picnic, emailed Lead Stories on July 14, 2022, saying one of the Picnic facilities was destroyed in a fire, but there is no production of anything, including meat, at the facility.
One of Picnic's cityhubs [sic] ... was unfortunately destroyed by fire last night ... There is no orderpicking [sic] of any sorts nor any production, let alone of meat ... Therefore, it is false to state that 'that a factory that produced synthetic meat and is owned by Bill Gates, burned down.'
Here are other Lead Stories fact checks on claims about Bill Gates.