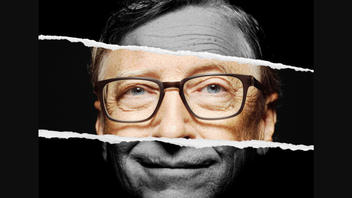 Is Microsoft co-founder Bill Gates being investigated by Interpol for the "plandemic"? No, that's not true: On July 26, 2022, the International Criminal Police Organization website did not contain any mentions of such an investigation. Additionally, the website that published the report says it offers "no guarantee of completeness, accuracy, timeliness" and produces satirical stories, not news.
The claim appeared in an article (archived here) published by the Vancouver Times on July 26, 2022, under the title "INTERPOL: Bill Gates under investigation for 'plandemic.'" It opened:
Bill Gates, billionaire founder of Microsoft, is under investigation for conspiracy to commit murder and crimes against humanity, according to several sources at Interpol. Gates may be sentenced to hanging if he is charged and convicted. Gates is being investigated by Interpol by conspiring with Klaus Schwab to murder a large part of the world's population with deadly, untested vaccines.
Here is what the article looked like at the time of writing: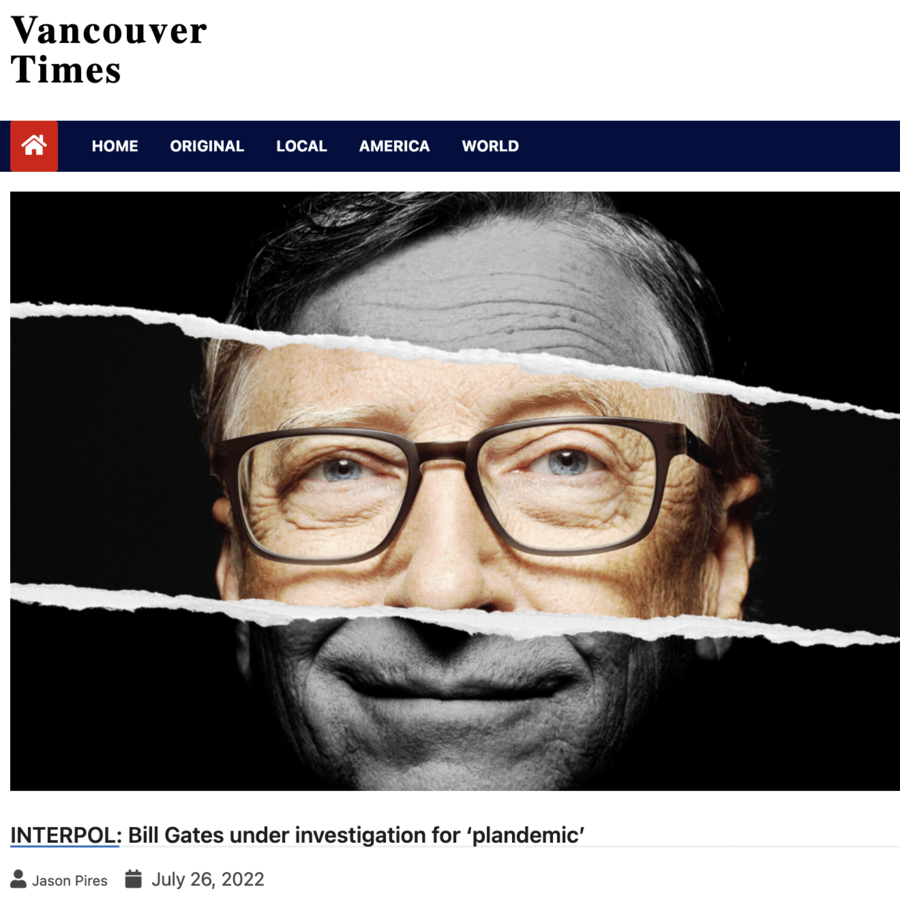 (Source: Vancouvertimes.org screeenshot taken on Tue Jul 26 14:50:36 2022 UTC)
The report cited "several sources at Interpol," but did not name them or their job functions, which would be relevant to assessing their credibility. More importantly, the link in its first paragraph describes a completely different Interpol investigation: the operation called Operation Pangea XV, which had nothing to do with vaccines against COVID. Instead, the Interpol press release said:
Counterfeit or unauthorized erectile dysfunction medicines comprised roughly 40 per cent of all products seized. Law enforcement in Australia, Argentina, Malaysia and the United States also seized more than 317,000 unauthorized COVID-19 test kits.
COVID-19 tests are not the same as vaccines: The former is used to determine whether a person is infected or not, while the latter reduces the risk of infection and protects against hospitalization and death as a result of COVID. Vaccines have been proven safe and effective.
Neither Bill Gates nor "crimes against humanity" were discussed in this Interpol report.
The Vancouver Times article contained other false statements, claiming that World Health Organization Director-General Tedros Adhanom Ghebreyesus "is currently in prison in Holland, awaiting his trial for crimes against humanity and genocide." Lead Stories has already debunked this statement.
The word "plandemic" in both articles plays into a wider theory that the pandemic was somehow preplanned. Leads Stories has already debunked multiple variations of this claim.
The Vancouver Times is not a news website -- it describes itself as "the most trusted source for satire on the West Coast" and in its disclaimer says it provides "no guarantee of completeness, accuracy, timeliness."
Lead Stories fact checks of other Vancouver Times reports can be found here.