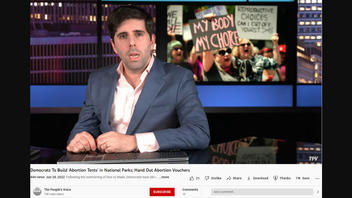 Does this video's video clips show Democrats are going to use "abortion tents" or "abortion vouchers" to assist with abortions? No, that's not true: Following the demise of Roe v. Wade, some Democratic legislators and leaders offered a range of suggestions, including the use of federal land for abortion access and assistance with transportation to receive reproductive health care. However, these were only ideas at the time of writing and the videos offered as proof don't include concrete statements by Democrats that they are going to put abortion in national parks or hand out abortion vouchers.
The claim appeared in a YouTube video (archived here) published on June 28, 2022. The video was titled:
Democrats To Build 'Abortion Tents' in National Parks; Hand Out Abortion Vouchers
The host in the video described several ways that Democrats would supposedly use federal power to assist people seeking abortions.
This is how the video looked on YouTube at the time of writing: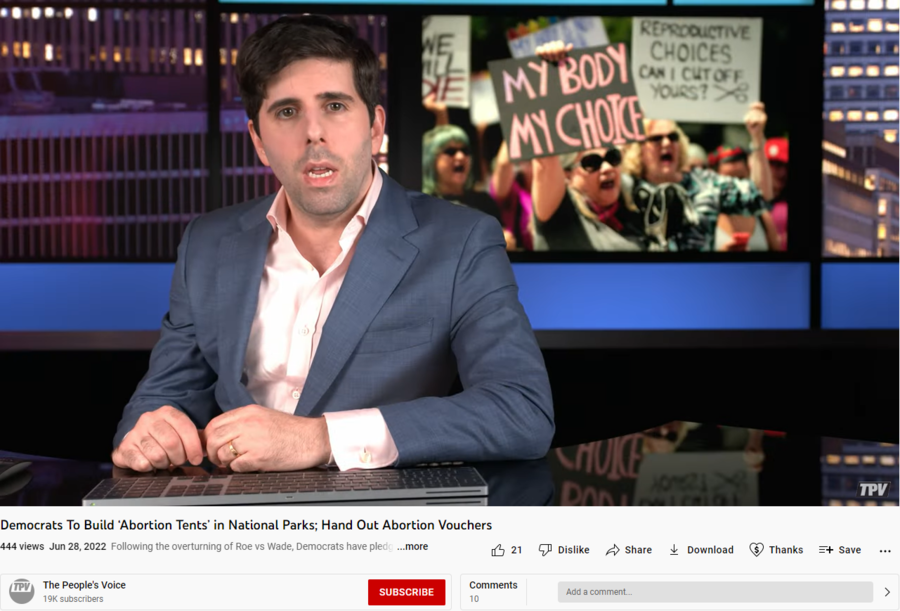 (Source: YouTube screenshot taken on Wed Jul 6 19:46:34 2022 UTC)
This fact check will examine the major claims made in the video by the host.
Claim: "Democrats have pledged to use government money to build abortion tent cities on federally owned land and provide free late-term abortions to anybody who wants it."
Some Democrats, like Sen. Elizabeth Warren and Rep. Alexandria Ocasio-Cortez, have suggested that allowing abortion access on federal land may be a way to assist women seeking abortion services. The video making the claim included a clip of Warren discussing that idea and more during an ABC interview on June 26, 2022. But Warren only mentioned those actions as ideas, not absolutes. None of the videos offered as proof include any reference to "late term" abortions.
There is no indication that such actions will actually be enacted by the Biden administration. During a CNN interview on June 27, 2022, Vice President Kamala Harris was asked whether the administration could or would expand abortion access or services on federal land. Although she didn't initially answer the question directly, Harris eventually responded by saying:
It's not right now what we are discussing.
Harris went on to stress the importance of the upcoming midterm election and of changing the balance in the U.S. Senate to those who are more pro-choice.
According to experts, it's unlikely that the administration will enact such a measure, as it could potentially violate the Hyde Amendment, which doesn't allow for federal funding of most abortions.
Claim: "Biden's HHS Secretary Xavier Becerra, who has previously voiced his support for abortions up until the moment of birth, also told CNN and NBC that the idea of using federal land is very much on the table."
While Department of Health and Human Services Secretary Xavier Becerra has stated his support for abortion access, he has not exactly co-signed the idea of using federal land to provide that access. The video making the claim includes two clips of Becerra discussing the Biden administration's response to the overturning of Roe v. Wade. The first clip is from a CNN interview of Becerra on June 27, 2022. When asked about the federal land and abortion access idea, Becerra said that several options were "on the table", including that one.
The second clip is from an interview of Becerra by NBC News senior national correspondent Kate Snow on June 25, 2022, at the Aspen Ideas: Health closing session. Becerra described the Biden administration's steps to protect reproductive health care access for those in need after the Roe v. Wade reversal. Becerra didn't mention the federal land and abortion access idea and only stated that his department is working with reproductive health organizations, restoring funding for Title X family planning services and looking into assisting those who need to travel for their reproductive health care needs. Becerra did not yet have a concrete answer to a follow-up question about whether such transportation assistance is legal.
Lead Stories reached out to HHS and will update this story with any responses.
Claim: "The White House is keen on the idea of abortion clinics on federal land and says it can't wait to ignore and bypass state laws."
This claim is baseless, especially when paired with its supposed evidence. The video making the claim tried to back up the claim with a clip from a press gaggle held on Air Force One on June 25, 2022. The clip featured a reporter asking White House press secretary Karine Jean-Pierre about the abortion access and federal lands idea. Jean-Pierre told the reporter that the Biden administration didn't have anything to share about the idea and that the administration was going to "continue to look at what other options we have."
In an email to Lead Stories sent on July 7, 2022, assistant White House press secretary Alexandra LaManna said the claims made in the title of the YouTube video aren't true and referred us to information from another statement made by Jean-Pierre on June 28, 2022. Jean-Pierre said that the federal lands and abortion access idea had "dangerous ramifications."
Claim: "Vice President Kamala Harris confirmed that the government would also begin handing out abortion vouchers to anybody regardless of their circumstance."
The video making the claim used the CNN interview of Harris mentioned above to justify this claim. However, Harris never said that the Biden administration would actually hand out "abortion vouchers." When asked whether the administration planned to provide financial resources to people seeking abortions in other states, Harris replied:
I think you're ... making a very important point, which is, what are the details that are going to go into ensuring that women have the ability to actually travel without impairment. And we know that on this issue, women who have access to resources will probably be far less impacted by this decision than women who don't have resources. So this is something that we are looking at.
Harris didn't confirm that such funding will absolutely be available in any part of the interview.
At the time of writing, the federal government's website about reproductive health care rights doesn't have any information that corroborates the claims made in the YouTube video.