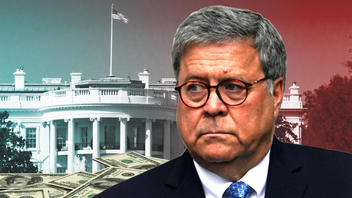 Did Dominion Voting Systems pay former U.S. Attorney General Bill Barr millions in cash and stock awards, according to Securities and Exchange Commission (SEC) filings? No, that's not true: Barr has no documented financial connection with Dominion Voting Systems. Barr served on the board of directors of Dominion Energy, a distinct and unrelated company, from 2009 until 2019, when he resigned to join the administration of then-President Donald Trump. The two companies share a similar name, but are not connected.
The claim appeared in a Facebook post on June 17, 2022, under the title "The swamp runs deep!" It opens:
From 2009 to 2018, DOMINION PAID BARR $1.2 million in cash and granted him another $1.1 million in stock awards, according to SEC filings (No wonder Barr can't find any voter fraud!)
This is what the post looked like on Facebook at the time of writing: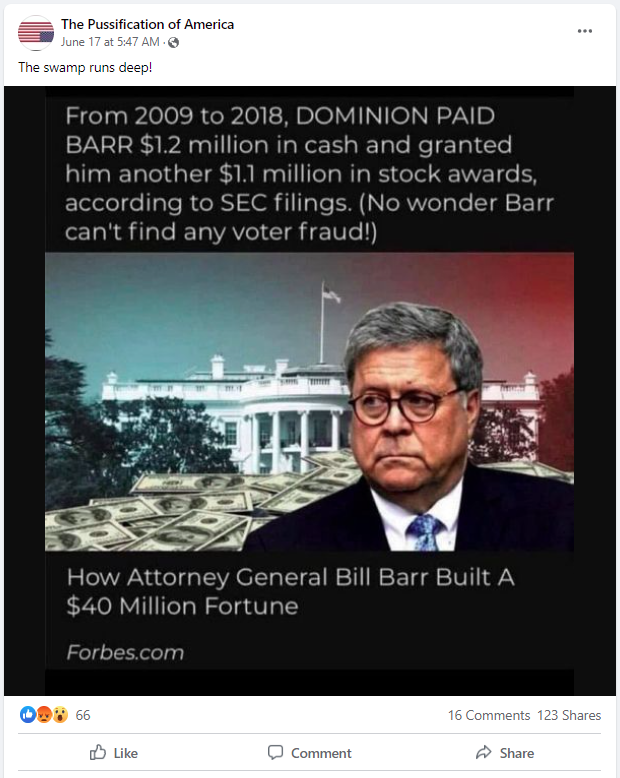 (Source: Facebook screenshot taken on Tue Jul 5 14:46:58 2022 UTC)
The meme shows the headline from a July 19, 2019, Forbes article (archived here) that details how Barr made his fortune. The meme also accurately quotes information from the article that says:
From 2009 to 2018, Dominion paid Barr $1.2 million in cash and granted him another $1.1 million in stock awards, according to SEC filings.
What the quote doesn't say is that the Dominion it refers to is not Dominion Voting Systems. It is Dominion Resources, which became Dominion Energy in 2017. Barr resigned from the Dominion Energy board in February 2019 after he was confirmed as attorney general.
In a June 28, 2022, email to Lead Stories, Dominion Voting Systems said:
Dominion Voting Systems has no connection to Dominion Energy. They are two separate companies. Press releases on the Dominion Energy website here and here verify that former Attorney General Bill Barr was previously affiliated with Dominion Energy's corporate board - NOT with Dominion Voting Systems. Any claims about a business or financial relationship between Dominion Voting Systems and Mr. Barr are completely false.
Barr famously dashed cold water on fraud claims in a December 1, 2020, interview with the Associated Press, when he said the Justice Department had investigated reports and had not found widespread fraud. Testifying before the Jan. 6 investigative committee, (reported here by NPR) Barr called Trump's voter fraud claims "detached from reality." His comments came from recorded testimony before a hearing of the January 6 committee.
Barr resigned from the Trump administration on December 14, 2020, in the weeks following the 2020 election, which the former president lost to Joe Biden:
I appreciate the opportunity to update you this afternoon on the [Justice] Department's review of voter fraud allegations in the 2020 election and how these allegations will continue to be pursued. At a time when the country is so deeply divided, it is incumbent on all levels of government, and all agencies acting within their purview, to do all we can to assure the integrity of elections and promote public confidence in their outcome.
Lead Stories has debunked dozens of claims of election fraud tied to Dominion Voting Systems.