STORY UPDATED: check for updates below.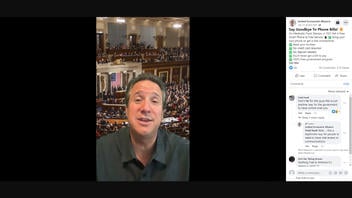 Can people receiving government benefits get a free smartphone directly through the government? No, that's not true: There is no government program that directly offers a free smartphone. However, the Federal Communications Commission (FCC) does oversee programs that offer discounts for broadband and wireless services for eligible, low-income people.
The claim appeared in a Facebook post on July 17, 2022. The post has a video whose title and caption read:
Say Goodbye To Phone Bills! 🔥
On Medicaid, Food Stamps, or SSI? Get A Free Smart Phone & Free Service. 📱 ✅ Bring your own phone or get a new smartphone
✅ Keep your number
✅ No credit card required
✅ No deposit needed
✅ You'll never get a bill to pay
✅ 100% Free government program
The person in the video claims there is a "new bill" offering something to government benefit recipients.
This is what the post looked like on Facebook at the time of writing: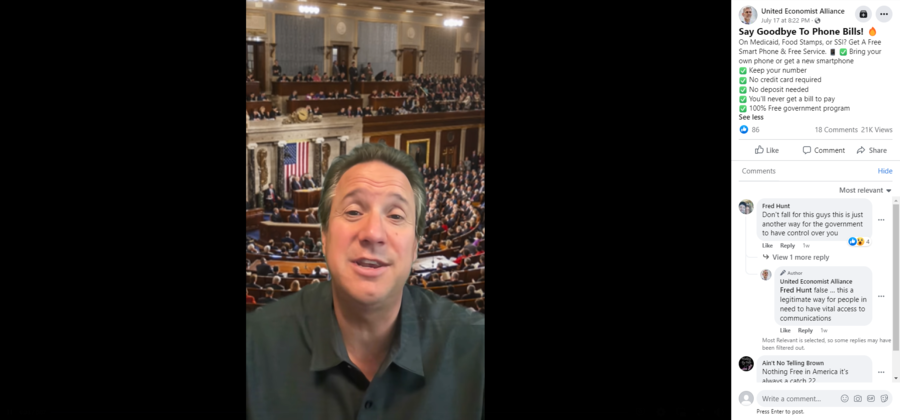 (Source: Facebook screenshot taken on Fri Jul 29 14:29:09 2022 UTC)
The link included in the Facebook post leads users to a website (archived here) claiming that government benefit recipients can get a free smartphone through "The United States Government Affordable Connectivity Program." According to the website, this program is supposedly run by the FCC.
Lead Stories reached out to the FCC through email about the claim and received a response on July 29, 2022. Anne Veigle, a spokesperson for the FCC, told us that the website was "a non-government external site that is not associated with our official programs." She also referred us to the official website of the FCC Affordable Connectivity Program.
There is no mention on the website of a free smartphone or cellphone. However, there are discounts on broadband services for certain government benefit recipients. The website explains:
The Affordable Connectivity Program is an FCC benefit program that helps ensure that households can afford the broadband they need for work, school, healthcare and more.

The benefit provides a discount of up to $30 per month toward internet service for eligible households and up to $75 per month for households on qualifying Tribal lands. Eligible households can also receive a one-time discount of up to $100 to purchase a laptop, desktop computer, or tablet from participating providers if they contribute more than $10 and less than $50 toward the purchase price.

The Affordable Connectivity Program is limited to one monthly service discount and one device discount per household.
The Biden administration notes that Affordable Connectivity Program benefits can be combined with certain high-speed internet plans so that recipients could receive internet at no cost. However, these plans are not run by the FCC.
The FCC does have a program called Lifeline that provides discounted wireless services to eligible, low-income people. That program does not fund free hardware, according to the FCC's consumer guide for Lifeline.
The FCC does not subsidize any hardware associated with the Lifeline program, which includes mobile phones
provided by a service provider to a Lifeline customer. If you are having issues with your mobile phone or other
hardware associated with your Lifeline service, please contact your service provider directly.
Some of the ads promoting the program also fail to point out that the service benefit is limited to one person for each household.
Only one Lifeline benefit is permitted per household. Federal rules prohibit subscribers from receiving
more than one Lifeline service. If a subscriber or his or her household currently has more than one
Lifeline-discounted service, they must de-enroll from other Lifeline services immediately or be subject to
penalties
2022-08-25T14:39:01Z

2022-08-25T14:39:01Z

updated to add details from the FCC about the Lifeline benefit.