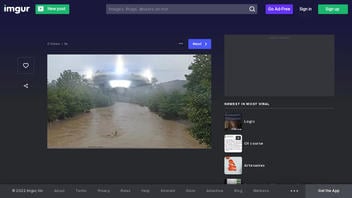 Was a huge UFO filmed hovering above muddy floodwaters? No, that's not true: This scene was created with a video editing app called FxGuru adding the "UFO Shuttle" effect.
The FxGuru App launched in 2013 -- an early example of a video featuring the UFO Shuttle effect was posted on YouTube on September 11, 2013. Another example of a video with the effect added was posted as a Facebook reel on July 26, 2022. The caption reads:
What in the Hell is that.A huge UFO Maybe Very Strange looking.Also Water is at a Drought Crisis now along with Supply Chain problems.And Our waters are massively Polluted .Checkout the New Home Pure Water System for all Households and Apartments for Everyone .Must have Visit here for more valuable information, must have .https://tinyurl.com/yfansyp7 Video credit effect.Master
This is how the post appeared at the time of writing: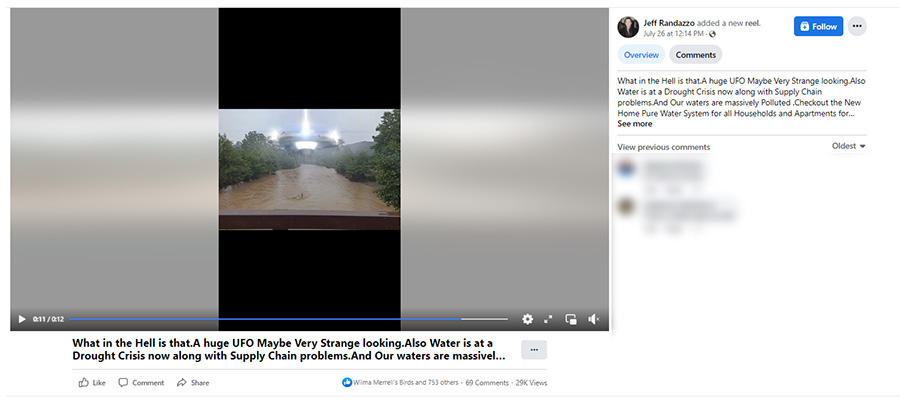 (Image source: Facebook screenshot taken on Thu Jul 28 15:29:23 2022 UTC)
The video was filmed originally in landscape format, uploaded to a vertical format and then back to landscape again. This reduced the size of the video playback in the screen, which might make it hard to appreciate the special effects blooper -- the rotating UFO hovering over the hills is transparent. Trees and the dark horizon can be seen through the UFO. Lead Stories has enlarged two screenshots from the video to show that transparent overlap.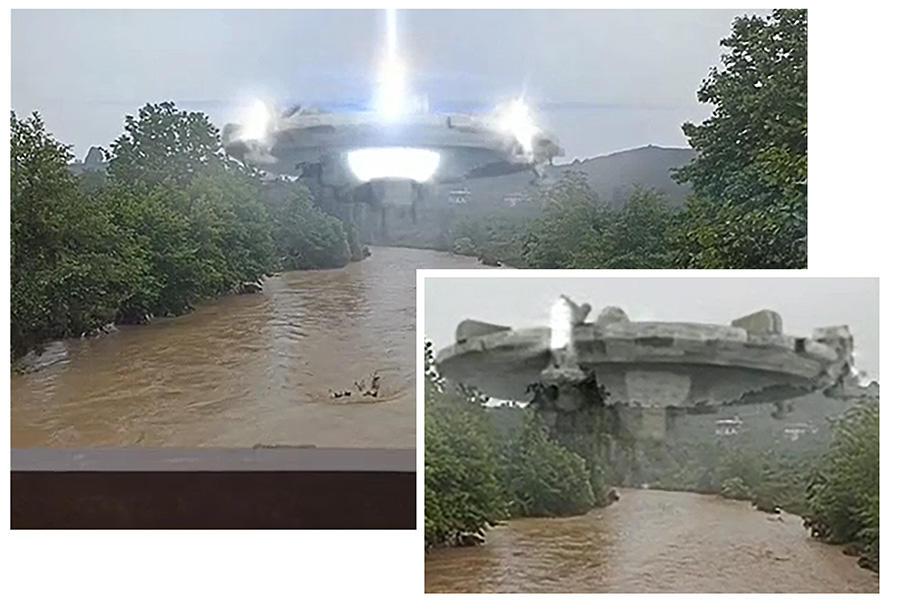 (Image source: Lead Stories detail image of Facebook screenshots showing transparency - made on Thu Jul 28 15:29:23 2022 UTC)
A reverse image search with the video screenshot did not bring up results pointing to the origins of this video, but after cropping just the UFO portion, and masking off the trees, Lead Stories found a large number of videos featuring the same UFO in results from the Russian search engine Yandex. These search results pointed to YouTube videos, including the FxGuru app's YouTube demo of the UFO shuttle (here) and user videos, some which feature closing credits pointing to fxguruapp.com.

(Image source: Lead stories composite image showing cropped UFO and the Yandex search results on Thu Jul 28 16:30:25 2022 )