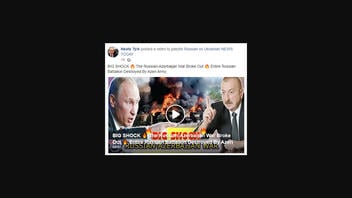 Does this Facebook video show a new armed conflict between Russia and Azerbaijan in July 2022? No, that's not true: The clip recycles archival footage, and the narrator admits that there are no shots of the supposed event.
The claim originated in a Facebook post on July 26, 2022.
The caption says:
BIG SHOCK The Russian-Azerbaijan War Broke Out Entire Russian Battalion Destroyed By Azeri Army.
The video opens:
Hot! The Russian-Azerbaijan war broke out. Entire Russian battalion destroyed by Azeri army. Welcome to latest news 360.
This is what the post looked like on Facebook at the time of writing: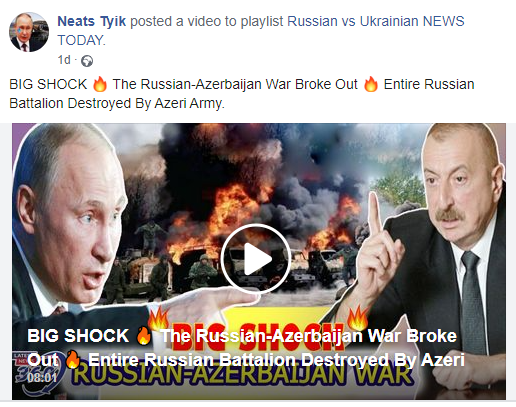 (Source: Facebook screenshot taken on Thu Jul 28 12:40:16 2022 UTC)
The video consists of old clips that are not identified as archival images.
At the beginning of the video, the Turkish flag appears in the frame: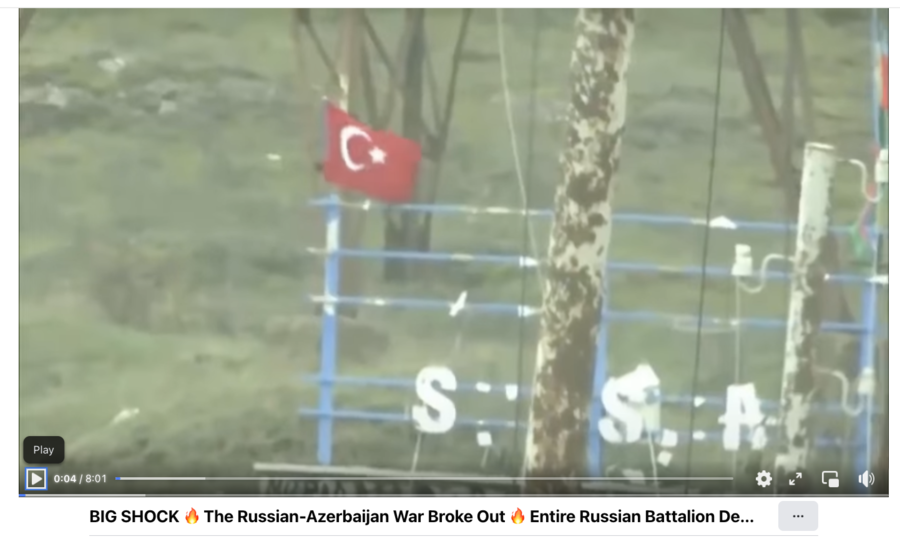 (Source: Facebook screenshot taken on Thu Jul 28 16:14:11 2022 UTC)
The same image started to circulate on Twitter on November 13, 2020:
(Source: Twitter screenshot taken on Thu Jul 28 16:22:07 2022 UTC)
The medium shot of soldiers in the clip at nine seconds in also dates back to fall 2020: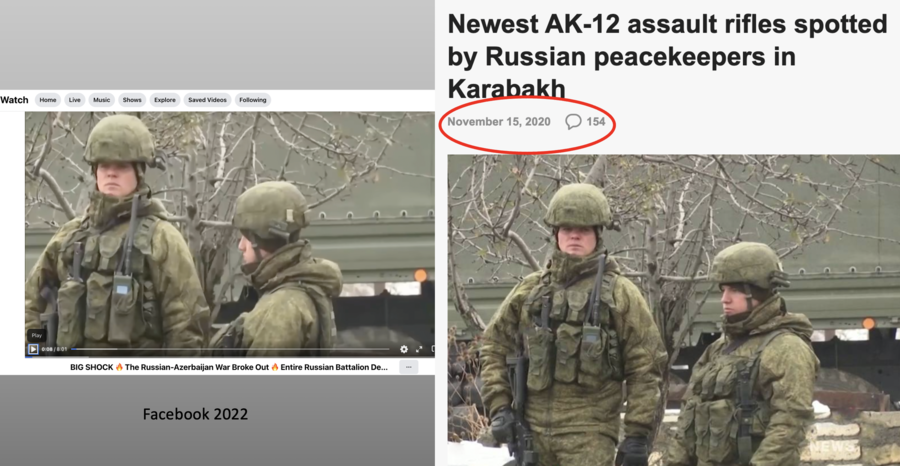 (Sources: Facebook screenshot taken on Thu Jul 28 16:34:33 2022 UTC; En.topwar.rus screenshot taken on Thu Jul 28 16:31:35 2022 UTC; collage by Lead Stories)
Then, at the 1:56 mark, the narrator admits there is no video proof of this supposed new conflict:
Video of the clash between the two nations has yet to be released.
There have been no reports in credible news media anywhere in the world of a new conflict involving Russia and Azerbaijan as of this writing.
In fall 2020, tensions between Armenia, a close ally of Russia, and Azerbaijan, backed by Turkey, resulted in another armed conflict over the contested territory of Nagorno-Karabakh. It lasted for 44 days, but then, in May 2021, a new escalation took place. Since April 2022, the countries have been participating in peace talks. When U.S. Secretary of State Antony J. Blinken spoke with Azerbaijani President Ilham Aliyev on July 25, 2022, State Department spokesperson Ned Price emphasized the improvement of the situation:
The Secretary and President Aliyev discussed Azerbaijan and Armenia's historic opportunity to achieve peace in the region. The Secretary reiterated the United States' offer of assistance in helping facilitate the opening of regional transportation and communication linkages. Secretary Blinken encouraged continued bilateral dialogue, such as the recent meeting between the Azerbaijani and Armenian Foreign Ministers in Tbilisi.