STORY UPDATED: check for updates below.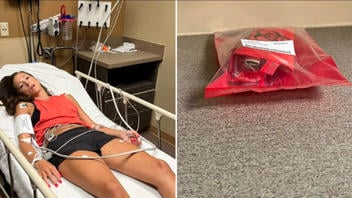 Did a woman experience a fentanyl overdose after touching a folded dollar bill she found at a Nashville McDonald's? No, there's no evidence of that: Although she was given a medication approved by the Food and Drug Administration (FDA) that's designed to rapidly reverse opioid overdose, neither the woman nor the dollar bill she touched was tested for narcotics.
The claim appeared in a Facebook post on July 11, 2022, under the title "From Nashville, Tennessee: This happened on Sunday, July 10th, 2022, at 4:30 PM." It opened:
Do NOT pick up ANYTHING off the ground. I would not typically share a personal story like this on FB, but I am still in disbelief that it happened to me. Driving through Nashville, TN, we needed to stop using the bathroom quickly. We stopped at McDonald's, and while I stood with my three-month-old baby and waited for my husband so I could go to the bathroom, I saw a dollar bill on the ground. Thinking absolutely nothing of it - I picked it up. Holding it in my hand, I look around and contemplate giving it to the little girl I saw. Right then, my husband comes out of the bathroom, and I throw the dollar in my pocket, hand him the baby, and run to the bathroom.
This is what the post looked like on Facebook at the time of writing: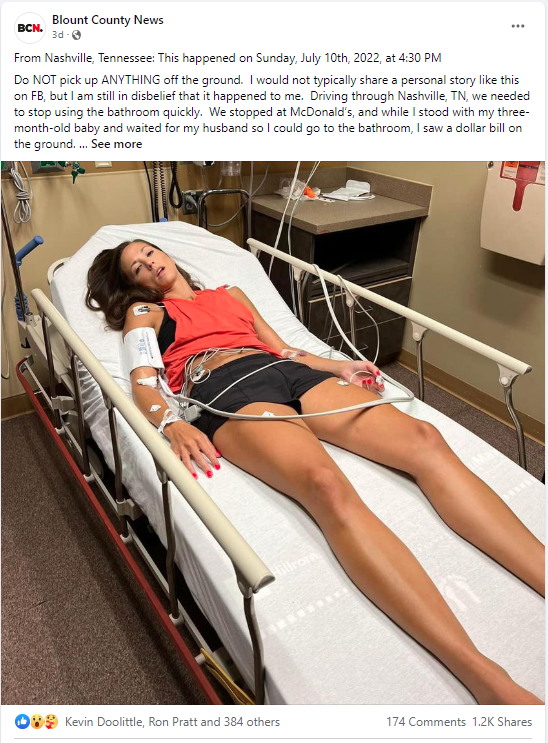 (Source: Facebook screenshot taken on Fri Jul 15 13:51:29 2022 UTC)
The Facebook post by the Blount County News is a copy of the text and one of the images Renee Parsons put on her personal Facebook page on July 11, 2022, about an incident that happened a day earlier. In it, she describes an experience of picking up a folded dollar bill at a McDonald's, suddenly feeling ill and her husband's frantic drive to a local hospital so she could receive treatment.
The post comes during a spring and summer of multiple reports of people being accidentally exposed to fentanyl, including a sheriff's widely shared warning about it. Parsons' post ends with:
The mixture of my wet hands and the alcohol from the wipes, mixed with my bodies reaction to that drug could of cost me my life. God has other plans for me and thankfully I'm able to reflect upon and laugh at just how BLESSED I am to have my husband, who drove like my life depended upon it; 98mph in a 35, running every red light and crossing over curbs, because if it wasn't for his love and determination and Gods plan's, I wouldn't be here. The morale, I don't care if it's a $20 bill or a $100 bill do not touch it!!!
Fentanyl exposure not suspected
An officer from the Metropolitan Nashville Police Department interviewed Renee and Justin Parsons at the hospital on the evening of July 10, 2022, according to Public Affairs Officer Kris Mumford, who talked with Lead Stories in a phone interview on July 15, 2022. She said the officer didn't see any powder or residue on the bill, which was already in a biohazard bag: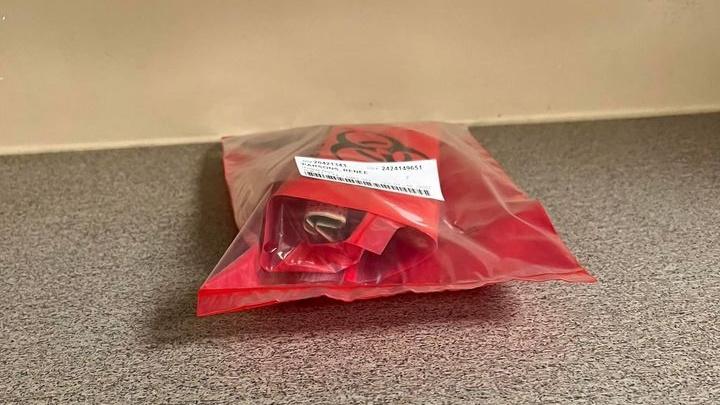 (Source: Facebook screenshot taken on Fri Jul 15 18:18:12 2022 UTC)
Mumford said these were the officer's key findings after talking with the couple:
No Narcan, an emergency medication designed to help reverse the effects of an opioid overdose, was given to Renee Parsons.
She was alert and conscious at the hospital with the officer at 5:15 p.m. local time, or about 45 minutes after the alleged exposure noted in the post.
"The techs and the nurses who met with the officer were not able to verify anything like a fentanyl reaction."
Ultimately, Mumford told Lead Stories:
The officer determined it was highly unlikely this was a fentanyl-related event. ... There was no evidence of a crime. ... The officer took the dollar bill and threw it away at the hospital in a trash can.
Parsons' response
In an August 2, 2022, email to Lead Stories, Parsons disputed aspects of the account by the Metropolitan Nashville Police Department:
I was administered Narcan and the Officer was told by both myself and my husband that the hospital gave me narcan upon my arrival. *Please see the attached medication list from the hospital billing.
Naloxone, the generic name for Narcan, is included in the itemized statement provided by Parsons below:
(Source: Billing statement provided by Renee Parsons on Tue Aug 2 10:41:00 UTC)
Having received naloxone does not prove that an overdose occurred, only that it was suspected. The Centers for Disease Control and Prevention website says:
Naloxone won't harm someone if they're overdosing on drugs other than opioids, so it's always best to use it if you think someone is overdosing.
The National Institute on Drug Abuse also endorses this approach to treatment when an overdose is a possibility:
Is Naloxone Safe?

Yes. There is no evidence of significant adverse reactions to naloxone. Administering naloxone in cases of opioid overdose can cause withdrawal symptoms when the person is dependent on opioids; this is uncomfortable without being life threatening. The risk that someone overdosing on opioids will have a serious adverse reaction to naloxone is far less than their risk of dying from overdose. Naloxone works if a person has opioids in their system and has no harmful effect if opioids are absent. Naloxone should be given to any person who shows signs of an opioid overdose or when an overdose is suspected.
Parsons continued in her email to Lead Stories:
The hospital DID release me on an 'Accidental Drug Overdose' and therefore should know more than anyone. They did a drug panel screening that came back negative for everything except Fentanyl and Carfentanil because as the Doctor stated to me and my husband, 'We can not test for synthetic opioids like Fentanyl and Carfentanil here in this hospital and therefore we can not rule it out'.
But fentanyl in her system also cannot be confirmed, since it was never tested for.
In her email, Parsons provided a "Home Care Instructions" sheet provided by the hospital. It does include "Accidental drug overdose; OD" under "Chief Complaint." Unified Practice, a company that provides medical billing services, describes chief complaints as "concise statements describing the symptoms, problems, or other reasons for the patient's visit." It is not a diagnosis or a diagnosis code:
(Source: Billing statement provided by Renee Parsons on Tue Aug 2 10:41:00 UTC)
Lead Stories reached out to Ascension Saint Thomas Hospital West in Nashville for comment on Parsons' care but had not received a response at the time of writing.
Spring and summer of fentanyl
The claim by Parsons in the post follows three similar reports in May and June 2022. One of them involved the purported deaths of seven Georgia police officers and EMTs after being exposed to fentanyl when they were dispatched to a motor vehicle crash. That version of the story was debunked by Lead Stories. All the public safety personnel were treated and released from the hospital, following their exposure to an "unknown controlled substance," a statement from Gilmer County Public Safety said.
Perry County, Tennessee, Sheriff Nick Weems offered his own Facebook post on June 8, 2022, in which he said:
We have had two separate incidents recently that I feel is a great concern to public safety.

On both occasions, a folded dollar bill was found in the floor at a local gas station. When it was found and picked up, the person discovered a white powdery substance inside. The substance was later tested and was positive for methamphetamine and fentanyl.
This is Weems' complete post:
These fentanyl-related posts have touched a nerve on social media. The one by Parsons has been shared hundreds of thousands of times. The one by Weems was passed along more than 5,000 times.
Doctor opinions
While concerning, Dr. Richard Walker, chair of Emergency Medicine at the University of Tennessee Health Science Center, told Lead Stories in a July 15, 2022, email that fentanyl overdoses under these sorts of circumstances are rare:
It is extremely unlikely to absorb it through intact skin without some other chemical to assist, that's why fentanyl patches work. Wash with soap and water, not alcohol, to decontaminate if concerned. A November 2021 study of law enforcement during seizure of narcotics failed to discover a single incident of overdose by skin contact alone. It is extremely unlikely you could feel any effect touching a dry dollar bill.

Think of nicotine patches, they work because of underlying chemicals facilitating absorption, but if you crush up a cigarette and roll it in your hands, no effect is noted.
Dr. Rebecca Donald, an assistant professor of anesthesiology and pain medicine at Vanderbilt University Medical Center, came to similar conclusions in another July 15, 2022, email to Lead Stories:
Would casual contact with a dollar that had fentanyl powder on it cause an overdose or a severe reaction as described in this woman's Facebook post?

It would be exceedingly unlikely that casual contact with a dollar bill that has fentanyl powder on it would cause an overdose or a severe reaction. This is because fentanyl is not easily absorbed through the skin, especially when it is in powder form. People have probably heard of fentanyl patches, which are used for pain control. Fentanyl patches use a special matrix that is designed to optimize delivery through the skin into the blood stream. Even when delivered through this special matrix, the uptake through the skin is very slow such that it takes several hours for fentanyl to reach a therapeutic concentration in the blood stream. Powdered fentanyl has much less absorption through the skin so the risk of significant amounts reaching the blood stream through casual contact are incredibly low.

Should people be concerned about touching money for fear of a drug overdose?

Based on our current understanding of the absorption of fentanyl it is nearly impossible that small, unintentional skin exposures to tablets or powder would cause opioid toxicity. Fentanyl isn't transmitted in powder form through the skin at levels that could reach high enough concentrations in the body to cause symptoms. Therefore, people should not be concerned that touching money could cause a fentanyl overdose.
2022-08-02T22:05:35Z

2022-08-02T22:05:35Z

Adds context and images, including a response from Renee Parsons, the woman involved in the overdose scare.