STORY UPDATED: check for updates below.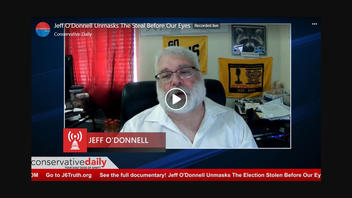 Does an election night correction made to a private company's Colorado vote tallies prove the primary election was manipulated by dark forces? No, that's not true: There is no evidence the official results "stole" votes from Mesa County Clerk Tina Peters to increase the total for another GOP secretary of state candidate during the June 28, 2021, primary election in Colorado. The claim is based on an input error (which was corrected) in the unofficial vote tallies counties supply to the public and to companies that deliver graphics-ready data to news outlets nationwide. One of two people making the claim got the source of the data wrong and, despite describing himself as an elections expert, did not note the quality difference between unofficial and official tallies.
The claim originated in a 110-minute Facebook video (transcript archived here) posted by Conservative Daily, a streaming vlog, on June 29, 2022 under the title "Jeff O'Donnell Unmasks The Steal Before Our Eyes." On the video at the 14:40 mark, the show host says:
They stole the election. I'm going to show you they stole the election.
This is what the post looked like on Facebook at the time of writing: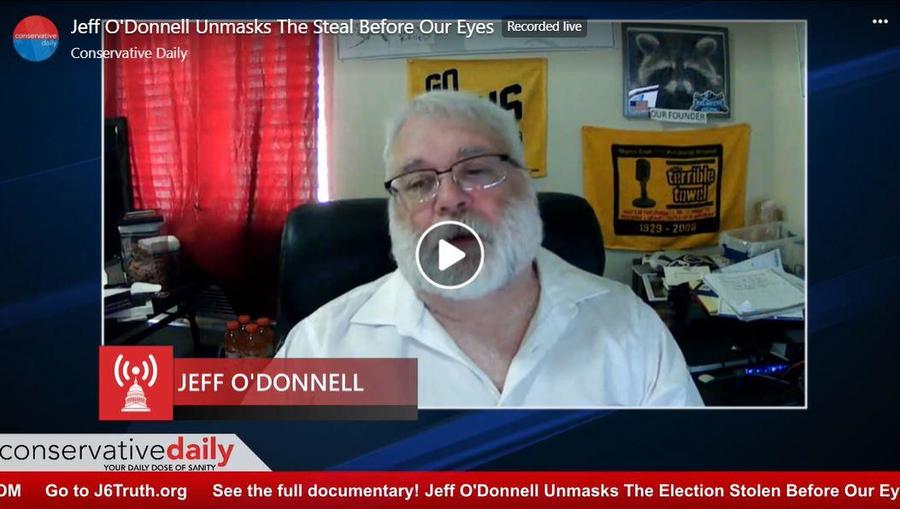 (Source: Facebook screenshot taken on Fri Jul 8 18:33:23 2022 UTC)
The video consists of show host Joe Oltmann and a female co-host interviewing Jeff O'Donnell, a Florida man who identifies himself variously as a cybersecurity expert and as chief information officer of Ordros Analytics, LLC, a Florida company registered in May 2022 that says it provides "cutting edge forensic and analytical research to assist grass-roots election integrity movements."
A mistake or false assumption about the source of the data
At the 16:42 mark of the nearly two-hour video, O'Donnell declares that he performed his expert forensic analysis using "Edison" data that was being transmitted to The New York Times during the ballot counting on June 28 and 29, 2022. "We can get it in minutes and I kinda want the bad guys to know that, too," O'Donnell said in the opening minutes of the video, describing "scraping," a process by which website data is automatically copied and translated into human-readable form.
It's not necessarily illegal or even opposed by website operators. But, in 2020, election outcome deniers scraped from The New York Times website the vote information being delivered by Edison Research, then flubbed the math, making rounding errors that led to false claims that they had found proof of votes being stolen from Donald Trump and given to Joe Biden.
In this case, O'Donnell's forensic methods didn't uncover the fact that Edison wasn't the source of the Times' 2022 primary election data from Colorado.
In separate emails, The New York Times, Edison Research and the Associated Press (AP) all told Lead Stories that Edison did not provide the Colorado primary election data to the Times this year. The Times used vote tallies provided by the Associated Press, the 176-year-old nonprofit news agency with more than 3,000 employees and 248 bureaus in 99 countries around the world.
"The AP provided vote returns to the New York Times for this race," Edison Executive Vice President Rob Farbman wrote in a July 13, 2022, email to Lead Stories. AP's director of media relations, Lauren Easton, confirmed the AP supplied primary election results data to the Times. In a July 14, 2022, email, Charlie Stadtlander, the newsroom spokesperson for the Times, confirmed that it used the AP, not Edison.
'Data provenance' obscured
Oltmann and O'Donnell did not tell viewers of the video about the difference between the unofficial data offered election night and the official, and auditable, tally that is used by election officials to declare winners. The unofficial data is often hand-entered and therefore subject to human error.
Election experts draw a bright line between the two. Official-and-auditable tallies are compiled in secured election management system (EMS) computers that are connected to voting machines and to machines that count paper ballots. The EMS can generate updated tally reports periodically as counting proceeds.
The updates supplied to the public after polling places close come from a separate computer system or website. It uses numbers from the EMS to feed unofficial updates to the public before the customary audits and review by election officials. Because the systems aren't linked, there can be a lot of hand input of data.
John Sebes, the chief technology officer of the Open Source Election Technology Institute, put it this way in a July 11, 2022, interview with Lead Stories via Zoom:
The point that is most important to separate out from this conspiracy theory buzz, is understanding that in a back office in each county is the EMS computer ... In some other part of a county facility, somebody is actually transcribing numbers ... re-keying (numbers into a separate and public-facing computer system or website that is not connected to the EMS).
The data stream Oltmann was scraping from the website of The New York Times passed through several hands: First the EMS generates a counting update. In some places, a hard copy is handed to workers for the AP or other news agencies and to people hanging around the office. In some counties, the numbers are then added to a county or state website, accessible to all and that can be the data source for the AP. In either case, election data services like the AP then add the new numbers to yet another system, which generates raw numbers, graphics material or whatever product they offer.
There were (corrected) errors, but not in the official count
Oltmann made a great deal of the graphics O'Donnell had created from the data he scraped from The New York Times site. It showed Garfield County votes were moved between two candidates in the race to be the Republican candidate for Colorado Secretary of State: Mesa County Clerk Tina Peters and the eventual winner, Pam Anderson: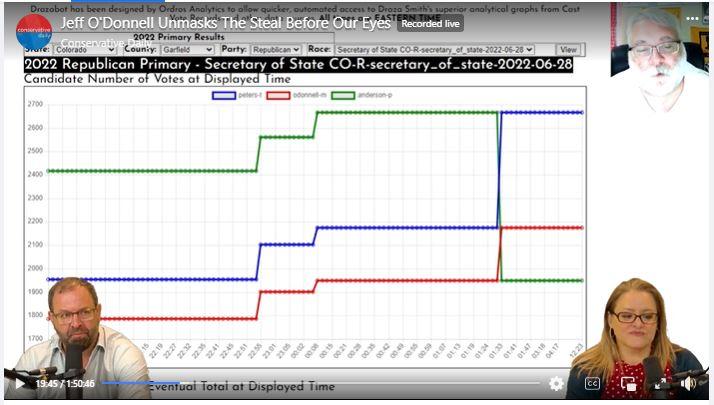 (Source: Facebook screenshot of Ordros Analytics' chart of Garfield County data taken on Fri Jul 8 18:33:23 2022 UTC)
The graphic shows Anderson losing votes about 1 a.m. (EDT, two hours later than local time in Garfield County) and Peters gaining almost an equivalent number. Another county showed a similar swap of a few hundred votes, but not in Peters' favor.
While Oltmann says "They stole the election. I'm going to show you they stole the election," O'Donnell never calls it theft. Instead, at about 24:30, he says, "Well, a mistake was made somewhere by someone."
Sebes and Genya Coulter, a former election worker now on his staff at the Open Source Election Technology Institute, said human error is not unusual in the public-facing unofficial tally systems AP and other services rely on: "Data entry error happens," Sebes said. "Swapping the votes from candidate X to candidate Y? That would be suggestive of correcting a data entry error."
And that's what happened, Garfield County Clerk Jean Alberico said in a July 13, 2022, statement emailed to Lead Stories:
All official election results are held with us, at the county level. These counts are secure and accurate and not connected to any other systems at the state level. To help voters track statewide races, we also upload election results throughout the evening to the Colorado Secretary of State's website. This website is not the official record; it is just an aggregator so that voters don't need to visit 64 county websites to track various statewide races. From time to time, there can be issues with this data upload. These issues in no way change the accurate and secure vote tallies we hold at the county level.
Responding to follow-up questions, Alberico provided more detail:
The third upload was done around 10:30 pm (June 28/Election Night) and all the election staff left the building by 11:00 pm. My Chief Deputy noticed just before she left that the ENR report on the SOS (Secretary of State) website did not have the correct number for total votes cast. She sent an email to the voting systems team with that information. Someone from that team corrected that issue but in doing so triggered the so called flip of votes which only happened in the SOS reporting program. Absolutely nothing changed for the unofficial results that had been reported by our voting system. This is not the first time that county election results have not uploaded correctly to the ENR software. It's very complex software that aggregates results from all sixty four Colorado counties to one site so citizens can get election results without going to every county's website.
Oltmann is, with candidate Tina Peters, a leading promoter of Donald Trump's false claim that the 2020 election was stolen from him. A grand jury indicted Peters in March 2022 on charges that she breached the security of her county's EMS and misled investigators checking the steps she took to try to prove election machines had been rigged. A Colorado judged ruled May 13, 2022, that a defamation suit against Oltmann may proceed. The suit was brought by an official of Dominion Voting Systems, an election management system manufacturer, who says Oltmann has defamed him by falsely claiming he intended to subvert election management systems to favor Biden.
2022-07-18T22:38:47Z

2022-07-18T22:38:47Z

Updated to correct, in the last paragraph, the name of the Mesa County Clerk.