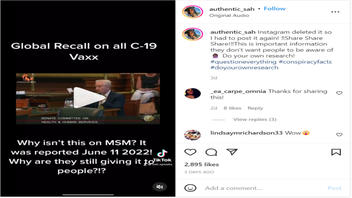 Is there a global recall of all COVID-19 vaccines? No, that's not true: There is no evidence of global public health agencies pulling their support for and endorsement of vaccinations to protect against SARS-CoV-2 (coronavirus disease) and its variants. The World Health Organization told Lead Stories, "COVID-19 vaccines are being continuously assessed for their benefits versus risks. The consistent observation so far, across all countries, has been that the benefits of the vaccines far outweigh any risks."
The claim appeared in an Instagram post on July 16, 2022, under the title "Global Recall on all C-19 Vaxx." It opened:
Why isn't this on MSM [mainstream media]? It was reported June 11, 2022! Why are they still giving it to people?!?
This is what the post looked like at the time of writing: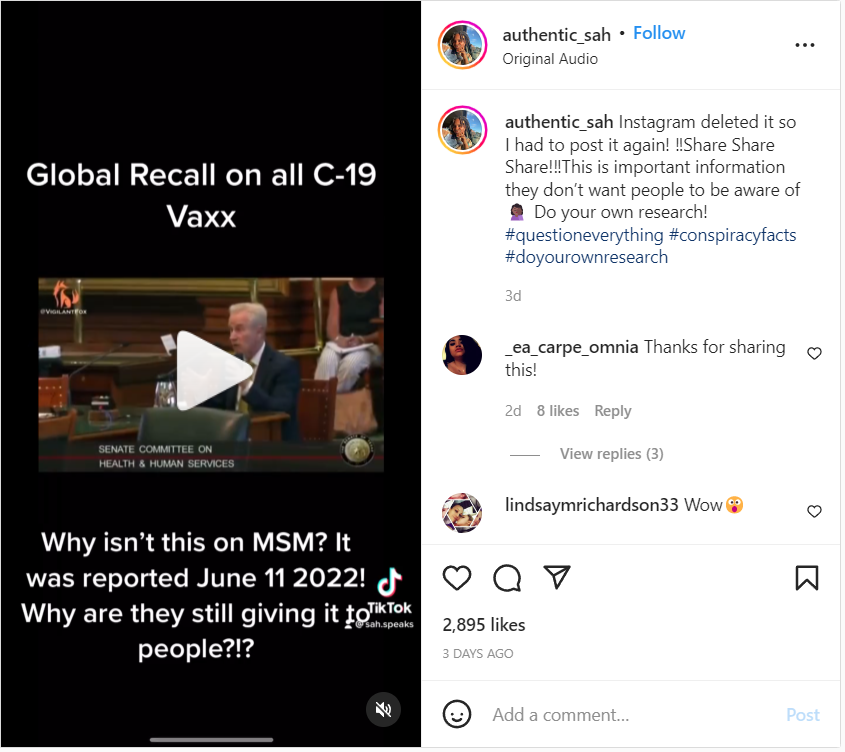 (Source: Instagram screenshot taken on Wednesday Jul 20 15:07:23 2022 UTC)
McCullough didn't say that
While the social media post features video testimony given by Dr. Peter A. McCullough during a session of the Texas Senate Health and Human Services Committee on June 27, 2022, the headline misrepresents what he said. Instead of saying there's a global recall on all COVID vaccines, he said this in the clip included on Instagram:
This month, the World Council for Health, which represents 70 bodies worldwide, has called for a global recall of all vaccines. Because worldwide, 40,000 deaths that the safety databases across the world, 40,000 in the big ones ... 40,000 deaths with the vaccines. Unacceptably high. ... So, when there is a global recall by an international organization, this committee ought to be having emergency meetings. What are we going to do? ... When there's a worldwide recall, there should be some committee meeting so you have it down. You can tell something is wrong here. We're in trouble in terms of vaccine safety.
It is true that the World Council for Health (WCH) championed a recall of COVID vaccines in a press release on June 11, 2022, but no recall is underway. The WCH is not a governmental agency and it is not a mouthpiece for public health agencies around the world. It has no connection to the World Health Organization (WHO), a specialized agency of the United Nations, which continues to endorse the shots.
In a July 20, 2022, email to Lead Stories, the WHO said:
[M]ore than 12 billion COVID-19 vaccines have been administered worldwide to date in what is the largest vaccination campaign in history. Put in that context, reports of suspected side effects from COVID-19 vaccines are not more than the usual volume reported for other vaccines - if anything, there are fewer events overall, considering the volume of use.

COVID-19 vaccines are being continuously assessed for their benefits versus risks. The consistent observation so far, across all countries, has been that the benefits of the vaccines far outweigh any risks.

Confirming a causal link between a suspected reaction and a vaccine is a complex process that requires a thorough scientific assessment over time and detailed evaluation of all available data. The information on VigiAccess, therefore, does not reflect any confirmed link between a medical product and a side effect.
In his remarks, McCullough refers to "safety databases" in claiming there have been "40,000 deaths with the vaccines." Specifically he refers to VAERS and "Vigi Safe" -- presumably a reference to VigiAccess -- among the databases.
VigiAccess, like the Vaccine Adverse Event Reporting System (VAERS) in the United States, is a "database of reported potential side effects of medicinal products." The VigiAccess website comes with this important caveat in its "Important points to consider" section:
VigiAccess is intended as a useful starting point for people who wish to understand more about the types of potential side effects that have been reported following the use of medicinal products. However, VigiAccess cannot be used to infer any confirmed link between a suspected side effect and any specific medicine. See the VigiAccess FAQ for a more detailed explanation.
The doctor's credentials
McCullough is not a vaccinologist nor an immunologist. Baylor University Medical Center, where he was a cardiologist, fired him when he became a major spreader of COVID misinformation and filed a million-dollar suit against him for using the university's name when making claims like this about COVID vaccines.
Although experts in the same field sometimes disagree, medical science discourages people from asserting expertise outside their field. McCullough is not trained in vaccine development or immunology. His online resume lists his specialty as coronary artery disease and his board certification as cardiology. Searching his publishing history on ORCID (a system that tracks each researcher's output), Lead Stories found more than two dozen pieces of published research, mostly on cardiology, but none on the topic of spike proteins, nor the mechanisms by which mRNA vaccines work. Lead Stories found no McCullough-authored studies on vaccinology or immunology in the catalog of the National Library of Medicine, which provides the world's largest index of medical science journals.
VAERS data
In the United States, data on adverse events come from VAERS. It is co-managed by the U.S. Food and Drug Administration and the Centers for Disease Control and Prevention as a crude early warning system and not as a database for the quantification of specific outcomes.
Anyone with internet access can add a report to the VAERS list of reports. The public access link to it expressly warns against unwarranted conclusions based on VAERS material because the list only provides a tally of unverified notes about any health event people experience after they are vaccinated.
The list itself cannot be used to prove or quantify, since all it shows is a chronological correlation, not the causal link that would be more difficult to establish. It's the equivalent of a police precinct's running "blotter" reports that may serve as a starting point for police work, not an endpoint.
VAERS website warnings include:
When evaluating data from VAERS, it is important to note that for any reported event, no cause-and-effect relationship has been established. Reports of all possible associations between vaccines and adverse events (possible side effects) are filed in VAERS. Therefore, VAERS collects data on any adverse event following vaccination, be it coincidental or truly caused by a vaccine. The report of an adverse event to VAERS is not documentation that a vaccine caused the event.
In a June 24, 2022, email to Lead Stories, the FDA said it takes adverse events seriously and investigates them:
It's important to note that reports of adverse events to the Vaccine Adverse Event Reporting System (VAERS) following vaccination, including deaths, do not necessarily mean that a vaccine caused a health problem. In fact, reviews by FDA and CDC have determined that the vast majority of the deaths reported are not directly attributable to the vaccines. FDA requires healthcare providers to report any death after COVID-19 vaccination to VAERS, even if it's unclear whether the vaccine was the cause. Reports of adverse events to VAERS following vaccination, including deaths, do not necessarily mean that a vaccine caused a health problem.
The FDA continued in its email:
Reports of death after COVID-19 vaccination are rare. As reported on CDC's website, More than 592 million doses of COVID-19 vaccines were administered in the United States from December 14, 2020, through June 21, 2022. During this time, VAERS received 15,193 preliminary reports of death (0.0026%) among people who received a COVID-19 vaccine. CDC and FDA clinicians review reports of death to VAERS including death certificates, autopsy, and medical records.

To put into perspective the approximate number of doses of vaccine administered during a specific time frame after authorization of COVID-19 vaccines we suggest that you reference CDC's data at https://covid.cdc.gov/covid-data-tracker/#vaccinations_vacc-total-admin-rate-total. CDC clinicians review reports of death to VAERS including death certificates, autopsy, and medical records.

FDA continues to find the ... authorized and approved COVID-19 vaccinations meet the agency's rigorous standards for safety, effectiveness, and manufacturing quality. These vaccines have proven to be an important tool for fighting the COVID-19 pandemic.
CDC
The CDC continues to recommend COVID shots. In a July 20, 2022, email, CDC's Immunization Safety Office said:
COVID-19 vaccine safety is a top priority for the CDC, and reports of health problems following COVID-19 vaccination are taken very seriously. CDC does not have any evidence that would support a 'recall' of COVID-19 vaccines (i.e., withdrawal of COVID-19 vaccines from use). CDC will continue to monitor adverse event reports and provide any new vaccine safety findings.
COVID-19 vaccines are safe and effective. Millions of people in the United States have received COVID-19 vaccines under the most intense safety monitoring in US history. CDC recommends COVID-19 vaccines for everyone 6 months and older and boosters for everyone 5 years and older, if eligible.
CDC and FDA are conducting the most comprehensive vaccine safety surveillance for COVID-19 vaccines in recent history. CDC experts rely on CDC's multiple complementary surveillance systems to make sure the COVID-19 vaccines are safe.
U.K.'s National Health Service
COVID vaccines are also recommended by the National Health Service in the United Kingdom:
Millions of people have had a coronavirus (COVID-19) vaccine and the safety of the vaccines continues to be monitored. Reports of serious side effects are very rare.
Other governments that endorse COVID vaccinations are Australia, Japan, Germany and New Zealand. None of them mention any recalls.
The vaccine makers
In a July 20, 2022, email, to lead Stories, Pfizer said this about the social media recall claim:
The vaccine has not been recalled. To date, more than 3 billion of our COVID-19 vaccines have been delivered globally and is safe and tolerable.
In a separate May 4, 2022, email to Lead Stories, Pfizer said it does not typically comment on third-party manuscripts it's not involved in, but provided this general statement about its vaccines:
We take adverse events (AEs) potentially associated with the Pfizer-BioNTech COVID-19 vaccine very seriously. Spontaneously reported AEs are collected for all products to monitor for potential safety issues that may not have been seen in clinical studies. It is important to understand, however, that the AEs reported may not have any causal relationship to the vaccine. Rather, the event may be due to an underlying disease or some other factor such as past medical history or concomitant medication or the AEs may be coincidental.

As with every medical product, Pfizer has robust processes to meet its post authorization responsibilities to closely monitor all AEs and collect relevant information to assess any new potential safety risks that may be associated with the vaccine. In addition to our pharmacovigilance efforts and compliance with various regulatory requirements related to quality and safety, we also cooperate with FDA and regulatory authorities around the world as they independently monitor the safety profile of our vaccine. The U.S. CDC, for example, describes the safety monitoring of the COVID-19 vaccines as 'the most intense safety monitoring in US history.'

Regulatory authorities around the world have authorized the vaccine and expert medical committees have recommended it. With hundreds of millions of people vaccinated with the Pfizer-BioNTech COVID-19 vaccine, the safety profile for the vaccine for all authorized groups continue to be favorable.
Lead Stories also requested a response from Moderna but had not received one at the time of publication.