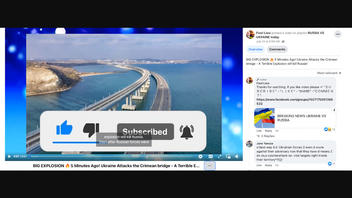 Did Ukraine attack the Kerch Strait Bridge, connecting the annexed Crimean Peninsula to Russian territories, on July 13, 2022? No, that's not true: The video that makes such a claim does not include a single shot capturing such an attack. Instead, it contains multiple pre-war and unrelated images. There were no indications as of this writing that the bridge had been attacked or was in any way damaged. Such an attack would be a major news story in both Russian and Ukrainian media, and no such stories had appeared by July 20, 2022.
The video was published on Facebook on July 13, 2022. The caption said:
BIG EXPLOSION 5 Minutes Ago! Ukraine Attacks the Crimean bridge - A Terrible Explosion will kill Russia!
The video opened:
20 minutes ago. Ukraine attacks the Crimean Bridge a terrible explosion will kill Russia.
Here is what the Facebook post looked like at the time of writing: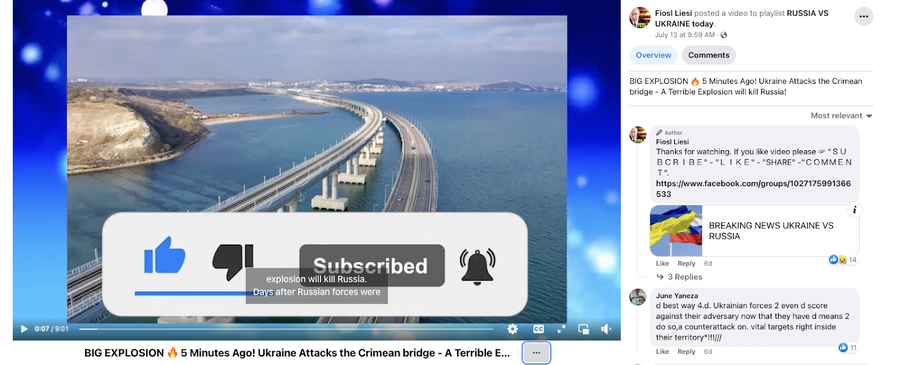 (Source: Facebook screenshot taken on Wed Jul 20 18:04:34 UTC 2022)
A similar claim also appeared on YouTube.
The image of a rocket launch that appears at the 2:21 mark in the Facebook video has nothing to do with the 2022 Russia's invasion of Ukraine. According to the verified U.S. Navy Twitter account, it shows the U.S. Navy's USS Gabrielle Giffords near-shore combat ship launching a missile in October 2019: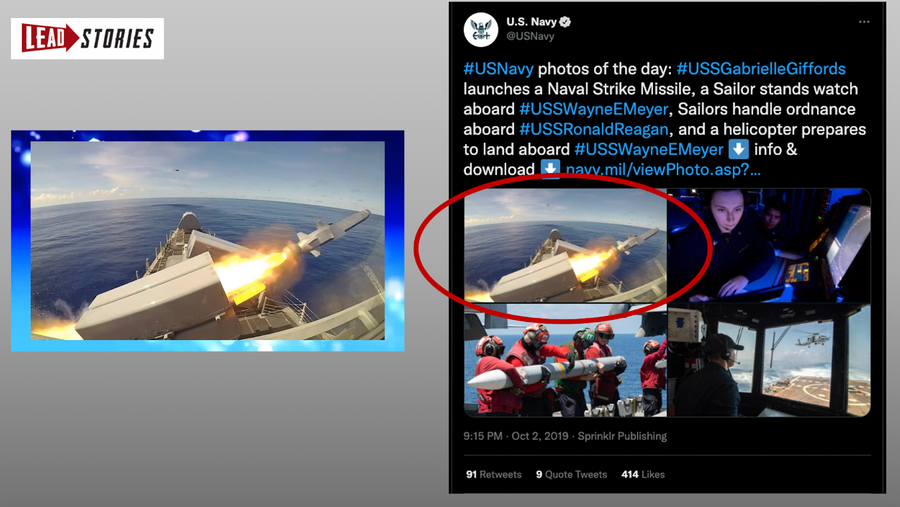 (Sources: Facebook screenshot taken on Wed July 20 18:07:52 2022 UTC; Twitter screenshot taken on Wed July 20 18:47:55 2022 UTC)
Even the pictures of Kerch Strait Bridge predate the war. For example, an image shown at the 1:46 mark was used by the Russian state-owned TV channel RT in 2018 to illustrate an article about a rain water filtering system being constructed there.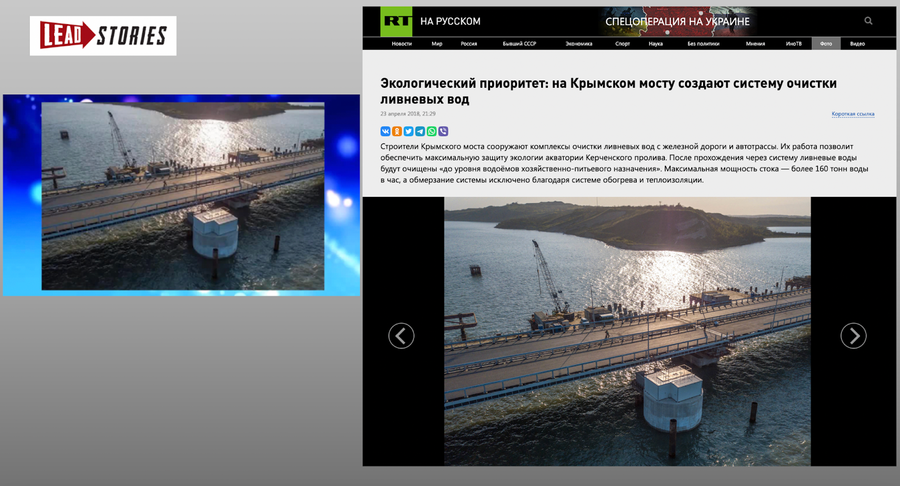 (Sources: Facebook screenshot taken on Wed Jul 20 19:25:22 2022 UTC; Russian.rt.com screenshot taken on Wed Jul 20 19:24:29 2022 UTC)
The narration with the Facebook video in question cites an unnamed U.S. official:
"At a press briefing held this morning, The War Zone asked a senior US official whether or not there were any preclusions about the use of high mobility artillery rocket systems or HIMARS in Ukraine against certain targets."
This quote comes from a July 8,2022 article titled "U.S. Says Russia's Prized Kerch Bridge Is A Fair Target For Ukrainian Forces." The conclusion reached in the headline, however, was predominantly based on the words of a single unnamed source interviewed not at, but after a press briefing. Additionally, the author has never claimed that the bridge has already been attacked.
This article was published by The Drive, a website that describes itself as "seeking to be the internet's premier destination for news, features and guides about modern automotive culture" and that also recently launched a war-related section. According to Business Insider, The Drive was launched by Time Inc and "is designed to explore the New Journalism of now: dynamic digital storytelling."
HIMARS are American-made M142 High Mobility Artillery Rocket Systems developed by Lockheed Martin. As of July 15, 2022, Ukraine had received 12 of them, and four more were scheduled to be sent.
These systems have a technical capability to reach Crimea and territories within Russian borders. But whether Kyiv indeed plans to use HIMARS to hit the Kerch Strait Bridge was unclear at the time of writing.
On April 20, 2022, Secretary of the National Security and Defense Council of Ukraine Oleksiy Danilov said that his country will strike it if there is an opportunity to do so.
But in May 2022, U.S. President Joe Biden wrote the following in a New York Times op-ed: "We are not encouraging or enabling Ukraine to strike beyond its borders. We do not want to prolong the war just to inflict pain on Russia."
However, the United States does not recognize annexed Crimea as a part of Russia, which was most recently emphasized in the State Department travel advisory to this country updated on July 19, 2022.
On June 15, 2022, Maj. Gen. Dmytro Marchenko, who was in charge of Ukraine's defense in the Mykolaiv region neighboring the Kherson area, told Radio Svoboda's media project Krym.Realii that the Kerch Strait Bridge will become a major target when Kyiv receives the required weapons: "Yes, it is one hundred percent. This is no secret to their military or to our military. Neither for their civilians nor for our civilians. This will be the number one target to hit."
On June 16, 2022, Vladimir Putin's spokesperson Dmitry Peskov stated that the security of Crimea is guaranteed by preventive measures taken by the Russian military, but did not name any examples.
On July 15, 2022, Ukraine's minister of defense Oleksii Reznikov said the following, answering the questions of BBC's Svyatoslav Khomenko:
BBC: Is it true that when the HIMARS systems were supplied to Ukraine on the condition that the Armed Forces of Ukraine should not use them against Russia?

O.R.: It's true, I'm not hiding it. We made a commitment that we would not use high-precision weapons on Russian facilities in the Russian Federation. We have shown this everywhere, even I personally did it in a letter to my colleague, the head of the Pentagon, that we will only use American weapons to deter the enemy and to de-occupy the temporarily occupied lands on the territory of Ukraine.

BBC: Does this ban extend to Crimea?

O.R.: He (one Ukrainian source specified that Reznikov referred to the US Secretary Defense Lloyed Austin) asked me that very thing. I said that we have enough strategic facilities in the Russian-occupied Ukrainian territories. And he said: we got it.
Headlines of most outlets that cited this exchange mentioned only the promise not to attack Russia with the U.S.-made weapons and did not further clarify whether Crimea was a part of the deal or not.
However, on July 16, 2022, Ukraine's Vadym Skibitskyi who represents the Chief Intelligence Directorate pointed out on the national TV broadcast that Crimea had become a supply hub for the Russian military and had been used to launch attacks on Ukraine. "Because of this," said Skribitskyi, shortly before addressing the Crimea question, "it is also one of the targets that should be hit in order to guarantee the safety of our citizens, our facilities and Ukraine in general."
When the Pentagon confirmed that Ukraine was about to get a new batch of four HIMARS, many Russian officials made statements threatening Ukraine with a massive response if Crimea is attacked. On July 17, 2022, Dmitry Medvedev, deputy secretary of Russia's Security Council chaired by President Vladimir Putin promised a new "Judgment Day" to Kyiv in case of such an event. On the next day, the Telegram account of the Russian ministry of defense cited its head, Gen. Sergei Shoigu, calling "to prioritize the defeat of the enemy's long range missile and artillery weapons."
On July 20, 2022, Russian minister of foreign affairs Sergei Lavrov, interviewed by state-owned RT (formerly known as Russia Today) and cited by another state-controlled news agency, RIA Novosti, said that in light of HIMARS shipments, Russia will expand the geography of what the Kremlin describes as a "special military operation," using language avoiding the word "war."
"We cannot allow the part of Ukraine that will be controlled by Zelensky (or whoever replaces him) to have the weapons that will pose a direct threat to our territory," said Lavrov but did not mention the peninsula by name. On the same day, formerly independent and now pro-Kremlin website RBC.ru published an interview with the Russian-installed head of Crimea Sergei Aksenov. Describing the situation at the peninsula, he said, "We are almost a frontline."
U.S. Secretary Defense Lloyed Austin, who also discussed the upcoming shipment of new HIMARS during the fourth monthly virtual meeting of the Ukraine Defense Contract Group on July 20, 2020, did not publicly mention Crimea or any other specific terms of the military aid package. During a press-conference later that day, which Lead Stories attended remotely by video feed, Austin said the US "will be pleased to hear Lavrov's confirmation of how effective HIMARS are" and that the Russia's foreign minister's words targeted domestic audiences unaware that the conflict had spilled over the Donbas area long ago.
Other Lead Stories fact checks related to the 2022 Russia-Ukraine conflict can be found here.