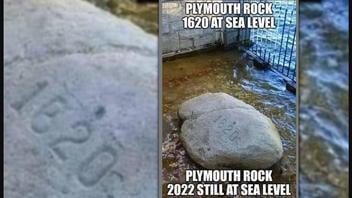 Does a photo of Plymouth Rock show that there has been no change in sea level in the past 400 years? No, that's not true: This meme is based on several false premises. One, that Plymouth Rock has been in the same place since 1620. It has been moved several times and has been at the current location, supported on a concrete foundation, since 1921. The next assumption is that a single photograph of a rock in a tidal zone can show the current sea level or prove that there has been no change over time.
Memes featuring Plymouth Rock, asserting there has been no sea level change since 1620, surfaced on social media in July 2022 (examples on twitter: 1,2,3,4). One example posted on Facebook on July 12, 2022, was captioned:
What else is there to say?
The text in the meme photo reads:
PLYMOUTH ROCK 1620 AT SEA LEVEL
PLYMOUTH ROCK 2022 STILL AT SEA LEVEL
This is how the post appeared at the time of writing: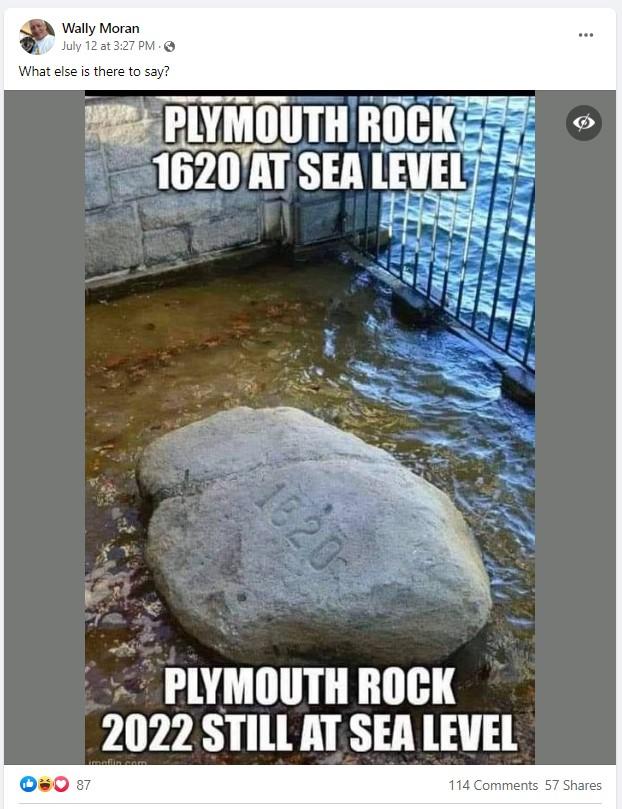 (Image source: Facebook screenshot taken on Fri Jul 15 19:44:19 2022 UTC)
Is Plymouth Rock exactly where it was when the Pilgrims landed?
Plymouth Rock was not recognised or revered as the place where the Pilgrims first landed on December 11, 1620, until over a century later. In 1741, Thomas Faunce, the son of one of the early settlers in Plymouth, was carried to the harbor when he was said to be 95 and identified the rock before a wharf was built on top of it. In 1774 the rock was broken in two pieces when an attempt was made to move it. The bottom piece remained in place and the top piece was moved to the Plymouth town square. It was later moved and encircled with a cast iron fence at Pilgrim Hall Museum, which was completed in 1834. This was several blocks away from the rock's original position.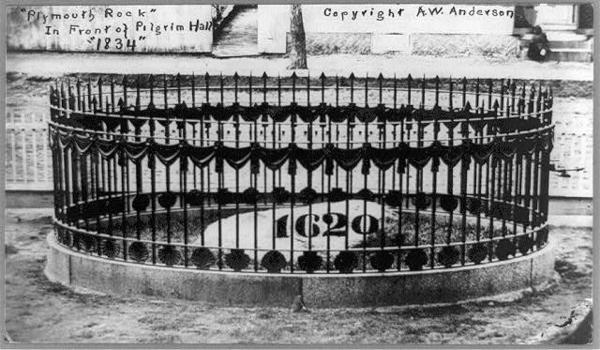 (Image source: Plymouth Rock, in front of Pilgrim Hall. Photograph. Retrieved from the Library of Congress)
In 1880 a new enclosure designed by Hammatt Billings was erected at the site of the lower portion of the rock. The patched top piece was returned to the waterfront. The position of Billings' canopy can be seen relative to Hedges Wharf (below). A (detail image) shows Plymouth Rock inside the canopy. Hedges wharf was built in 1749 and demolished in 1920, along with all the other Water Street wharves when the waterfront was redesigned by the Tercentenary Commission.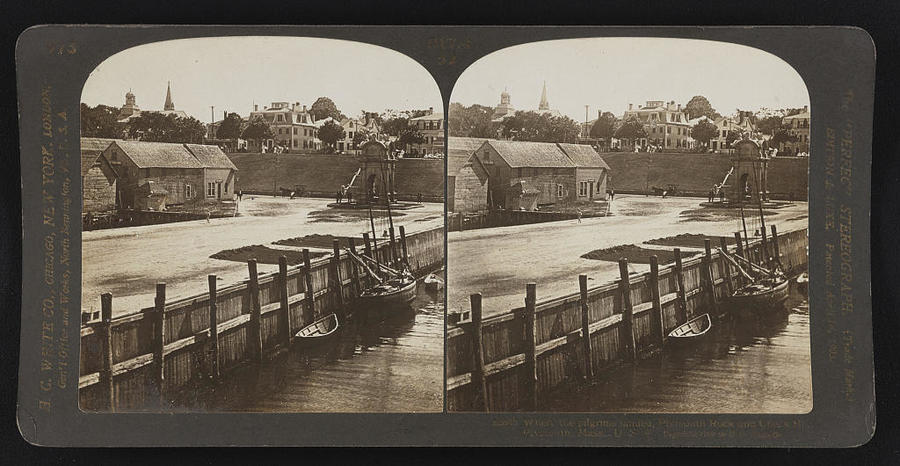 (Image source: Where the pilgrims landed, Plymouth Rock and Cole's Hill, Plymouth, Mass., U.S.A. Photograph. Retrieved from the Library of Congress.)
In 1921 a new portico structure designed by McKim, Mead and White was built to house Plymouth Rock. This is the structure that remains to this day. In 2017, in preparation for the 400th anniversary of the Mayflower's arrival some repairs were made to stabilize the rock and fix the mortar in the crack, which had opened. A May 31, 2017, article in wickedlocal.com titled, "Timely repairs for Plymouth Rock" explained the project and included a schematic diagram of the work to be done shoring up Plymouth Rock's foundation. Photos of the project in progress can be seen (here).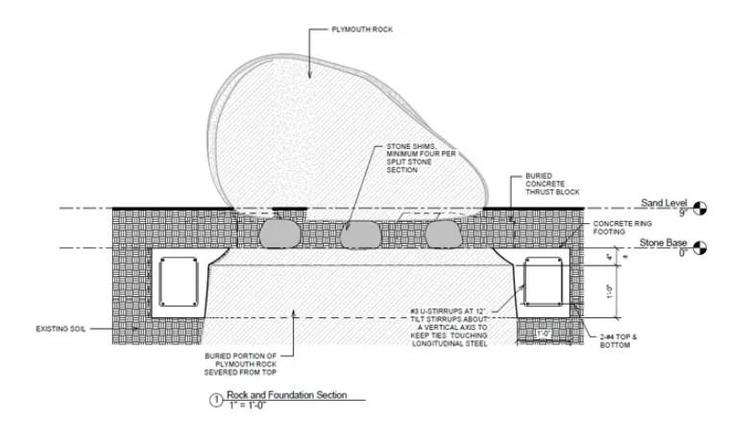 (Image source: wickedlocal.com screenshot taken on Fri Jul 15 22:38:44 2022 UTC)
Lead Stories spoke by telephone with Ivan Myjer, a stonework conservationist, who directed this project. Our question to Myjer was about the concrete pad between the buried lower portion of the rock and the upper portion. He said that the foundation was reinforced without removing the rock or changing the level of the upper portion in any way -- it remains at the exact level it was when placed there in the portico in 1921. He also said that they needed to build a cofferdam and pump water out to be able to do the work there as the tides come up, and it would not be unusual for a tide to come over the rock. Below is a video taken during a "King Tide" in 2016 when Plymouth Rock was submerged.
#KingTide in Plymouth, MA. Pilgrims would have got their feet wet landing on #PlymouthRock today. @ericfisher @Plymouth_400 pic.twitter.com/DxgQQXxu3J

-- MA Sharks 🦈 (@MA_Sharks) November 15, 2016
A current tide chart for Plymouth, Massachusetts, can be viewed here. Tides are caused by the gravitational pull of the sun and moon and the varying forces they put on the oceans. The high and low tide is not a constant -- there is a four-foot variation expected within Plymouth's high tides during July 2022 (the time of writing). Even if we knew that it was high tide when the Pilgrims stepped out of the small shallop onto solid ground on December 11, 1620 -- we could not presume to compare that level of the sea to a random photo of a high tide today. There are multiple variables not taken into account by a simplistic comparison.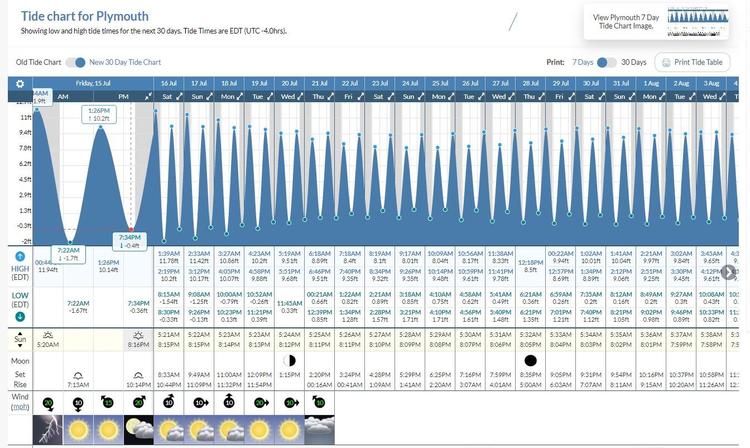 (Image source: tide-forecast.com screenshot taken on Fri Jul 15 23:23:09 2022 UTC)
The sea level around Massachusetts is measured to be eight inches higher than in 1950. Sea level is not a simple or static measure. It does not change equally in all places at the same time. Scientists are in agreement that there is a rise in the global mean sea level. The National Oceanic and Atmospheric Administration has produced a 2022 Sea Level Rise Technical Report that states in the first key takeaway:
Sea level along the U.S. coastline is projected to rise, on average, 10 - 12 inches (0.25 - 0.30 meters) in the next 30 years (2020 - 2050), which will be as much as the rise measured over the last 100 years (1920 - 2020). Sea level rise will vary regionally along U.S. coasts because of changes in both land and ocean height.