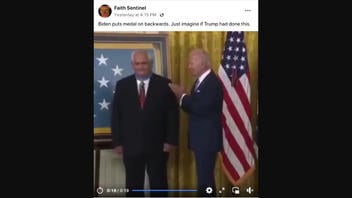 Did President Biden put a Medal of Honor backwards on a heroic Vietnam War? No, that's not true: Clear videos and images from the event show Biden correctly putting the Medal of Honor around the neck of Vietnam War veteran Dwight W. Birdwell on July 6, 2022 in the White House. The blurry video posted to social media actually does show the president accurately putting on the medal but the caption claiming it is on backwards is incorrect, taking advantage of blurriness.
The claim appeared as a video (archived here) where it was published on Facebook on July 6, 2022. It opened:
Biden puts medal on backwards. Just imagine if Trump had done this.
This is what the post looked like on Facebook at the time of writing: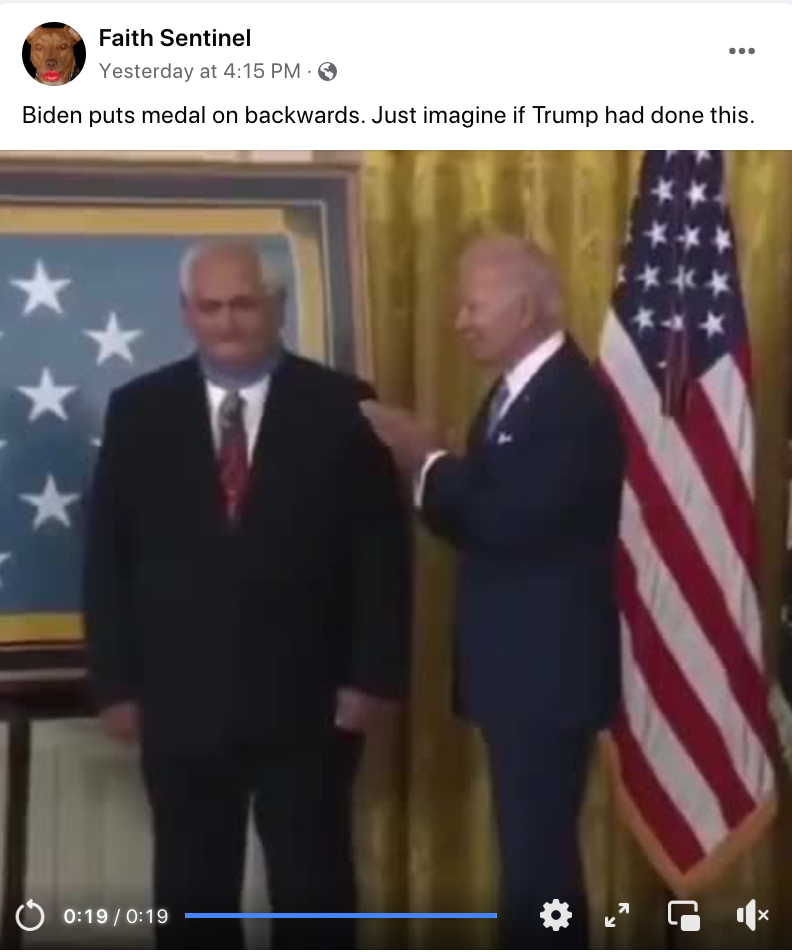 (Source: Facebook screenshot taken on Fri Jul 8 00:28:50 2022 UTC)
The low resolution video on social media does not show the president turning the Medal of Honor around backwards and placing on Birdwell. A clear video posted by PBS NewsHour shows the president on July 5, 2022 in the East Room of the White House presenting the Medal of Honor to four Army veterans. Biden can be seen holding both ends of the light blue ribbon in his left hand as he moves it in front of Birdwell's face. He then uses his right hand to grasp the end of the ribbon and clasp it behind his neck. The front of the Army Medal of Honor is visible as are the 13 white stars in the center above the medal. That video was posted on the PBS NewsHour YouTube page on July 6, 2022. Biden is given the medal at 29:03:
(Source: YouTube screenshot taken on Fri Jul 8 00:30:12 2022 UTC)
Video from the White House also shows Biden correctly placing the medal on Birdwell beginning at 29:09:
(Source: YouTube screenshot taken on Fri Jul 8 00:32:44 2022 UTC)
This image from Reuters shows the medal accurately placed on Birdwell's neck: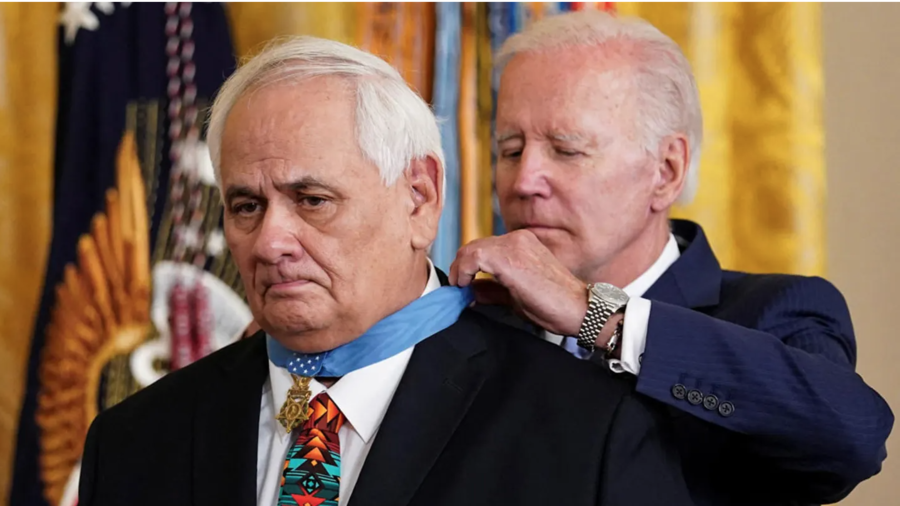 (Source: FOXNews screenshot taken on Fri Jul 8 00:34:22 2022 UTC)
Birdwell, a member of the Cherokee Nation, was awarded the medal for his valiant efforts during a military assault. He appeared on FOX News after receiving the medal and said:
I'm proud of the fact that I brought no dishonor to the Cherokee people as well as the citizens of the United States. I did my duty. The men I was with that day did their duty.