STORY UPDATED: check for updates below.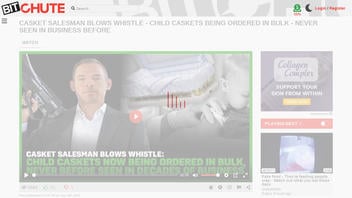 Does a purported increase in child-size casket orders at one company mean that children are dying from the COVID-19 vaccine? No, that's not true: There have been no confirmed reports of children dying from the vaccine. However, children have died from COVID.
The claim was made during a segment (archived here) of the "Stew Peters Show" that was posted to BitChute on July 12, 2022. The post, titled "Casket Salesman Blows Whistle - Child Caskets Being Ordered In Bulk - Never Seen In Business Before," featured a conversation between Peters and a man identified as Mick Haddock. At the 3:50 mark, Haddock said:
The smaller-size orders have never been so popular. I would like to mention that all casket sales are up dramatically in the last two years. Call it what you will -- magic or the vaccine -- but something has happened that is causing an unprecedented amount of deaths.
Users on social media saw this title, description and thumbnail:
Talking about COVID vaccines, Peters added at the 4:07 mark:
Magic is demonic and satanic and that's another thing that we're seeing happening right now, so yes it is magic, but it's also intentional magic. It's my opinion that this is an intentional plot to kill people and now, specifically, kids.
That's not true. COVID vaccines are not killing children.
In fact, according to the U.S. Centers for Disease Control and Prevention (CDC), only nine deaths have been causally associated with a COVID vaccine -- and all of those deaths have been adults. By contrast, the CDC reports, as of July 15, 2022, 1,694 children have died as a result of COVID.
That fact contradicts Peters, who said, 16 seconds into the video, that "this disease," meaning COVID, "is not dangerous to children. Thank God for that."
Around the 2:20 mark, he introduced Haddock as a casket salesman at Casket Depot. Lead Stories reached out to Casket Depot to confirm Haddock's claims. A man who answered the phone identified himself as Jeff, the owner. He said that Haddock did not work for the company, which doesn't sell child-size caskets.
Lead Stories reached out to Haddock via Twitter. In a message, dated July 22, 2022, he wrote that he is not a casket salesman, contrary to what Peters claimed. Rather, Haddock said, his cousin is involved in the business. Haddock wrote:
I don't know where the message of me being a salesman for the company came up but whoever said it was wrong I'm manufacture cleaning products completely separate business
Peters identified Haddock as the person behind the following tweets in which he relayed that his family casket business had received two bulk orders for child-size caskets in the past six months:
Sad that this is my most liked comment ever. Death and dispare is so hot right now. pic.twitter.com/NDtZfz3KxE

-- SonovAbeach (@highesthalfling) July 5, 2022
On Peters' show, Haddock explained that this meant that they'd received one order for 200 and another for 250. A typical year might be between 50 to 60 child-size caskets, he said.
Lead Stories reached out to the Funeral Service Association of Canada (FSAC) and the Casket and Funeral Supply Association of America to ask whether they'd seen an uptick in orders for child-size caskets. In an email, dated July 15, 2022, FSAC responded it had "no statistical data that supports the credibility of the claim." We will update this story, as appropriate, with any other response we receive.
2022-07-22T20:06:54Z

2022-07-22T20:06:54Z

Adds comment from Mick Haddock about his real occupation.