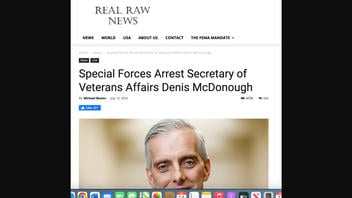 Did "U.S. Special Forces" arrest Secretary of Veteran Affairs Denis McDonough? No, that's not true: A duty officer from the Pentagon told Lead Stories this claim was completely false. A spokesperson from the Department of Veterans Affairs also said the claim was false. Real Raw News, the originator of this claim, has a track record of spreading misinformation about public figures. Their website includes a disclaimer that reads, "This website contains humor, parody, and satire."
The claim originated in an article published by Real Raw News on July 13, 2022, titled, "Special Forces Arrest Secretary of Veterans Affairs Denis McDonough" (archived here). It opened:
U.S. Special Forces on Sunday scored another victory against the Deep State, this time apprehending the criminal Biden regime's secretary of veteran affairs, Denis McDonough, as part of a broad operation aimed at ridding the nation of despots whose treasonous crimes weakened our nation and endangered the lives of American patriots.
Users on social media only saw this title, description and thumbnail:
Lead Stories reached out to the Pentagon, and a duty officer there responded by email on July 14, 2022, sayng that this claim was "completely and totally false."
The Department of Veterans Affairs sent a simple "No," in a July 14, 2022, email when asked if the claim was true.
If such an arrest had occurred, major news organizations would have devoted extensive coverage to the story. There was no such coverage because there was no such arrest.
Real Raw News has a long history of publishing false claims in mock news stories, many of them about convictions and executions of various public figures at Naval Station Guantanamo Bay in Cuba. For example, the site reported former Secretary of State Hillary Clinton was hanged (she wasn't); former White House Chief of Staff John Podesta was executed (he wasn't); and that "the military" convicted former Attorney General William Barr on charges of treason (it didn't).
The website for Real Raw News includes a disclaimer that warns readers not to take its content too seriously. Specifically, it says:
Information on this website is for informational and educational and entertainment purposes. This website contains humor, parody, and satire. We have included this disclaimer for our protection, on the advice on legal counsel.

(Source: RealRawNews.com screenshot taken Tue Aug 3 16:39:48 UTC 2021)
Lead Stories has covered claims published by Real Raw News in the past. Previous Lead Stories debunks of Real Raw News items is collected here.