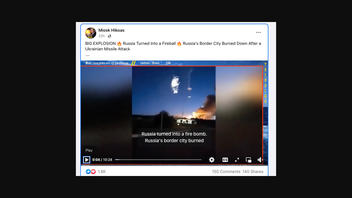 Does a Facebook video show the consequences of a Ukrainian missile attack on the Russian city of Shakhty on July 19, 2022? No, that's not true: The clip consists of footage from the Luhansk Oblast in Ukraine and more-than-decade-old images of prewar Russian wildfires.
The video was published on Facebook on July 19, 2022, under the title "BIG EXPLOSION."
It opens:
Russia turned into a fireball. Russia's border city burned down after a Ukrainian missile attack on Russia's arsenal. Update on Russia and Ukraine on July 19th.
The video continued:
NGA was dealt another blow when an ammunition dump in Shakhty on Russia's border region caught fire and exploded this morning. Russia has seen its ammunition depots become dangerous targets for Ukrainian forces. Another weapons dump was lost in a massive explosion in Shakhty.
At the 0:32 mark, the voice-over said :
Russian cities are the next target of Ukraine in recent times.
Here is what it looked like at the time of writing: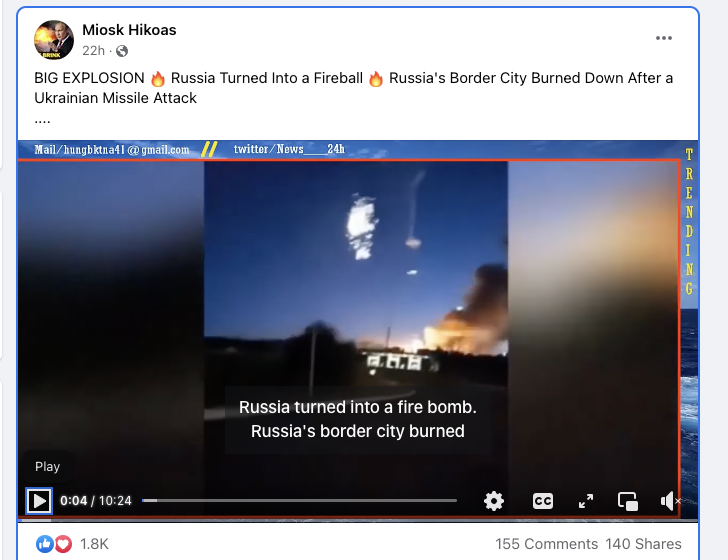 (Source: Facebook taken on Wed Jul 20 01:19:50 2022 UTC)
A similar claim about Shakhty appeared on YouTube on June 9, 2022.
If one manually scrolls the Facebook video to the 00:00 mark instead of hitting the play button immediately, the very first second will reveal a Zenger News logo: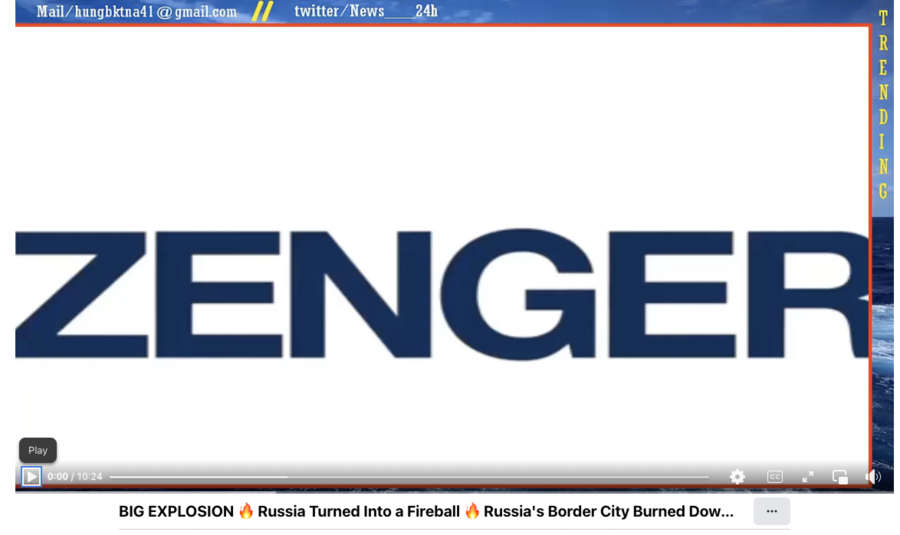 (Source: Facebook screenshot taken on Wed Jul 20 23:09:28 2022 UTC)
Zenger News describes itself as "the world's first digitally native wire service," "owned and operated by journalists." A separate section mentions other investors but says they are minority shareholders and that "no shareholder is involved in campaigns, lobbying, politics, or government." According to another page titled "Ethical Journalism," Zenger News does not alter photos and videos except for minor quality-enhancing operations such as white balance correction or noise removal.
A Zenger News account published a video of a blaze on July 18, 2022, under the title "Explosions Light Up Night Sky As Ukrainian Forces Destroy Another Russian Ammo Depot," providing no source and no location details.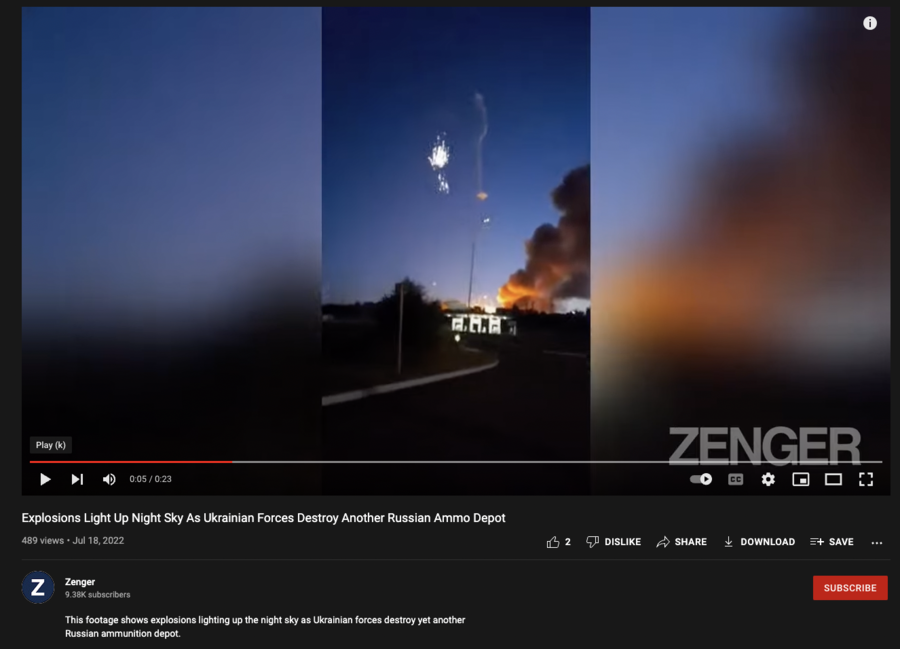 (Source: YouTube screenshot taken on Wed Jul 20 23:48:10 2022 UTC)
A story accompanied by the same shots of a nighttime blast appeared on the Zenger News website on July 19, 2022. The photo captions said they showed "The Armed Forces of Ukraine destroy[ing] another ammunition warehouse of the occupiers in Kadiivka" in Ukraine. The article identified the source of images as the Chernihiv Regional Territorial Center for Recruitment on July 18, 2022, and also the Office of Strategic Communications of the Armed Forces of Ukraine.
Kadiivka, also known as Stakhanov in the late Soviet years, is in the Luhansk region, northeast of the Donetsk Oblast. In 2014 and 2022, it has been a contested area. Shakhty is a city in the Rostov region in Russia. The distance between the two exceeds 90 miles.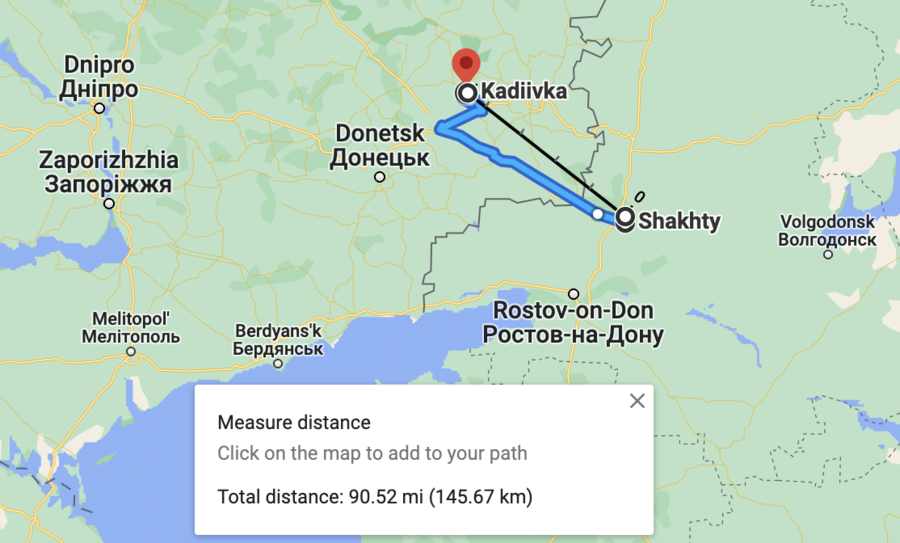 (Source: Google Maps screenshot taken on Wed Jul 20 00:40:35 2022 UTC)
The United States is one of the Western countries that supply Ukraine with weapons and ammunition. The most recent July 2022 aid package included 16 American-made M142 High Mobility Artillery Rocket Systems (HIMARS.) However, President Joe Biden previously wrote in his May 2022 New York Times op-ed that the United States is "not encouraging or enabling Ukraine to strike beyond its borders" and that his government does "not want to prolong the war just to inflict pain on Russia."
On July 19, 2022, when the Facebook video first appeared, none of the two major state-owned Russian news agencies -- neither RIA Novosti nor TASS -- mentioned any incidents in Shakhty.
Another dramatic image depicting men's silhouettes overshadowed by the bright flames in the background that appears at the 0:44 mark was shot more than a decade before the 2022 Russia's invasion of Ukraine. In 2010, Pravmir.ru, a Russian-language website focused on social issues and the intersection of society and religion, used the same picture to illustrate that summer's massive fires across Russia, attributing it to Reuters: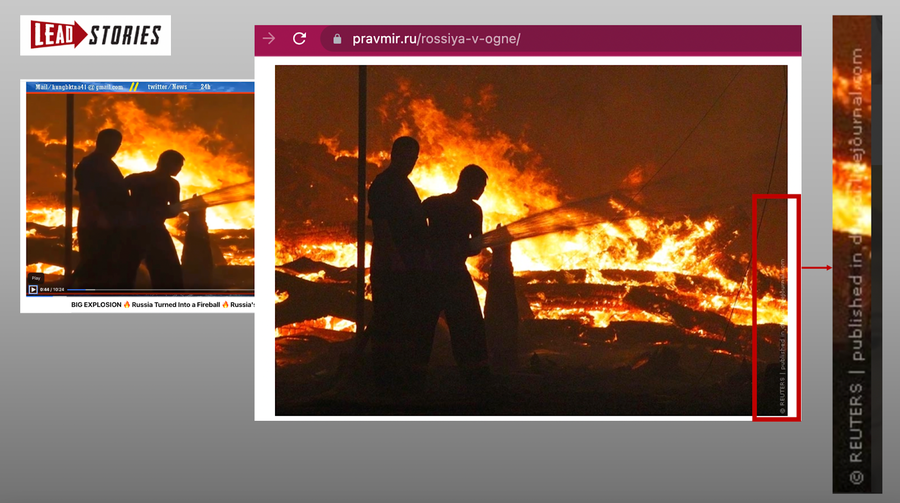 (Sources: Facebook screenshot taken on Wed Jul 20 01:44:42 2022 UTC; Pravmir.ru screenshot taken on Wed Jul 20 01:37:05 2022 UTC)
The same is true regarding the image of a crying woman that appears at the 1:40 mark: It also captures the Russian fires of 2010. Back then, the American website Boston.com, owned by the publisher of The Boston Globe, ran the same Reuters image with this caption: "A woman raises her hands to her face, walking away from a scene filled with heavy smoke and fire near Vyksa, Russia on July 29, 2010":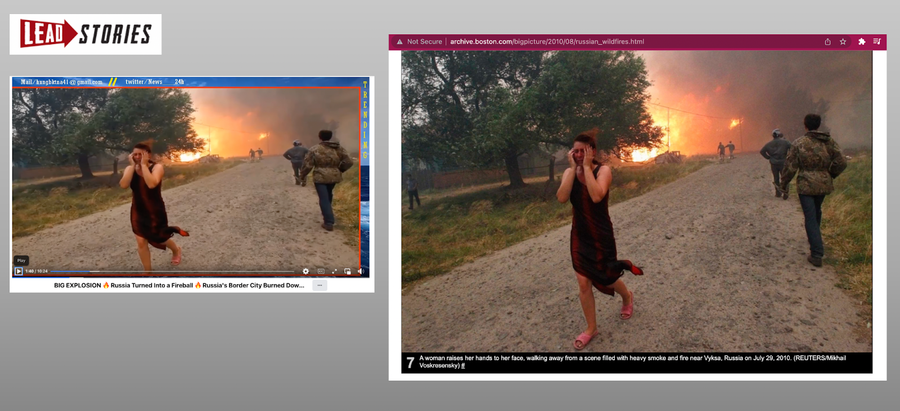 (Sources: Facebook screenshot taken on Wed Jul 20 02:44:31 2022 UTC; Boston.com screenshot taken on Wed Jul 20 02:38:50 2022 UTC)
Other Lead Stories fact checks related to the 2022 Russia-Ukraine conflict can be found here.