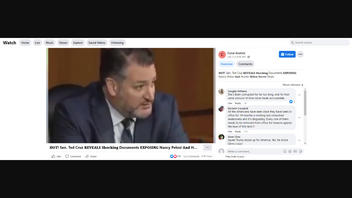 Does a video show Sen. Ted Cruz revealing documents that expose House Speaker Nancy Pelosi and Hunter Biden, son of President Joe Biden? No, that's not true: The video just shows clips of Cruz speaking about unrelated matters during two separate legislative meetings and appears to be clickbait to draw attention to a Facebook page.
The claim appeared in a Facebook post on July 2, 2022. The title is:
𝐇𝐎𝐓! Sen. Ted Cruz 𝐑𝐄𝐕𝐄𝐀𝐋𝐒 𝐒𝐡𝐨𝐜𝐤𝐢𝐧𝐠 Documents 𝐄𝐗𝐏𝐎𝐒𝐈𝐍𝐆 Nancy Pelosi 𝐀𝐧𝐝 Hunter 𝐁𝐢𝐝𝐞𝐧 𝐒𝐞𝐜𝐫𝐞𝐭 Deals
This is what the post looked like on Facebook at the time of writing:

(Source: Facebook screenshot taken on Tue Jul 5 15:48:57 2022 UTC)
The title is not backed up by the video. The first clip shows Cruz speaking during what appears to be a legislative meeting. Lead Stories couldn't locate the origin of the clip. The second clip of Cruz shows him making a floor speech during a Senate session on March 1, 2022, ahead of the State of the Union address held that evening. The full clip of Cruz speaking can be found on C-SPAN at the 1:54:27 mark of the channel's coverage.
Neither of Cruz's statements deal with any documents "exposing" Pelosi or Hunter Biden.
Lead Stories has previously debunked similar clickbait videos. Some of those fact checks are found here and here.