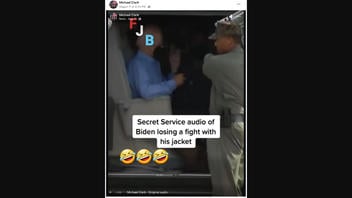 Did a social media video contain authentic audio recordings of a Secret Service agent bemoaning President Joe Biden's difficulty in putting on his jacket? No, that's not true: The video was a satirical clip originally posted online by a comedian and labeled with the hashtag #comedy.
The video first appeared in an August 10, 2022, TikTok post (archived here) published by comedian Davy Jackson, who later posted versions of the same video to Instagram and YouTube. In the video, a text overlay caption read:
Secret Service audio of 'The Eagle' losing a fight with his jacket.
This is what the post looked like on Facebook at the time of writing: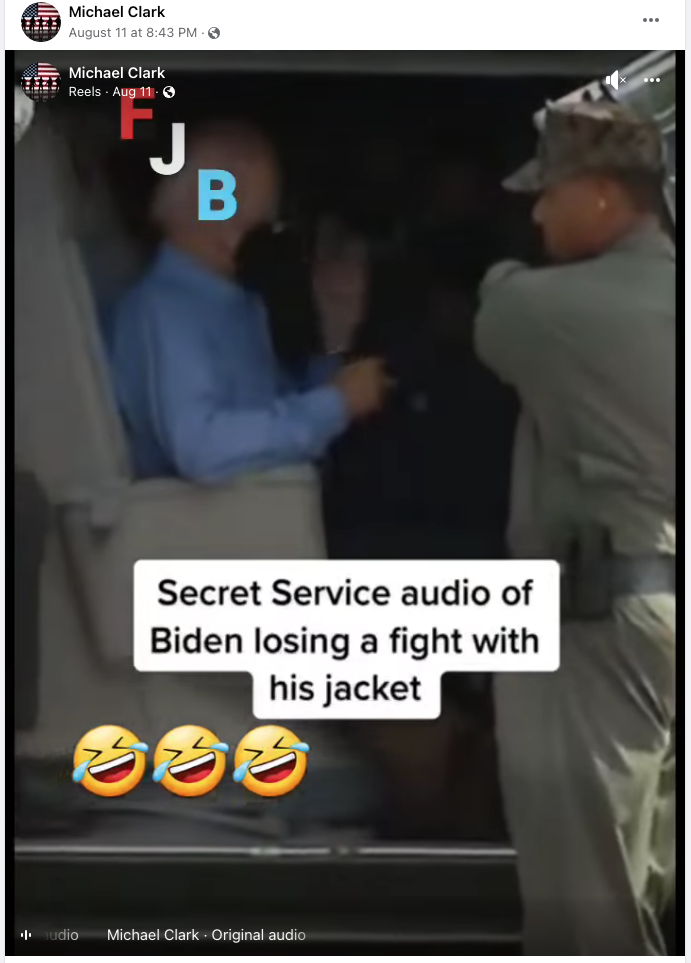 (Source: Facebook screenshot taken on Thurs Aug 18 16:03:15 2022 UTC)
The underlying video footage was authentic and was captured on August 8, 2022, as Biden and first lady Jill Biden disembarked from Marine One in preparation for boarding Air Force One at Blue Grass Airport in Lexington, Kentucky. The relevant section of the video begins around 4:00.
Jackson added the audio. He took on the persona of a Secret Service agent expressing frustration as Biden -- referred to with the code name "The Eagle" -- experiences difficulty in putting on his jacket:
We don't anticipate any issues with The Eagle crossing the tarmac. It's a perfectly flat surface and there's a zero percent possibility that he'll mess this up. OK, what's going on with the jacket right now? Secret Service team, The Eagle can't find the armhole in his jacket. Jesus Christ. The first lady has stepped in to help The Eagle put his jacket on but it looks like she's just making things even worse somehow.
In posting the video to his TikTok, Instagram and YouTube accounts, Jackson added the hashtags #comedy and/or #funnyvideos. This, along with the fact that those profiles also make it clear that he is a comedian, means a reasonable viewer would understand that the Biden video was intended to be satirical.