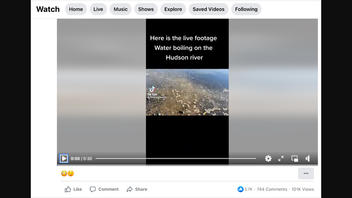 Was water in the Hudson River boiling? And was bubbling related to a nuclear power plant that was supposed to be nearby? No, neither claim is true: The New York State Department of Environmental Conservation (DEC) told Lead Stories via email that the power plant shown in the post is not nuclear, but a natural gas power plant. DEC is unsure what causes the bubbles and an investigation was still ongoing at the time of writing. Riverkeeper, a watchdog group for the Hudson, told Lead Stories the water was not boiling.
The claim appeared in a TikTok that was reposted on Facebook on August 5, 2022, with the caption "😳😲." The on-screen text reads, "Here is the live footage Water boiling on the Hudson river." A narrator says:
All right, a lot of TikTokers asked me to provide the video of the water bubbling, OK?
This is what the post looked like on Facebook at the time of writing: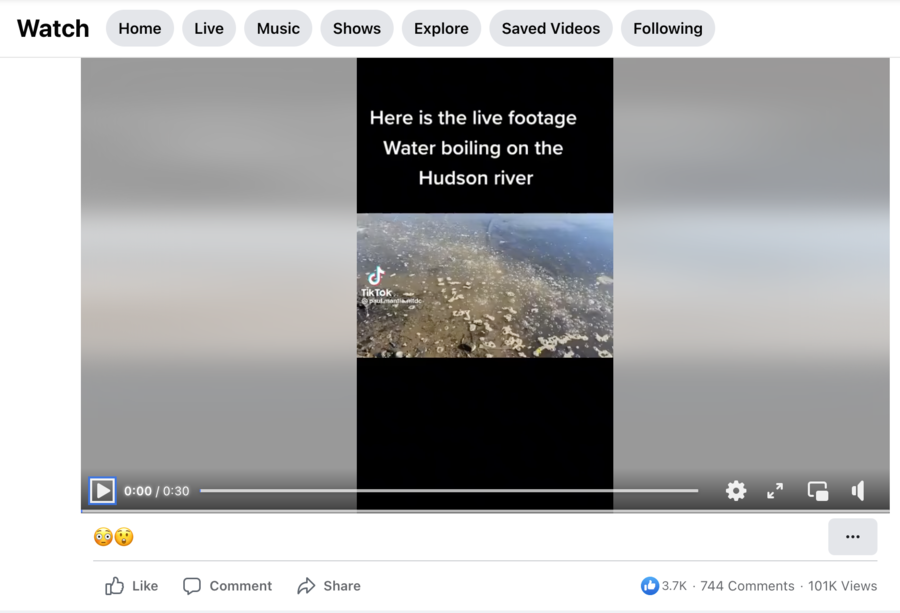 (Source: Facebook screenshot taken on Tue Aug 9 15:08:23 2022 UTC)
The video shows there is smoke coming from a nearby power plant, which the narrator calls a "nuclear power plant," and claims that "scientists" have no idea what is going on here.
In an August 9, 2022, phone call to Lead Stories, a spokesperson for Riverkeeper, which calls itself "NY's clean water advocate," referred us to a July 26, 2022, blog post written by John Lipscomb, Riverkeeper's vice president and co-director of their Science and Patrol Program, about the bubbling. The blog post says, "Riverkeeper cannot say whether the smoke and the bubbling conditions at the beach are related in any way, or what caused them, but we reported both observations to DEC."
A Riverkeeper spokesperson told Lead Stories in a August 10, 2022, phone call after speaking to Lipscomb about the boiling water claim, "There was no heat, no steam, just bubbling and that's how we referred to it in our blog post."
As for the smoke from the power plant, in a August 9, 2022, email to Lead Stories, a DEC representative identified the power plant in the TikTok video as the Bowline plant, which is not nuclear, but a natural gas power plant. They added that a July 13, 2022, smoke violation coming from the Bowline plant was attributable to operator error that was corrected. There were no abnormal water discharges from the facility at the time bubbling occurred, and the DEC's investigations into both the smoke and the bubbles are ongoing.
Andrew Juhl, an aquatic ecologist at Columbia University, wrote this to Lead Stories in a August 10, 2022, email:
I'm familiar with the video. No one really know what happened. It has not seemed to reoccur ... Nevertheless, I would certainly feel comfortable saying that it was unusual ... There's no evidence I'm aware of that there were any negative impacts.