STORY UPDATED: check for updates below.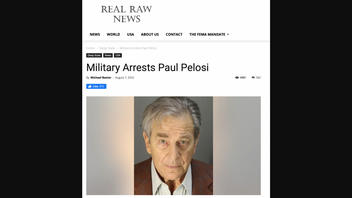 Did "U.S. Army Special Forces" arrest Paul Pelosi, the husband of House Speaker Nancy Pelosi, on August 6, 2022? No, that's not true: "There is no truth to this claim," a duty officer at the Pentagon told Lead Stories. The U.S. military is not allowed to arrest civilians under the Posse Comitatus Act. In addition, these claims were posted on a satirical website.
The claim appeared in an article published by Real Raw News on August 7, 2022, titled "Military Arrests Paul Pelosi | Real Raw News" (archived here). It opened:
U.S. Army Special Forces on Saturday arrested Paul Pelosi--Nancy's husband--as he exited a pricey drug & alcohol rehabilitation center in San Diego, California, JAG sources told Real Raw News.
Users on social media only saw this title, description and thumbnail:
Paul Pelosi was arrested on a DUI charge on May 28, 2022, and pleaded not guilty in Napa County, California, but he was not arrested by "U.S. Army Special Forces."
A Pentagon duty officer told Lead Stories in an August 9, 2022, email that "there is no truth to this claim."
The Posse Comitatus Act, enacted in 1878, does not allow the U.S. military to arrest U.S. citizens or enforce domestic law. It is considered a federal crime to do so currently.
Lead Stories also reached out to the attorney and PR representative of Paul Pelosi and will update the story if a response is received.
Lead Stories debunked another claim on June 2, 2022, about Paul Pelosi's arrest. Other Lead Stories fact checks concerning Paul Pelosi can be found here.
Real Raw News has a long history of publishing false claims in mock news stories, many of them about convictions and executions of various public figures at Naval Station Guantanamo Bay in Cuba. For example, the site reported former Secretary of State Hillary Clinton was hanged (she wasn't); former White House Chief of Staff John Podesta was executed (he wasn't); and that "the military" convicted former Attorney General William Barr on charges of treason (it didn't).
The website for Real Raw News includes a disclaimer that warns readers not to take its content too seriously. Specifically, it says:
Information on this website is for informational and educational and entertainment purposes. This website contains humor, parody, and satire. We have included this disclaimer for our protection, on the advice on legal counsel.

(Source: RealRawNews.com screenshot taken Tue Aug 3 16:39:48 UTC 2021)
Lead Stories has covered claims published by Real Raw News in the past. Previous Lead Stories debunks of Real Raw News items are collected here.
2022-08-10T19:33:53Z

2022-08-10T19:33:53Z

Updated with effort seeking comment from Paul Pelosi's representatives.