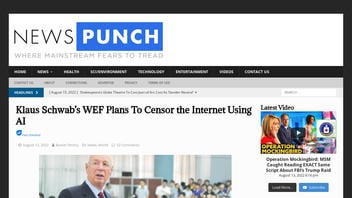 Does the World Economic Forum (WEF), founded by Klaus Schwab, plan to censor the internet using artificial intelligence? No, that's not true: The WEF does not have the ability to make such a decision or enforce it. An opinion column by one of many columnists on the WEF website was misrepresented by News Punch, a website that warns its audiences that it is not responsible for the accuracy of its materials.
The story originated in an August 12, 2022, News Punch piece titled "Klaus Schwab's WEF Plans To Censor The Internet Using AI" (archived here). It opened:
Klaus Schwab's World Economic Forum (WEF) have announced plans to moderate the internet by using artificial intelligence (AI) that identifies 'misinformation,' harmful content, or anything else Klaus Schwab decides should be censored.
The article continued:
The internet censorship proposal would require 'subject matter experts' to provide training sets to the AI so it can learn to recognize and flag or restrict content that the WEF deems 'dangerous.'
Here is what the News Punch piece looked like at the time of writing: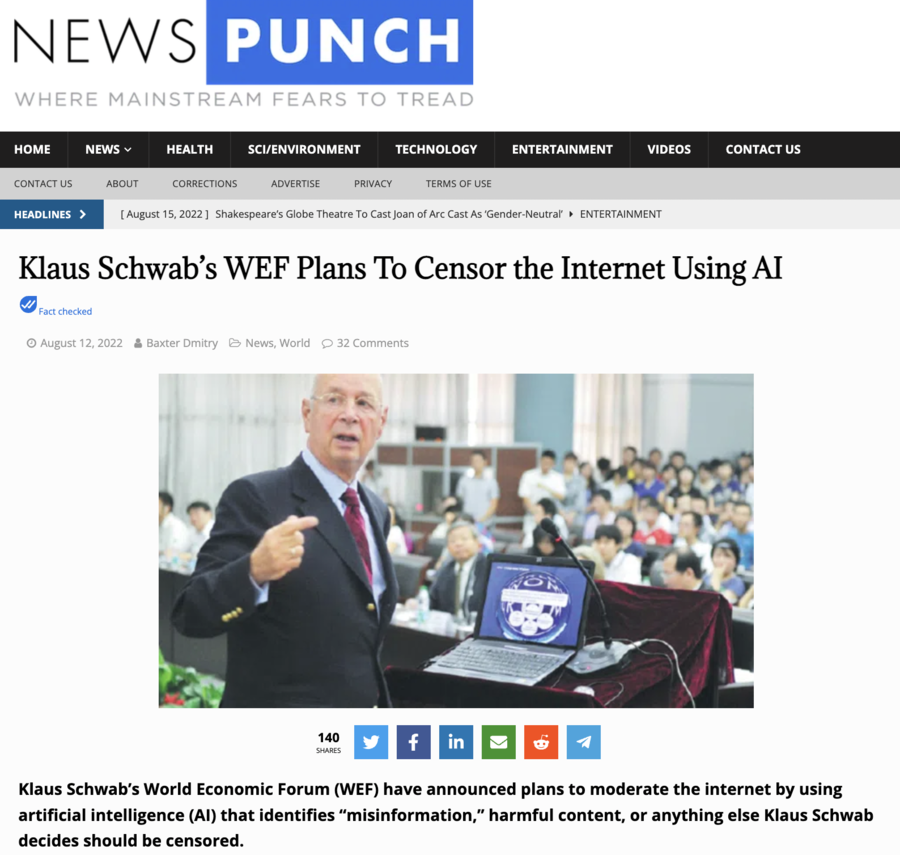 (Source: Newspunch.com screenshot taken on Mon Aug 15 14:06:05 2022 UTC)
The article's source of information is an opinion column by Inbal Goldberger, a vice president of trust and safety at ActiveFence, a company that offers a technical solution to detect and combat harmful content on the Internet. Goldberger's column was published on the WEF website, which added three unusual paragraphs below the headline:
Readers: Please be aware that this article has been shared on websites that routinely misrepresent content and spread misinformation. We ask you to note the following:

1) The content of this article is the opinion of the author, not the World Economic Forum.

2) Please read the piece for yourself. The Forum is committed to publishing a wide array of voices and misrepresenting content only diminishes open conversations.
Goldberger highlights the difficulties of limiting access to dangerous content in her column:
... threat actors use increasingly sophisticated tactics to avoid evolving detection mechanisms. This has resulted in the development of new slang, like child predators referring to 'cheese pizza' and other terms involving the letters c and p instead of 'child pornography'. New methodologies are employed, such as using link shorteners to hide a reference to a disinformation website; and online abuse tactics, such as the off-platform coordination of attacks on minorities.
The column does not call for the suppression of political opponents.
Goldberger shared her response to the News Punch article via her company's media department in an email sent to Lead Stories on August 16, 2022:
News Punch's recent coverage conflates content moderation with censorship. My piece on the World Economic Forum's site 'The Solution to Online Abuse? AI Plus Human Intelligence,' makes the case for how innovative technology, off-platform intelligence, and skilled subject-matter experts can be leveraged together to streamline the flagging and removal of abusive content.
The WEF, which published Goldberger's column, is not an agency of any government and does not have the authority to write or enact laws. It is a not-for-profit foundation that advocates for public-private cooperation and is "not tied to any special interests." Lead Stories reached out for additional comments to the WEF. When we receive a response, this article will be updated as appropriate.
News Punch, formerly known as YourNewsWire, describes itself as "an American news publication committed to covering the headlines mainstream outlets shy away from" for predominantly conservative audiences. When the website's Facebook page "The People's Voice" lost its verification checkmark in 2018, the resource rebranded itself by changing its name and domain.
As of August 15, 2022, News Punch discloses that its main source of revenue is advertising and says it is committed to "correcting our errors in a timely manner." However, the "Terms of Use" section still contains a liability disclaimer:
NEWSPUNCH, LLC AND/OR ITS SUPPLIERS MAKE NO REPRESENTATIONS ABOUT THE SUITABILITY, RELIABILITY, AVAILABILITY, TIMELINESS, AND ACCURACY OF THE INFORMATION, SOFTWARE, PRODUCTS, SERVICES AND RELATED GRAPHICS CONTAINED ON THE SITE FOR ANY PURPOSE.
Other websites republished the News Punch claim and it continued to circulate on Facebook (some examples can be found here, here, here, here, here, here and here.)
Lead Stories has already debunked other questionable statements published by News Punch. These fact checks can be found here and here.