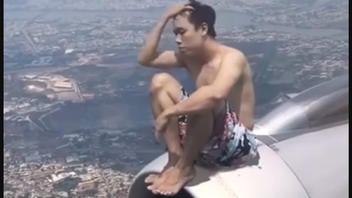 Did a man sit on a jet engine attached to the wing of an airplane while it flew over a city? No, that's not true: This video of a scene, which would be physically impossible to act out in reality, was created by Vietnamese content creator Huy Quan Hoa. He has produced a series of videos with the help of green-screen effects, where he appears to do improbable activities on the airplane's wing. Hoa has posted a behind-the-scenes video on TikTok about the making of this video, showing the green screen set up with him sitting on a green cloth while an assistant waved a fan to add the effect of his hair blowing in the wind.
The five short videos by Hoa were posted on TikTok individually in 2020. On December 17, 2020, a compilation video was posted on Hoa's YouTube channel that features all the shorts together. One of the video shorts was posted on Facebook on July 26, 2022, with this caption:
Thomases' and Thomastinas' will start questioning the possibility!!! 🤔
#sisisperspectives #birogs #blogs #lifestyles #careers #relationships #religion #politics #life #nigeriansinusa #Nigeria #aircraft #airplane #skydiving
This is how the post appeared at the time of writing: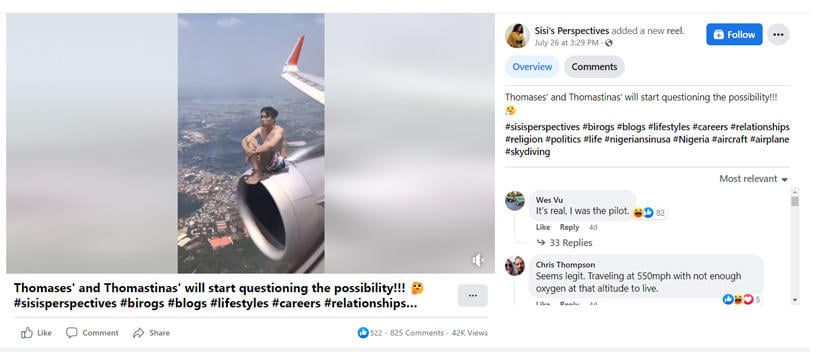 (Image source: Facebook screenshot taken on Wed Aug 03 14:15:58 2022 UTC)
The account @huyquanhoa posted these videos as shorts on TikTok in 2020. The first was this scene, where he is sitting on the jet engine of a flying airplane. That video was followed by another video titled, "I'm VietNamese #huyquanhoa #trollgroup" In this video, side-by-side frames (detail pictured below) show the finished video and the green-screen footage used to produce it. Hoa, narrating in a third frame, holds up the colorful beach shorts he wore in the video, proving the video is his creation. A caption added to the video says, "I am Vietnamese This is my clip." These shorts appear in the other videos as well.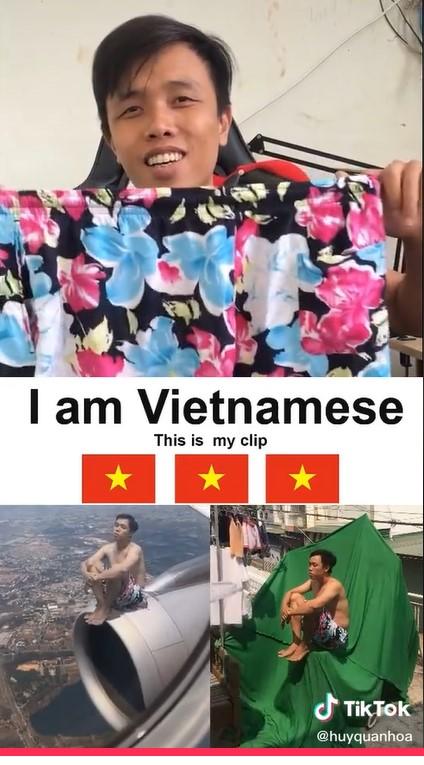 (Image source: TikTok screenshot taken on Wed Aug 03 19:03:02 2022 UTC)
Hoa's YouTube video titled, "Tổng Hợp Huy Quần Hoa đi máy bay bá đạo" (Huy Quan Hoa flies on a plane compilation) is embedded below and includes scenes of sitting on the jet engine, napping on the jet engine, doing computer work at a desk, cooking with a wok and another nap on the wingtip.