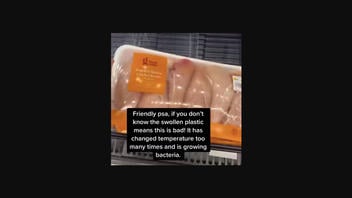 Does swollen plastic packaging mean chicken is bad and growing bacteria? No, that's not true: According to Tom Super, the senior vice president of communications at the National Chicken Council, this "is a USDA-approved packaging process, and there is no food safety concern."
The claim appeared in a Facebook post with a video on July 31, 2022, under the title "Always Check ✅]."
The text on the video opened:
Friendly psa, if you don't know the swollen plastic means this is bad! It has changed temperature too many times and is growing bacteria.
This is what the post looked like on Facebook at the time of writing: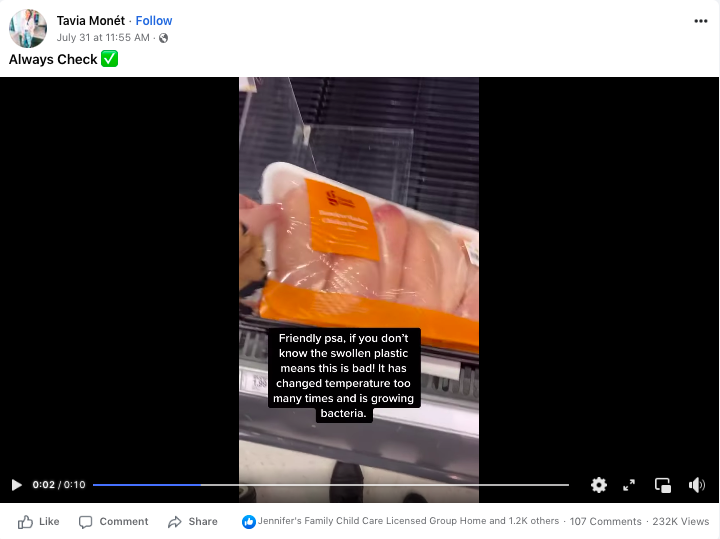 (Source: Facebook screenshot taken on Wed Aug 3 19:04:19 2022 UTC)
Lead Stories reached out to Super, who responded in an email on August 3, 2022:
This is not an indicator of spoilage. This is a USDA-approved packaging process, and there is no food safety concern. The best indicators of spoilage would be the Sell By or Use By date, discoloration, foul smell and/or leakage, not the particular packaging.
Lead Stories also reached out to the USDA's Food Safety and Inspection Service (FSIS). Meredith Carothers, a food safety specialist with FSIS, responded, writing in an email on August 3, 2022, that while approved packaging can be responsible for swollen plastic, it's best to err on the side of caution:
Bloating of meat/poultry packages can occur for different reasons, some of which do not pose a risk. For example some meats/poultry are packaged in "MAP" (modified atmospheric packaging). MAP is a packaging method in which a combination of gases such as oxygen, carbon dioxide and nitrogen is introduced into the package at the time of closure. The purpose of these approved, inert gases is to extend shelf life of the product. On the other hand, some bloating can represent a risk. For example, swelling can occur in packaging due to gases formed as a result of spoilage taking place (bacterial growth can cause gas formation). At times, such spoilage can cause detectable odors, however detecting an odor is not a reliable method of identifying when spoilage has occurred.
This is backed up on the website page for the U.S. Department of Agriculture (USDA):
The presence of spoilage bacteria can result in changes to a food that make it unacceptable. Given enough time at the right temperature, spoilage bacteria can reproduce rapidly and reach very high numbers, resulting in objectionable changes in odor, taste, and texture. Spoilage bacteria can cause meat or poultry to turn a dark color, develop an objectionable odor, and become slimy from the high bacterial numbers. Meat with these characteristics should not be used.